Volkswagen was thrilled to extend the 2.5-cylinder turbo 2.5 engine from the RS3 to the Golf R, but when Audi completely rejected the offer, the Germans replaced the four-cylinder turbo 2.0 engine. The purpose was to get 333 hp out of it. Eventually it became 320 hp. Or not?
And 'R' from Ringtool: Volkswagen Golf R (2021) – Review
Volkswagen offers the Golf Variant R: 320 hp family car with slide mode
We bring you the special edition of the Golf R. The Volkswagen hot hatch celebrates its 20th anniversary. The new high-end model, Golf R 20 Years, is available for a limited time in a limited edition version. One of the birthday items is a raised engine. You guessed it, here's a powerful 333 horsepower version of a four-liter two-cylinder. Volkswagen had put a barrier in hand and now that Golf R has been around for exactly 20 years, the 2.0-cylinder with the most powerful four-cylinder from the Volkswagen group could go out.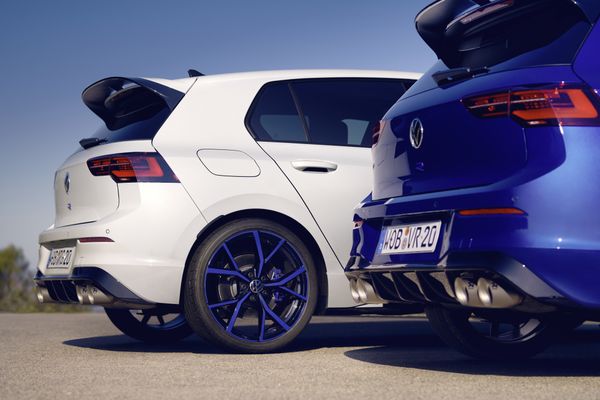 From R32 to R
Fans of the 333 hp version should inquire about the Golf R 20 Years version. It is an honor for its predecessors, who, however, did not go through life as R. The early versions still listened to the name R32. The number in the name refers to the transfer of an unusual VR6 engine. Later the front part of the four cylinders appeared and finally a maximum of 320 hp.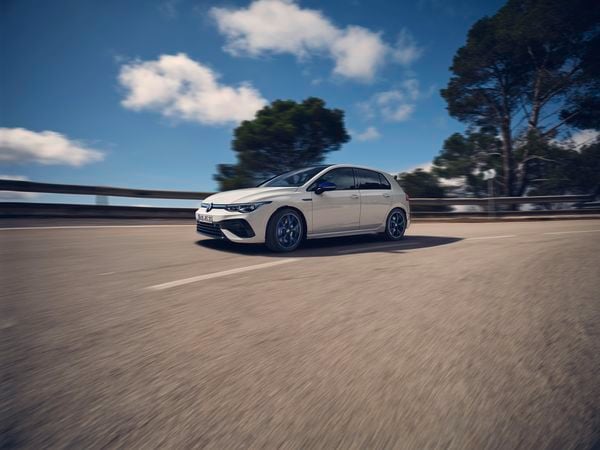 More than 13 horsepower has been added
These thirteen extra power is not just icing on the cake, but also the standard installation of the R Performance Package. Drift. Additionally, Volkswagen pays for the 20-year-old version of the big back damage with the 19-inch Estoril wheels as a gift, things that are optional on the regular Golf R. Unique on Golf R 20 Years are cutting pieces on the dashboard and door panels in carbon fiber.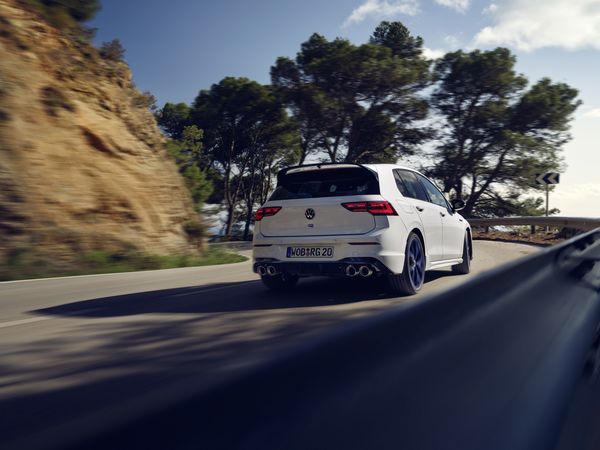 One year in production
The Golf R 20 Years, which accelerates in 4.6 seconds from a standstill to 100 km / h, and a top speed of 270 km / h, is being built in a year. How many eventually appear, therefore, depends on the intention of the celebratory model. It will be available in Europe and North America.
Did you notice the error? Email us. We thank you.
Information

Jana†

Volkswagen Phaeton almost got a successor

Information


7 July 2022†

Audi RS3 getting worse: ABT RS3 R

Information


7 July 2022†

Why Bentley Fits 'Flight Seats' in Bentayga EWB

Information


7 July 2022†

Ford Ranger finds new competitor: Volkswagen Amarok

Information


7 July 2022†

Hyundai are making fun of the attractive model, is this the new coupe?

Information


7 July 2022†

Who are the best drivers, men or women?

Information


July 6, 2022†

Someone drives a BMW 7 Series 1650+ km from London to Madrid in a tank

Information


July 6, 2022†

Road price: for these 3 tips you are out as cheap as possible
var deniedConsent = tc_vars.didomiPurposesConsentDenied; if(deniedConsent.indexOf('cookies') == -1){
//SETTING VARIABLES var wpk_tags = dataLayer[0].Tags; if (wpk_tags != undefined) { var wpk_tags_array = wpk_tags.split(','); }else{ var wpk_tags_array = []; }
var sales_keywords = dataLayer[0].sales_keywords; if(sales_keywords == undefined){ sales_keywords=""; }else{ sales_keywords = sales_keywords.replace(/_/g, ''); sales_keywords = sales_keywords.replace(/&/g, '_'); sales_keywords = sales_keywords.replace(/&/g, '_'); }
if (typeof dataLayer[0].Site !== 'undefined') { var site_name = dataLayer[0].Site.toLowerCase(); }else{ var site_name=""; }
site_name = site_name.split(".");
//SETTING VARIABLES
var script = document.createElement("script"); script.src = "https://shared.mediahuis.be/cxense/cxense.autovisie.min.js"; script.type = "didomi/javascript"; script.setAttribute('data-vendor','iab:412');
console.log('ads: '+deniedConsent.indexOf('create_ads_profile')); console.log('content: '+deniedConsent.indexOf('select_personalized_content'));
if(deniedConsent.indexOf('create_ads_profile') < 0 && deniedConsent.indexOf('select_personalized_content') < 0){ document.head.appendChild(script); console.log('load cxense!!!'); }else{ console.log('NOT load cxense!!'); } if (dataLayer[0].show_banners == 1) { // console.log('fillSlots'); setTimeout(function(){ fillSlots(); }, 1000); } if(deniedConsent.indexOf('social_media') < 0){ var y = document.getElementsByClassName("social-media-no-consent-box"); var i; for (i = 0; i < y.length; i++) { y[i].style.display = "none"; } var x_fb_post = document.getElementsByClassName("fb-post-no-consent"); while(x_fb_post.length > 0) { x_fb_post[0].className = "fb-post"; }
var x_fb_video = document.getElementsByClassName("fb-video-no-consent"); var i; while(x_fb_video.length > 0) { x_fb_video[0].className = "fb-video"; }
var x_twitter = document.getElementsByClassName("twitter-tweet-no-consent"); while(x_twitter.length > 0) { x_twitter[0].className = "twitter-tweet"; }
var xi = document.getElementsByClassName("instagram-media-no-consent"); while(xi.length > 0) { xi[0].className = "instagram-media"; }
var script = document.createElement("script"); script.src = "https://platform.twitter.com/widgets.js"; document.head.appendChild(script);
var script = document.createElement("script"); script.src = "https://www.instagram.com/embed.js"; document.head.appendChild(script);
var script = document.createElement("script"); script.innerHTML = "window.instgrm.Embeds.process();"; document.head.appendChild(script);
var script = document.createElement("script"); script.src = "https://connect.facebook.net/nl_NL/sdk.js#xfbml=1&version=v8.0";
var facebookDiv = document.createElement('script'); facebookDiv.innerHTML =`window.fbAsyncInit = function() {FB.init({ xfbml : true, version : 'v5.0' });}; `; document.head.appendChild(facebookDiv);
var my_awesome_script = document.createElement('script'); my_awesome_script.setAttribute('src','https://connect.facebook.net/en_US/sdk.js'); my_awesome_script.async="true"; my_awesome_script.defer="true"; document.head.appendChild(my_awesome_script);
}
} }
if (navigator.userAgent.toLowerCase().indexOf('cxensebot') != -1) {
loadAllScripts();
}