Class HBFW21B (Higher Technical School for Economics) recently visited the Ford works in Cologne. They were accompanied by their class teachers, Dr. Sabrina Berg and Bjorn Hornburg.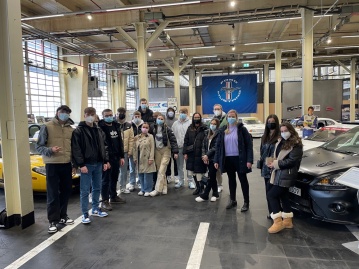 Knowledge/Cologne. In 1903 the Ford company was founded as the Ford Motor Company by Henry Ford. In 1925, the first branch in Germany was based in Berlin. But as early as 1930, Ford moved the headquarters of the company to Cologne. The reason for this was, among other things, the proximity to the Rhine, which could be used as a means of transport, and the low price of property. The then mayor of Cologne, Konrad Adenauer, played a major role in this.
The Cologne car factory began production in 1931. Since then, almost 17 million cars have rolled off the assembly line at Cologne Niehl, including more than eight million Fiestas. The small car has been built in Cologne since 1979. 15,000 people currently work in this factory.
Production in northern Cologne is one of the most efficient and productive plants in the entire European automotive industry. A complex logistics concept ensures that vehicles are delivered across the Rhine by ship, rail and road to Ford dealers across Europe. Up to 350,000 Fiestas are launched each year.
In one move, students from Maarifa toured the work. At the beginning of the tour there was a tour of the showroom, which houses a collection of old and young up to the current Ford GT. We then went through the individual production facilities, from the press shop to the assembly lines, paint shop to final assembly and quality control. The press, which creates body parts with a pressure of up to 2000 tons, and the robotic systems, which assemble the body shells with 98 percent automation, made a special impression.
On the assembly lines then a completely different picture. Some work was not done here because there was a lack of cable ties, which are manufactured by a supplier in Ukraine but were not delivered because of the war. Similar problems were previously discussed theoretically in professional studies (materials management). Now you can understand the real results live in practice.
And the technical students were also able to look into the future, because in some production halls the conversion as part of the transition process towards electronic mobility was already underway. By 2030, diesel and gasoline engines should be phased out. Then only cars with electric drives should be built. To this end, Ford is investing 1.8 billion euros in the Cologne site.
The tour ended after two and a half hours and all the students agreed that it was an interesting day with lots of new knowledge.

---
Inside: Knowledge and Environment
Become a fan of the local version of AK-Kurier.de Knowledge on Facebook now!