Like thunder, BYD is touring Europe. And a procession of models by the end of the year. All areas will be covered. From a small sedan (Dolphin) to a large luxury sedan (Han), to a mid-size sedan (Seal) and the ever popular compact SUV (ATTO3). However, this Tang aims to meet the needs of customers who are looking for space.
outside
Tang – like Han – is part of the BYD Dynasty Series. A series of examples that refer to Chinese mythology and genealogy in terms of design. More importantly, this Tang was designed by Wolfgang Egger in 2018, a man who also has an Alfa Romeo 8C and an Audi A5 Sportback to his credit.
With its classic 22-inch wheels and megalomaniac grille, the Tang looks more striking than decorative. Of course, its height of 4.8 meters does not help to go unnoticed on the street. An interesting detail, in China, an upgraded version of this Tang with a beautiful nose has been circulating since 2020. This – for one reason or another – will not (yet) arrive in Europe.
Internal affairs
BYD is an absolute powerhouse at the global level. This is also reflected in its interior, which is surprisingly finished. As for the Tang, we still get brown leather with a diamond pattern on the seats, horizontal dashboard and two digital panels. The central 15.6-inch screen can also switch from landscape to portrait mode at the touch of a button.
Apart from that, Tang in particular offers a lot of opportunities. In the trunk there is even room for two additional seats. However, this "third row of seats" offers little legroom, which makes it more than an emergency solution or a solution for children. By folding this row, you get a flat floor in the trunk that can hold 940 liters. By doing the same exercise with the second row of seats, the volume increases to 1,655 liters. This is a generous position, let it be said.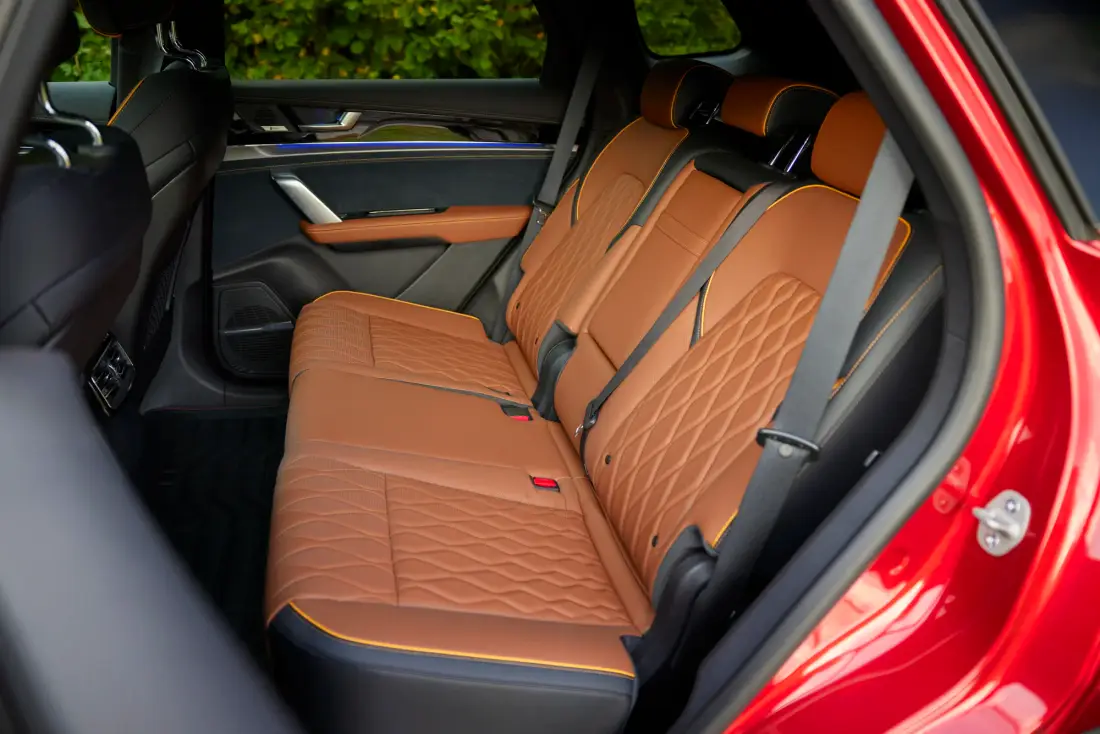 Engine
BYD does not want to make things too difficult for customers. That's why there's only one version of the Tang, with the standard brown leather and one powertrain to choose from. It is a combination of two electric motors (one on each axle) and an 85 kWh battery (net, LFP). So the BYD Tang is always a four-wheel drive vehicle.
How does this translate into performance? This 2.5-ton electric car has a power of 517 hp and 680 Nm and 0 to 100 km / h in just 4.6 seconds. Or the performance of a Porsche 911 Carrera…in a 7-seat SUV.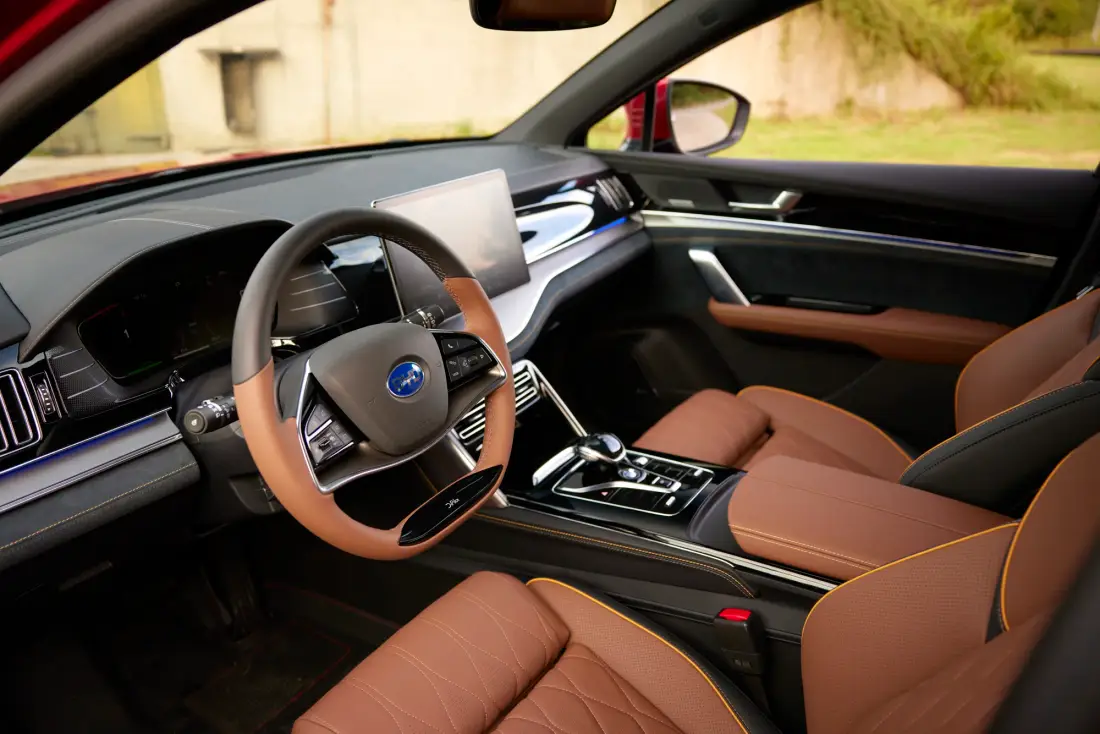 On the road
Does this BYD Tang drive like a Porsche 911? Of course not! Obviously, this is not necessary at all. BYD has clearly laid out its Tang for comfort. With forgiving suspension and superb damping. Even the 22-inch rims have no effect on ride comfort.
In addition, the cabin is very quiet and the electric power train does its work with complete peace of mind. Even with a full load, we do not suspect that everything is going very fast. The recovery on the leg lift could be a little firmer for our taste. The same goes for the steering feel, which feels quite vague at times. Brakes – branded Brembo – keep 2.5 tons parallel with ease.
Price
If other Chinese brands play the "budget" card, this is not the case with BYD. For example, this Tang costs €72,140 (France: €70,800). That's a lot for example from an unknown Chinese brand in our region. However, it has the advantage of having less competition. VW's 7-seater ID. Buzz, for example, is still a long way off and it's hard to qualify the Peugeot e-Rifter or Renault Kangoo from E-Tech as competition. Mercedes currently has a few crossovers (EQB, EQS SUV and EQV), but they are smaller or more expensive.
Therefore, Tang has the kingdom of 7 electric chairs alone for a while. This allows his flaws to be swept under the rug. Like the relatively high consumption of 23.1 kWh/100 km, or the low charge of 7.4 kW AC / 120 kW DC and the infotainment software that needs to be updated.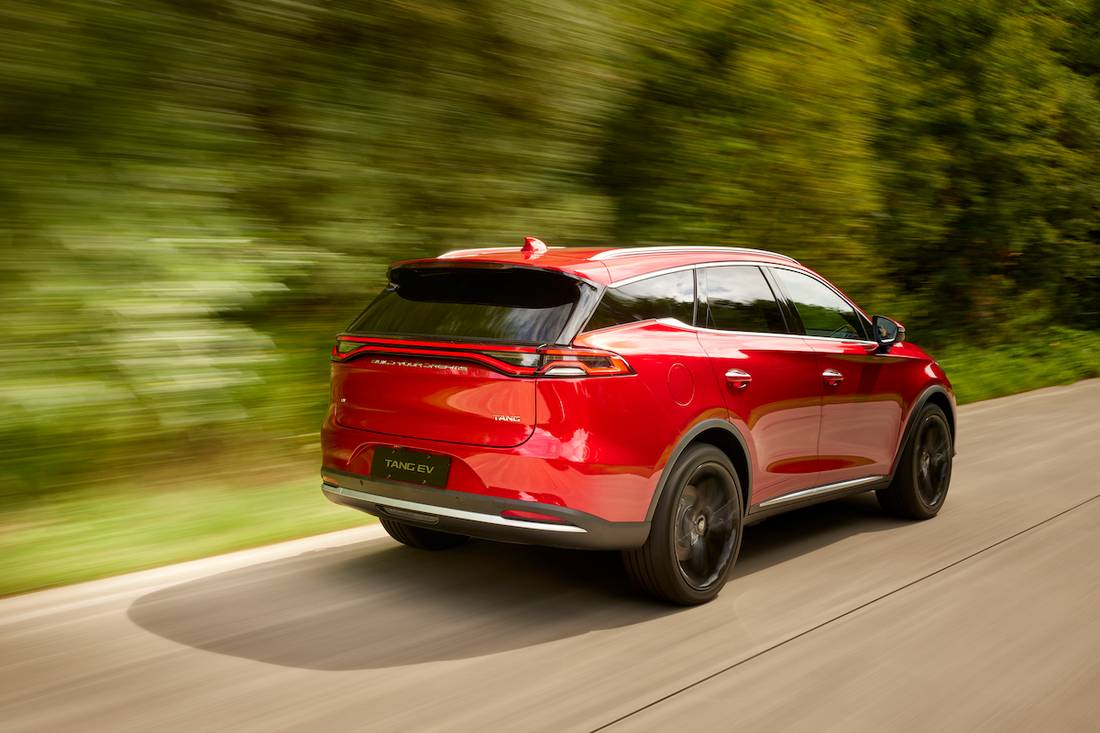 Decision
Although brand new to Europe, this BYD Tang has been in development in China since 2018, so it is somewhat at odds with BYD's European lineup in terms of design. That said, until brands like VW, Skoda, Kia and others launch a 7-seater electric car in the global market, it has a kingdom all to itself.
Technical paper
Motor: 2 electric motors (front and rear axle)
Power: 517 hp
Torque: 680Nm
0-100km/h: 4.6s
Maximum speed: 180 km / h
Trunk: 940 l
Battery: 85 kWh (net, LFP)
Freedom: 363 km (measured)
Consumption: 23.1 kWh/100 km (measured)
Price: €72,140 (France: €70,800)