Introduction New Renault Espace 2023. After almost 30 years in production with little change, Renault has completely reinvented its iconic Espace people carrier for 2023. The new Espace ditches the boxy "space pod" design of previous models in favor of a more modern crossover-inspired SUV shape. It also now rides on Renault's CMF-CD platform, shared with the Renault Megane among others, bringing significant improvements in comfort, technology, and efficiency over the aging predecessor.
In this article, we'll take an in-depth look at what's new with the 2023 Renault Espace, from its exterior and interior design to new features, engines, safety tech, and more. We'll also explore who this reinvented people carrier is aimed at and how it compares to rivals.
Exterior Design: A Modern Reinvention
On the outside, the all-new 2023 Renault Espace breaks radically from 30 years of tradition. Gone is the distinctive rounded "space pod" design the model was long known for. In its place, Renault has given the Espace a more conventional five-door SUV-inspired shape with crisper lines and more defined surfaces. Renault calls it a "coupé style" approach.
The styling takes obvious inspiration from Renault's newer crossovers like the Kadjar, with a higher riding stance, more raked front windshield, and sculpted hood and flanks. But the Espace still retains cues like the rising beltline and familiar wing-like C-pillar to identify it as part of the long-running people carrier lineage. And of course, it still has seven seats and ample interior space, just packaged in a more modern wrapper now.
"The new Espace breaks from our iconic 'space pod' design of the past, but modernizes those core strengths in interior flexibility and seating capacity that made the model so popular," says Renault design director Gilles Vidal. "By giving it a sleeker SUV-influenced shape, we aim to attract both families who need seven seats and customers simply looking for a stylish multi-purpose vehicle."
Three trim levels will be available: Sense, Zen, and Intens. Sense models get LED headlights and tail lights as standard, along with 18-inch alloy wheels. Move up to Zen for blind spot monitoring, rear cross-traffic alert, hands-free keycard, and 19-inch wheels. The range-topping Intens adds adaptive cruise control, a 360-degree camera, navigation, and 20-inch alloys.
Interior Design: High-tech and User-Friendly
Inside, the new Espace keeps its signature flexibility but modernizes the design and materials significantly. Gone is the dated plastic-heavy interior of old – instead, Renault has given the 2023 model a sleek, stylish, and high-tech cockpit that looks and feels like a premium people mover.
Soft-touch materials are used extensively, including on the upper dashboard, door panels, and seat fabrics. Buttons and switches have a satisfying tactility. Open-pore wood and aluminum trim provide a sporting contrast. Best of all, the new Espace carries over the sliding second-row seats, one-touch third-row access, and low-load floor from before – so its class-leading versatility is preserved.
The large dual 9.3-inch screens dominate the dashboard, with the upper display acting as the digital instrument cluster and the lower one controlling infotainment. Both feature sharp graphics and smooth response. Key features include built-in navigation, wireless Apple CarPlay/Android Auto, voice control, and over-the-air update capability. Climate controls are transferred to intelligently designed touchscreen menus for a cleaner look.
"For the new Espace, comfort and usability were our top priorities in the interior design," says Renault engineer Claire Lacroix. "The screens and interfaces had to be easy to use, while main touch points like seats and switches feel luxurious. Above all, we wanted it to feel light, airy, and welcoming for families." Second-row passengers benefit from ample legroom, reclining seats, dual USB ports, and abundant storage.
Overall, the 2023 Espace takes a major step up versus its predecessor in terms of interior refinement, technology, and a more premium overall feel – aiming to match or beat mid-size SUVs and crossovers. It retains the core strengths of flexible seating and space but packages them in a more modern, high-tech style now.
Engine Options: Hybrids and Plug-In Hybrids
For powertrains, Renault is taking the Espace fully electric-focused with its drivetrain choices. A new hybrid and plug-in hybrid variant will be offered from launch, with an all-electric Espace also joining the range by 2025. No diesel or gas-only engines are available.
The standard self-charging hybrid uses a 1.2-liter 3-cylinder turbo petrol engine paired with an electric motor and 1.7 kWh battery. It produces 145 horsepower for a decent all-electric driving range and fuel efficiency estimated at 42 mpg combined. For more performance and electric capability, the Espace is also available as a plug-in hybrid.
This top-spec E-Tech plug-in pairs the 1.2L engine with two electric motors, a bigger 9.8 kWh battery, and an all-wheel drive. The total system output is a healthy 158 hp. Most importantly, the PHEV can travel up to 31 miles on electricity alone, according to Renault, with emissions of just 30g/km and fuel economy exceeding 235 mpg after the battery runs out of charge. Rapid charging to 80% takes only 2 hours on a home wall box.
"The electrified powertrains really modernize what the Espace is about – innovation, efficiency, and a commitment to sustainable mobility," says Renault engineering VP Eric Beziat. "Our E-Tech hybrid systems provide strong performance along with the ability to operate emissions-free in everyday driving, while the plug-in opens up to significant electric range and cost savings for company or private users."
An all-electric Espace is planned to join the range within the next couple of years, further expanding Renault's credible EV lineup spearheaded by the excellent Zoe and Megane E-Tech. Powertrain options thus make the 2023 model a very eco-friendly, low-running cost alternative in the people carrier segment.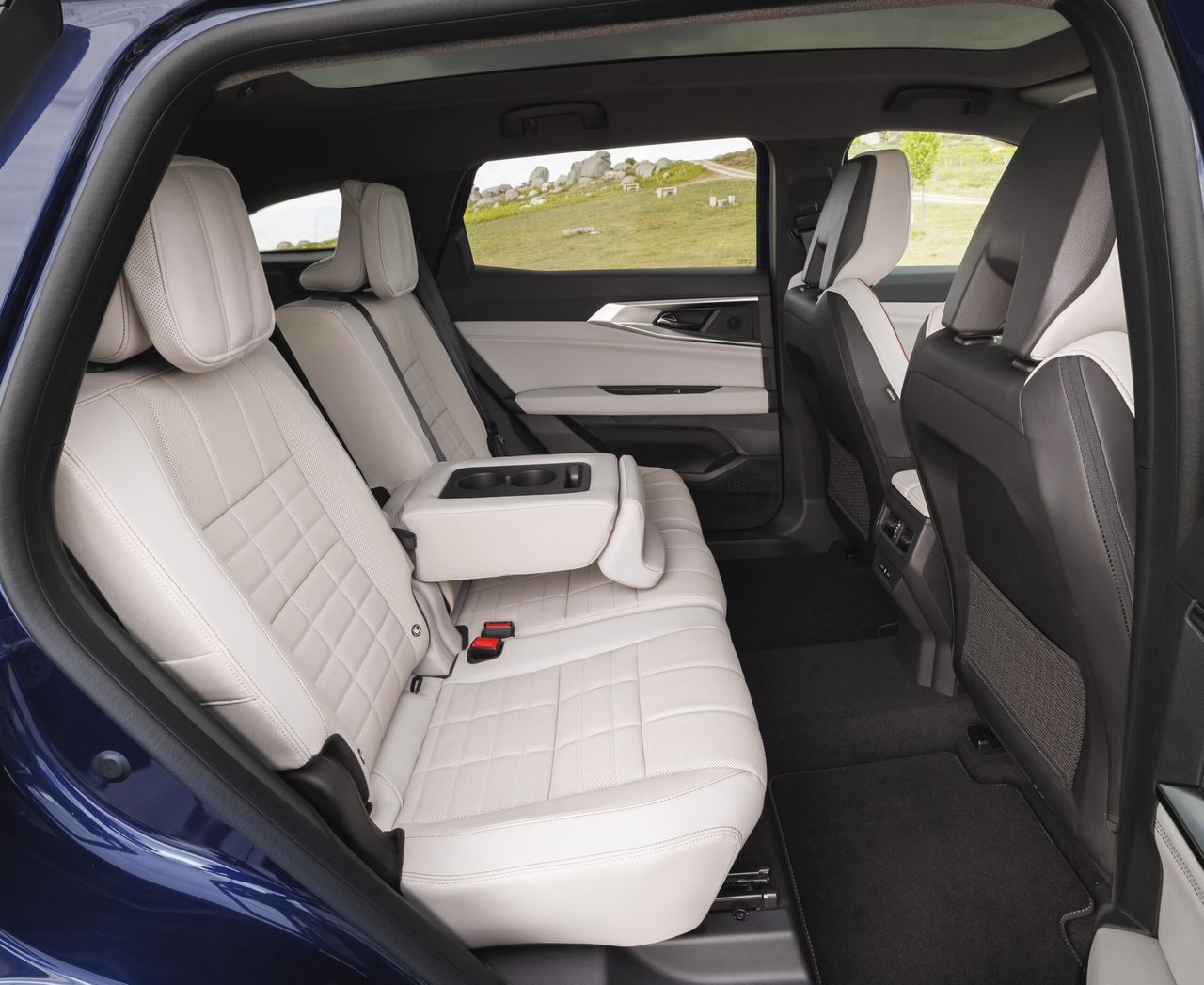 Driving Dynamics: Impressive for a Large MPV
Considering the bulky MPVs of years past struggled dynamically, it's impressive just how surefooted and car-like the new Espace drives. Much credit goes to Renault for abandoning the old platform for its versatile CMF-CD architecture, shared with the dynamic Megane among others.
Body control is far better than expected, with flat cornering and minimal lean. The steering feels well-weighted and accurate. Road and wind noise are impressively quelled through revised suspension mounts, additional sound deadening, and triple-glazed side windows.
Braking performance is strong for the larger 7-seat package too, with a smooth, linear pedal feel. While no sports car, drivers will appreciate the newfound levels of agility, comfort, and refinement on tap – making longer journeys far less taxing.
The plug-in hybrid's E-Tech AWD system also adds to dynamics with its ability to quickly shuffle torque between front and rear axles when needed. This makes the PHEV variant feel even more composed and sure-footed through corners despite its larger footprint.
Tech and Safety: Cutting-Edge Driver Assistance
Technologically, the 2023 Renault Espace is one of the most advanced vehicles in its segment thanks to the latest driver aids and connectivity on offer. Standard safety tech includes autonomous emergency braking with pedestrian/cyclist detection, lane departure warning, driver attention alert, automatic high beam headlights, and rear parking sensors.
Higher trims gain extra features like blind spot monitoring, rear cross-traffic alert, adaptive cruise control with stop-and-go, plus a 360-degree camera for easier parking. Flagship Intens models even get Level 2 partially automated driving capability through Highway & Traffic Jam Companion – Renault's system for steering, braking, and acceleration on highways and in congested traffic up to 37 mph.
Inside, as mentioned earlier, the Espace packs a large 9.3-inch digital instrument cluster and central touchscreen running the latest version of Renault's pioneering OpenR Link infotainment system. Connectivity includes standard Apple CarPlay, Android Auto, Bluetooth, DAB radio, and over-the-air updates. Wireless device charging, 4G WiFi hotspot, and navigation with real-time traffic updates are also available.
Plus, Renault promises the Espace will receive upgraded software features post-purchase through regular firmware patches. Functions like notifications, vehicle health monitoring, enhanced voice commands, and additional subscription services are all planned to gradually roll out over the air. Altogether, it positions the 2023 people carrier on par with premium saloons for advanced driver-assist systems and infotainment capabilities.
Pricing and Competition
Pricing for the new 2023 Renault Espace has not been officially announced yet but is expected to start from around £29,000 in the UK when it arrives later this year. For context, the current hybrid Espace costs £33,000. The range-topping plug-in variant will likely come in closer to £36,000.
Who is It For?
The reinvented 2023 Espace is aimed squarely at families requiring seven seats but wanting more style than a standard MPV. Its bold new crossover-inspired design should also attract customers simply after a versatile and universally practical vehicle.
Available with both self-charging hybrid and plug-in powertrains from the outset, the Espace additionally targets company and fleet buyers seeking low-emission compliant alternatives. Fleet leasing deals through Renault are set to play up cost-savings through tax breaks and fuel consumption advantages.
Motioning it as a flexible "multi-purpose" vehicle rather than strictly a people carrier also broadens the target demographic. Empty-nesters downsizing from an SUV could be attracted by both interior space and hybrid powertrains. Renault claims the new Espace provides "the functionality of an MPV with the versatility of an SUV."
Key rivals
The most obvious competitors come from within MPV ranks, such as the Volkswagen Touran, Citroen Grand C4 SpaceTourer, and the forthcoming Nissan Townstar. Crossover-based rivals include the Ford S-Max, Kia Sorento, and Skoda Kodiaq.
But don't discount other urban family haulers like the Peugeot 5008, Renault Scenic, and Toyota RAV4. And for company buyers seeking low emissions, EVs like the MG5, Skoda Enyaq, and upcoming Vauxhall/Opel Combo-e Life will pose stiff competition too.
The Espace has a formidable task retaining its status against all these quality new alternatives. Strong selling points lie in its Renault badge reputation for value and innovation, plus flexible interior layout inherited from 30+ years of MPV expertise. Powerful and affordable hybrid powertrains should also appeal greatly over conventional large MPVs.
Key Takeaways
To summarize the new 2023 Renault Espace:
Reinvents iconic MPV with bold SUV-inspired styling while keeping flexibility
Premium high-tech interior on par with executive saloons
Hybrid and plug-in hybrid powertrains lower emissions and running costs
Chassis tuned for car-like driving dynamics rare in 7-seat packages
Advanced driver aids plus hi-tech connectivity throughout
Targets families and fleets wanting low-emissions seven-seat transport
Prices are expected to start at around £29k in the UK when sales begin in late 2022
The challenges for Renault are high with so many new competitors. However early indicators show that Espace could succeed by modernizing what made the nameplate great while adjusting the formula for today's customers. Sleek new looks, hybrid efficiency, and tech-laden cabins should capture both private buyers and users after low TCO fleet mobility.
Frequently Asked Questions
Q: How flexible is the seating?
The new Espace maintains class-leading versatility thanks to sliding and reclining second-row seats, plus simple one-touch access to the third row. The second row can slide fore/aft by 150mm for desirable legroom combinations. Middle seats also flip and fold flat.
Q: What real-world fuel economy can I expect?
Renault claims the self-charging hybrid will return up to 42 mpg combined. Owners should see mid-to-high 30s in normal use. The plug-in is rated for over 235 mpg after the battery depletes, and realistically 60-70 mpg is attainable depending on electric driving amount.
Q: What color and trim options are there?
The Espace will be available in 10 exterior paint colors including Crystal White, Cosmos Blue, Titanium Grey, and Flame Red. Interior trim varies by grade but includes black/grey Sofia leatherette and RA00 perforated leather depending on spec.
Q: What safety features does it have?
Standard safety tech includes AEB, lane keep assist, driver attention monitoring, and rear parking sensors. Options comprise blind spot monitoring, rear cross-traffic alert, surround-view camera, and adaptive cruise control with stop-and-go. Higher trims gain highway autopilot up to 37mph.
Q: What is the real electric driving range?
The plug-in hybrid (PHEV) variant has an official electric-only range of up to 31 miles from its 9.8kWh battery. Realistically, drivers should see high 20s miles in summer, and low-to-mid 20s in winter depending on heating use and external temperatures.
Q: How do the infotainment systems compare?
The Espace comes fitted with Renault's new OpenR Link operating system, which debuted on the new Megane. It features large 9.3-inch portrait screens, wireless Apple CarPlay/Android Auto, and over-the-air updates. The user interface is simple and menu structures are well designed.
Q: What warranty does it come with?
Manufacturer warranty is 3 years/60,000 miles comprehensive. There is also a lifetime battery and electric motor warranty on the hybrid and PHEV powertrains up to 100,000 miles – giving excellent long-term peace of mind for hybrid owners.
Change Ushers in a New Era
After almost thirty years in production with very little change from the original "space pod" design, Renault has boldly reinvented the iconic Espace people carrier from the ground up. Debuting for the 2023 model year, the new Espace marks an unprecedented departure that abandons tradition in favor of a sleeker, contemporary crossover-inspired form.
Gone are the familiar rounded styling cues, exposed door hinges, and an upright roofline that defined the model for decades. In their place is a striking new look that takes obvious influence from Renault's modern SUVs like the Kadjar. It sits taller on the road with a sleek swept roof, crisply defined body panels, and a coupé-like silhouette.
While the overhaul in appearance may shock some traditional Espace loyalists, it crucially preserves the core strengths of flexible three-row SUV-grade passenger space. Seats and cargo versatility remain class-leading. And with a switch to Renault's versatile CMF-CD platform, refinements extend well beyond just aesthetic changes.
Dynamics see a huge step forward. The new architecture endows the Espace with a far sportier, more polished drive than any large MPV has the right to expect. Body control is averagely crisp. Ride comfort also exceeds all prior generations thanks to tighter joints and extra soundproofing.
Modernity inside matches the exterior reinvention. Gone are low-rent plastics and cluttered dashes – the 2023 model debuts a striking high-tech cockpit on par with premium saloons. Dual 9.3-inch screens dominate with razor-sharp graphics and menus. Ergonomics likewise receive a complete overhaul for a lighter feel.
Propulsion follows the latest industry trends too. Hybrid and plug-in hybrid powertrains offer sustainable mobility and lower running costs through tax breaks or fuel savings. Especially for fleet operators, the E-Tech range ties running expenses clearly below its petrol rivals.
So while first impressions will understandably raise eyebrows, closer inspection reveals Renault has achieved far more than a superficial redesign. The new Espace modernizes in virtually every area to compete strongly against a new wave of challengers. It carries the respected name into the next era with an all-new proposition focused squarely on today's customers and mobility needs.
In revamping an automotive icon, Renault simultaneously freshens the large MPV segment as a whole. The 2023 Espace sets a new standard and resets expectations for the category. For families, firms, and drivers simply wanting both interior flexibility and SUV practicalities, its expanded talents make a persuasive case.
Bold yet Familiar: The New Espace Strikes a Balance
Visually, the 2023 Renault Espace breaks radically from three decades of tradition. Its predecessor's rounded 'space pod' silhouette has long been replaced with creased surfacing and defined shoulders more akin to an SUV. Yet step inside, and lingering ties to the iconic nameplate's legacy become clear.
Flexibility remains the redesigned model's core strength. Its sliding second-row seats and fold-flat middle rows provide best-in-class versatility for seven passengers and their gear alike. Clever storage abounds too, from cabin drawers to underfloor compartments. Low-load floors preserve practicality.
Dynamically, the fresh CMF-CD architecture imbues a new polish. Redefined dampers yield svelter body control, while thicker doors cut wind noise to a minimum. But beyond entertainment, ease remains Espace's foremost promise. An effortless powertrain portrays driving as serene transportation rather than sport.
Technology cascades throughout the inventive new interior. Slick screens dominate, blankets of soundproofing soothe, and intuitive menus guide all onboard. Yet original user-friendly principles persevere from three generations past. Joints still slide with a single touch. Second-row seats reconfigure in seconds flat.
Sustainably, self-charging parallel hybrids spearhead the reinvented range. Their seamless thrust bears scant signs of electrification beyond efficiency gains. But for fleets or larger families, the option of a plug-in powertrain opens up zero-emission miles with the product's trademark ease.
The change marks a necessity in 2023's hyper-competitive landscape versus the prior Espace era. Yet through it all, Renault preserves qualities charming not just children but grown adults too – flexibility, functionality, and comfort above all else remain this spacious Renault's forte as before. Boldly modernizing its form proves companion to more crucial constants retained within.
The New Espace Makes Electrification Easy
Families considering an electrified people carrier face difficult choices – until now. The reinvented Renault Espace simplifies sustainable mobility within a package as flexible and user-friendly as ever.
Its self-charging hybrid powertrain melds seamlessly with decades of drive packaged by the respected French brand. Electric assistance bolsters acceleration off-the-line, yet the gasoline engine spins silently when extra vigor is needed. Owners benefit from urban-friendly electric miles without range anxiety between charges.
Above the standard hybrid, a plug-in variant opens up to drivers who can leverage home charging. Over 30 miles of quiet EV driving allows commutes or school runs to be accomplished on electrons alone most weeks. For others, its bigger battery serves primarily to optimize fuel-sipping when running hybrid-style.
Meanwhile installed chargers make replenishing electrons as straightforward as refueling the family car was last decade. Automated climate or remote commands from smartphones further reduce interaction needed during charging stops.
Installation stays simple too. Home wall boxes deliver safe, reliable juicing that spouses or teenagers can oversee unaided in little time. Workplace stations expand public charging networks' societal impact. Overall, choosing electric powertrains feels comfortably low-pressure.
Most intriguingly, electrifying changes superficial aspects of Espace ownership least. Its class-topping flexible interior persists, accommodating car seats, Clifford or family of five with ease on long hauls. Virtues like packaging infrastructure endure as Renault's multi-decade expertise.
In reviving an icon for 2023, the French firm wisely focused on progress where it expands customer benefits most. The new Espace marries its smooth, effortless essence with sustainable powertrains that integrate neatly into all lifestyles – a rare accomplishment expanding electric driving's mainstream appeal.
The New Espace Resets Expectations
For 30 years the Renault Espace set the benchmark, traveling further than competitors dared and serving as the default choice for large families across Europe. But times change, and buyers' priorities have evolved alongside rising competition in MPV's once-cozy sector.
With its ground-up redesign, the new 2023 Espace reimagines what a people carrier can be for the modern age. Gone is the old model's boxiness in favor of a swooping crossover-like profile that stands out rather than blending in. Inside, an avant-garde twin-screen dash replaces outdated buttons and plastics.
Yet Renault preserves what matters most – exemplary flexibility. Sliding seats zip between configurations. Flat third rows remain a button press away. Clever storage persists everywhere you look. It remains a chameleon equally at home hauling grandparents or a voyage to Ikea.
Now though, an edgier look matches a retooled driving character. Shared architecture gifts keener handling, Plus hybrid power straddles sustainability and sparkle. Technological touches keep families engaged instead of entertained – safety aids watch constantly, and over-the-air upgrades granting new functions over time.
Most importantly, the pioneering new Espace resets expectations of what a people's carrier offers. Its self-charging drivetrains simplify electric mobility too, whether homeowners harnessing plug-in power or commuters gaining green miles aplenty. Sustainable running costs undercut petrol alternatives.
For any buyer seeking both interior versatility and an SUV's aesthetics or driving style, the reinvented Espace presents new levels of capability. It carries an iconic name boldly into a modern era defined by changing lifestyles and priorities – all while staying true to multi-seat transportation's core purpose. Renault reignites a segment it helped forge.
The tape measure may contain seven seats as before, yet in reimagining an icon, the new Espace answers the call of the times. It resets the bar other MPVs now aim for with panache, flair, and vision in no fewer measures than flexibility. This is a people carrier for the 2020s and beyond.
Conclusion
With the all-new 2023 Espace, Renault has completely reinvented one of the automotive industry's most iconic nameplates. Gone is the dated boxy "space pod" design, replaced by a sleek and stylish crossover-inspired shape that aims to attract new customers beyond MPV traditionalists.
Yet crucially, Renault has preserved the core strengths of flexible seven-seat practicality that made the Espace such a smash hit for families over the decades. Sliding second-row seats, folding rear chairs, low load floor, abundant storage – all the versatility and usability are still there. Arguably it's even been improved through redesign.
Under the skin, switching to the versatile CMF-CD platform has enabled huge gains in refinement and driving dynamics rare for a vehicle of this size and usage. Ride quality, handling, refinement – the new Espace sets new standards versus older large MPVs as well as some rivals.
Electrification further modernizes the proposition through self-charging hybrid and plug-in powertrains. Lower running costs through efficiency or tax incentives will strongly appeal to private buyers and fleets alike. An upcoming all-electric model will complete the green transition.
Packed with the latest technology and safety equipment inside, the reinvented 2023 Espace is certainly one of the most advanced people carriers available when it arrives later this year. ease of use remains a core focus despite new high-tech features.
In conclusion, the new Espace represents Renault fully resetting expectations for what a modern multi-purpose large people carrier should be. Stylish new looks hide the familiar flexible strengths underneath. With strong green credentials and competitive projected pricing too, it could mark a resurgence for Renault in the vital family car segment.