Only two wheels and yet this creation carries the official logo of the winged Aston Martin brand. Meet the AMB 001, a small version motorcycle designed by Aston Martin. Two Wheels is not new, because it was introduced two and a half years ago, but delivery is now underway.
It was at the Milan Motorcycle Exhibition in November 2019 where Aston Martin designed a special motorcycle with the French Superior. The partnership resulted in a two-wheeled motorcycle with a future shape and a standard Aston Martin sauce. A year later, the first copies have to be moved from the factory in Toulouse.
100 pieces
True, the story is known, the corona conflict came to the fore. That is why the first thirty units left the factory gate only this month. The transcripts went directly to clients in America, Japan and, as an example in photography, Belgium. Only 100 pieces see daylight. Now the manufacturer indicates that less than 100 buyers have been available for AMB 001. There are currently ten copies available.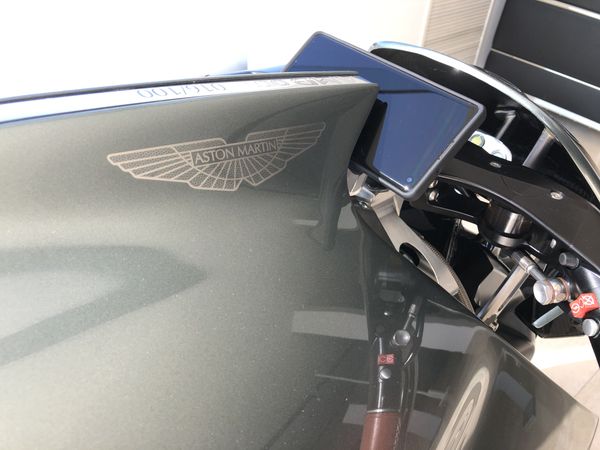 The start of the series?
It is not difficult to guess what the name AMB 001 means. This first 'Aston Martin Brough' seems to taste better for the British, though it is doubtful whether it is. In collaboration with Red Bull Technologies, the two chose similar names. The first type is called AM-RB-01. And after one came two, followed by three. Unfortunately, Aston Martin changed the names of the last cars to Valkyrie, Valhalla and Vanquish respectively. It could just be that there will be a second motorcycle from a temporary English / French marriage, AMB 002.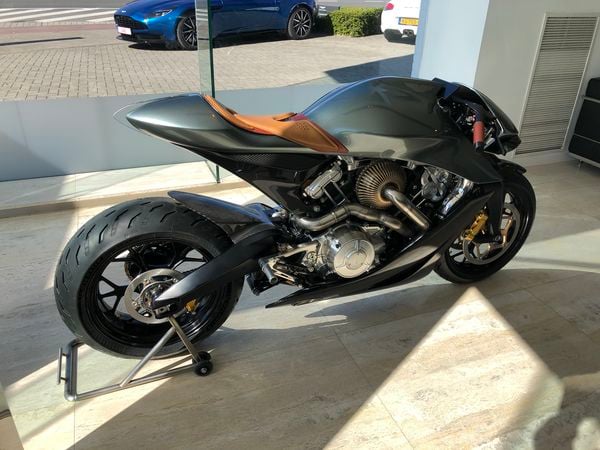 on turbo
Storage is provided by the Brough Superiors V twins twin engine. With a dry weight of 180 kg. Because of the strong performance level, the manufacturer also changed the stand system. Part of the technology is enclosed in a frame that is covered with carbon fiber body panels. The components are in some cases part of the structure, which contributes to the reduction of the weight of the complete machine. We already wrote that the motorcycle has the Aston Martin wing logo. Actually, that is not a cultural badge or sticker for a simple purpose. No, the two sides inserted the Aston Martin logo into the panel, using laser technology.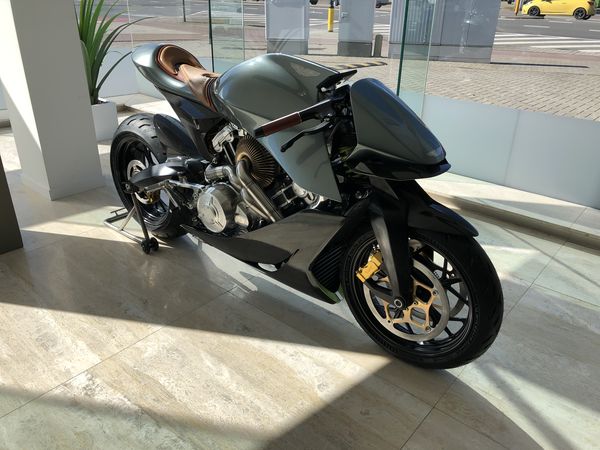 Art on wheels (two).
AMB 001, completed with leather details, is not permitted on public roads. It is not legal on the street. Two wheels can be used on a track or personal property, while a good living room or conservative also treats it fairly. And that's at a price of about £ 100,000. Art costs money, you have to think.
Did you notice the error? Email us. We thank you.
Information

Jana†

Volkswagen Phaeton almost got a successor

Information


7 July 2022†

Audi RS3 getting worse: ABT RS3 R

Information


7 July 2022†

Why Bentley Fits 'Flight Seats' in Bentayga EWB

Information


7 July 2022†

Ford Ranger finds new competitor: Volkswagen Amarok

Information


7 July 2022†

Hyundai are making fun of the attractive model, is this the new coupe?

Information


7 July 2022†

Who are the best drivers, men or women?

Information


July 6, 2022†

Someone drives a BMW 7 Series 1650+ km from London to Madrid in a tank

Information


July 6, 2022†

Road price: for these 3 tips you are out as cheap as possible
//SETTING VARIABLES var wpk_tags = dataLayer[0].Tags; if (wpk_tags != undefined) { var wpk_tags_array = wpk_tags.split(','); }else{ var wpk_tags_array = []; }
var sales_keywords = dataLayer[0].sales_keywords; if(sales_keywords == undefined){ sales_keywords=""; }else{ sales_keywords = sales_keywords.replace(/_/g, ''); sales_keywords = sales_keywords.replace(/&/g, '_'); sales_keywords = sales_keywords.replace(/&/g, '_'); }
if (typeof dataLayer[0].Site !== 'undefined') { var site_name = dataLayer[0].Site.toLowerCase(); }else{ var site_name=""; }
site_name = site_name.split(".");
//SETTING VARIABLES
var script = document.createElement("script"); script.src = "https://shared.mediahuis.be/cxense/cxense.autovisie.min.js"; script.type = "didomi/javascript"; script.setAttribute('data-vendor','iab:412');
console.log('ads: '+deniedConsent.indexOf('create_ads_profile')); console.log('content: '+deniedConsent.indexOf('select_personalized_content'));
if(deniedConsent.indexOf('create_ads_profile') < 0 && deniedConsent.indexOf('select_personalized_content') < 0){ document.head.appendChild(script); console.log('load cxense!!!'); }else{ console.log('NOT load cxense!!'); } if (dataLayer[0].show_banners == 1) { // console.log('fillSlots'); setTimeout(function(){ fillSlots(); }, 1000); } if(deniedConsent.indexOf('social_media') < 0){ var y = document.getElementsByClassName("social-media-no-consent-box"); var i; for (i = 0; i < y.length; i++) { y[i].style.display = "none"; } var x_fb_post = document.getElementsByClassName("fb-post-no-consent"); while(x_fb_post.length > 0) { x_fb_post[0].className = "fb-post"; }
var x_fb_video = document.getElementsByClassName("fb-video-no-consent"); var i; while(x_fb_video.length > 0) { x_fb_video[0].className = "fb-video"; }
var x_twitter = document.getElementsByClassName("twitter-tweet-no-consent"); while(x_twitter.length > 0) { x_twitter[0].className = "twitter-tweet"; }
var xi = document.getElementsByClassName("instagram-media-no-consent"); while(xi.length > 0) { xi[0].className = "instagram-media"; }
var script = document.createElement("script"); script.src = "https://platform.twitter.com/widgets.js"; document.head.appendChild(script);
var script = document.createElement("script"); script.src = "https://www.instagram.com/embed.js"; document.head.appendChild(script);
var script = document.createElement("script"); script.innerHTML = "window.instgrm.Embeds.process();"; document.head.appendChild(script);
var script = document.createElement("script"); script.src = "https://connect.facebook.net/nl_NL/sdk.js#xfbml=1&version=v8.0";
var facebookDiv = document.createElement('script'); facebookDiv.innerHTML =`window.fbAsyncInit = function() {FB.init({ xfbml : true, version : 'v5.0' });}; `; document.head.appendChild(facebookDiv);
var my_awesome_script = document.createElement('script'); my_awesome_script.setAttribute('src','https://connect.facebook.net/en_US/sdk.js'); my_awesome_script.async="true"; my_awesome_script.defer="true"; document.head.appendChild(my_awesome_script);
}
} }
if (navigator.userAgent.toLowerCase().indexOf('cxensebot') != -1) {
loadAllScripts();
}