Every year the government seizes cars for many reasons. These, and old service cars, are then sold by the Ministry of Finance. Although most cars are not visible, gems sometimes appear in the Domeinen Roerende Zaken exhibition hall.
This time there is an amazing car for sale in the Netherlands: Jeep Grand Cherokee SRT. You can bid on the car through the government website. If you offer a higher bid, you can take the car. This amount is not what you should pay for your new car. On top of your bid there is a 15% increase in 'premium'.
Jeep Grand Cherokee SRT
Autovisie operated the Jeep Grand Cherokee SRT in 2007. "Moderate use proves that you are producing your own hole in the ozone layer," we wrote at the time.
"At the beginning of the race, the Jeep moves so mercilessly from its position that it looks like it is flying away, without even a single inch of spinning wheel. The fact that you are producing your hole in the ozone layer during this type of campaign is confirmed by moderate use during sessions. measure: 1 out of 3. But know that in daily practice you get a better score than 1 in 6.3 which the factory claims. "
Heavy weight
"It 's really good, to accelerate everything, but it' s good if the Jeep Grand Cherokee SRT weighing more than 2100 kg will also fit well, possibly more than once. "The braking distance from 100 kilometers per hour at 35.9 meters – and several times – is very good."
"But there is also something that is not very good about the Grand Cherokee SRT. For example, its control does not match that great speed. Apart from the fact that this car is not made to be dragged into a corner at high speed (very heavy, with a hard rear axle as well. does not help), indirect directing does not make it easier. "
Jeep Grand Cherokee SRT in the Dutch government
The Dutch government provides the US mastodon. The Jeep Grand Cherokee SRT is 2006 and has 147,334 kilometers per hour.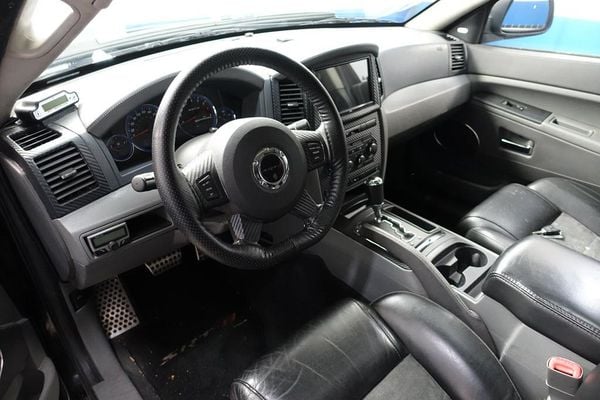 The ad states the following: "The engine has technical improvements as well as a different exhaust system". Perhaps the 6.1-liter V8 provides more power than the 426 hp standard.
Did you notice the error? Email us. We thank you.
Information


May 22, 2022†

You want this event: 360 hp Peugeot 508 SW PSE, 'like bitcoin'

Half


May 17, 2022†

Do you want this event: Polestar 1, a classic of the future?

Half


May 14, 2022†

Unknown event: Cupra Formentor with five-cylinder Audi RS3

Information


May 13, 2022†

The Dutch government offers Citroen BX: 'theoretically the best car'

Half


May 11, 2022†

The Dutch government sells Ferrari 599 GTB: Italy's largest duet

Extra


May 10, 2022†

Join! Autovisie is looking for events from Domains Movable Affairs

Half


May 8, 2022†

You want this event: Subaru XV, Japanese horse

Half


May 6, 2022†

You want this event: Peugeot 208 GTi, 'better than Fiesta'
var deniedConsent = tc_vars.didomiPurposesConsentDenied; if(deniedConsent.indexOf('cookies') == -1){
//SETTING VARIABLES var wpk_tags = dataLayer[0].Tags; if (wpk_tags != undefined) { var wpk_tags_array = wpk_tags.split(','); }else{ var wpk_tags_array = []; }
var sales_keywords = dataLayer[0].sales_keywords; if(sales_keywords == undefined){ sales_keywords=""; }else{ sales_keywords = sales_keywords.replace(/_/g, ''); sales_keywords = sales_keywords.replace(/&/g, '_'); sales_keywords = sales_keywords.replace(/&/g, '_'); }
if (typeof dataLayer[0].Site !== 'undefined') { var site_name = dataLayer[0].Site.toLowerCase(); }else{ var site_name=""; }
site_name = site_name.split(".");
//SETTING VARIABLES
var script = document.createElement("script"); script.src = "https://shared.mediahuis.be/cxense/cxense.autovisie.min.js"; script.type = "didomi/javascript"; script.setAttribute('data-vendor','iab:412');
console.log('ads: '+deniedConsent.indexOf('create_ads_profile')); console.log('content: '+deniedConsent.indexOf('select_personalized_content'));
if(deniedConsent.indexOf('create_ads_profile') < 0 && deniedConsent.indexOf('select_personalized_content') < 0){ document.head.appendChild(script); console.log('load cxense!!!'); }else{ console.log('NOT load cxense!!'); } if (dataLayer[0].show_banners == 1) { // console.log('fillSlots'); setTimeout(function(){ fillSlots(); }, 1000); } if(deniedConsent.indexOf('social_media') < 0){ var y = document.getElementsByClassName("social-media-no-consent-box"); var i; for (i = 0; i < y.length; i++) { y[i].style.display = "none"; } var x_fb_post = document.getElementsByClassName("fb-post-no-consent"); while(x_fb_post.length > 0) { x_fb_post[0].className = "fb-post"; }
var x_fb_video = document.getElementsByClassName("fb-video-no-consent"); var i; while(x_fb_video.length > 0) { x_fb_video[0].className = "fb-video"; }
var x_twitter = document.getElementsByClassName("twitter-tweet-no-consent"); while(x_twitter.length > 0) { x_twitter[0].className = "twitter-tweet"; }
var xi = document.getElementsByClassName("instagram-media-no-consent"); while(xi.length > 0) { xi[0].className = "instagram-media"; }
var script = document.createElement("script"); script.src = "https://platform.twitter.com/widgets.js"; document.head.appendChild(script);
var script = document.createElement("script"); script.src = "https://www.instagram.com/embed.js"; document.head.appendChild(script);
var script = document.createElement("script"); script.innerHTML = "window.instgrm.Embeds.process();"; document.head.appendChild(script);
var script = document.createElement("script"); script.src = "https://connect.facebook.net/nl_NL/sdk.js#xfbml=1&version=v8.0";
var facebookDiv = document.createElement('script'); facebookDiv.innerHTML =`window.fbAsyncInit = function() {FB.init({ xfbml : true, version : 'v5.0' });}; `; document.head.appendChild(facebookDiv);
var my_awesome_script = document.createElement('script'); my_awesome_script.setAttribute('src','https://connect.facebook.net/en_US/sdk.js'); my_awesome_script.async="true"; my_awesome_script.defer="true"; document.head.appendChild(my_awesome_script);
}
} }
if (navigator.userAgent.toLowerCase().indexOf('cxensebot') != -1) {
loadAllScripts();
}