Probably the most reliable Fiat is not a Fiat. It is rare in bazaars, but can be bought cheaply.
There are unpleasant stories about the reliability of Italian cars, and they are not rarely exaggerated. This Fiat will stand, however, Fiat is not so much, the Italians have put their focus on Japanese technology almost 100%. But that's what makes the 124 Spider so attractive.
"Montverdi, Monteverdi, I have only seen two in my life. If this sentence is familiar to you, it means that you have seen the German cult film Kidnapping at least once. If the Porsche is in the middle of the film, a group of thieves also attacks other manufacturers. Among them are a forgotten Swiss car company, founded in 1967 by racing driver Peter Monteverdi. He then teamed up with coachbuilders such as Frua and Fissore, who produced sports cars of their own unique style. But as production was expensive and limited , few people saw cars like High Speed ​​​​​​​​375 in the body.
The reason I remember this gem of a movie is another automotive rarity. Indeed, in 2012, Alfa Romeo announced that it was entering into a partnership with Mazda that would result in a new sports car. However, the project ended two years later as then FCA boss Sergio Marchionne demanded that Alfa be Italian through and through. Thus, Mazda found itself with not ten middle fingers, but only the little finger. Therefore, the current generation of MX-5 is its first creation.
The Italians, on the other hand, thanks to their contribution, got their version, the Fiat 124 Spider. But if the Mazda roadster is still available today, its brother is no longer sold. There is no need to speculate on the reasons for this disappearance: only about 40,000 cars found buyers in the six years that production lasted. And although most of them ended up in Europe, in the Czech Republic, the Fiat version attracted only a few people. So you may not see one in your life. But unlike Monteverdi, in this case, you won't have to be overly sad.
When Jeremy Clarkson got behind the wheel of the Spider, he said: "You expect a Fiat to be Italian through and through, sportier and more crazy than the MX-5. But in reality, it's quiet and not very fun". call for a sports car with a rear hatch and a canvas roof, but on the other hand, even those features can attract others. So if you are looking for a quiet street, the Spider can appeal to you. Especially since, unlike Mazda, it has a "European" look .
However, as mentioned, Fiat production is now over. Instead of going to showrooms with new cars, you will therefore have to go to second-hand shops. On the one hand, we can be scared by the fact that it is a Fiat, but on the other hand, we are quickly reassured: the Spider was built on the same line as the MX-5. So it's not quite a Fiat, and therefore a reliable and durable car – rumor has it that it's the most reliable modern example of the Italian brand. In fact, Fiat only released the car with its power train, that is, the MultiAir turbo four-cylinder, its shock absorbers or special body work that should be close to the old classics. So the Spider is a little taller, which also benefits the trunk.
Fortunately, the driveline hasn't aged a bit, and neither has the chassis. The body is even worse, as both versions have a paint problem. In addition, the lack of quality of the builders was exacerbated by the lack of consideration of the owners. So if there are points to look out for, it's the bodywork and alloy wheels. The poor quality of interior decoration is also sometimes mentioned, as well as electrical installations. Finally, repairs were not always made during the warranty period.
The fact that these are not unfounded rumors has been confirmed by colleagues from Germany, who reviewed the article from February 2019. Indeed, the doors and bumpers are decorated with a number of scratches , and for sensitive buyers, repairs will be almost necessary. The garage will gradually become necessary, not only for the folding roof, but also to strip the road and prepare it to receive a new coat. In fact, the more involved you are in the process, the less expensive it will be.
This brings us to talk about prices, which are undoubtedly interesting. For cheap parts, you have to pay about 350,000 crowns, and at this time you can count on low mileage and 140 horses. In the Abarth version, however, the four-cylinder engine produces 30 more horses. However, there are very few cars with a scorpion on the logo, even if you can afford to pay half a million crowns.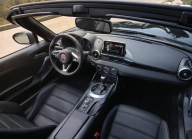 Fiat 124 Spider will be able to impress not only with its appearance and performance, but also with reliability and durability. Not surprising, since Mazda was in charge of production. This is also the reason why the joint project with Alfa Romeo, which was expected before, did not materialize. Photo: Fiat
Auto Bild, TÜV
All articles on Autoforum.cz are opinions that reflect the opinion of the editor or author. Except for articles marked as advertising, the content is not sponsored or influenced in any way by third parties.