BMW presents its new 5 Series sedan, and it relies heavily on electric versions: the i5 therefore represents half of the range!
The German manufacturer has even neglected the plug-in hybrid, and besides the electric one there are two petrol engines announced for launch on this one. BMW 5 Series 2023.
520d and 520i…or electric for launch
Not so long ago, the 5 Series was often offered with generous 6-cylinder engines and luxurious V8s. For the new generation, everything changes: only two 4-cylinder engines are offered in petrol. So BMW leaves a choice between the 520i and 520d, which are offered with rear-wheel drive or in xDrive all-wheel drive.
Power levels remain the same, with 197 hp in the diesel and 208 hp in the petrol. In both cases, they are mated to an 8-speed Sport gearbox and benefit from a 48V mild hybrid. The 520i versions remain reasonable, and are between 130 g and 144 g. With its Twin Power Turbo engine with Valvetronic and Double Vanos, the 520i goes from 0 to 100 km/h in 7.5 s and reaches 230 km/h.
In diesel, the 520d does better with 7.3 s and 233 km / h, despite its low power. On the other hand, it has a higher torque, of 400 Nm against 310 Nm for its petrol counterpart. Its CO2 emissions are also higher, between 133 g and 147 g! Therefore, all 5 thermal Series are under France for the ecological penalty.
To reduce Co2 emissions, the more powerful engines are only available on the i5 electric versions. Those who can wait until spring 2024 can also opt for a next-generation plug-in hybrid engine.
2024 will also see the arrival of the third version of the i5 with all-wheel drive, and the 5 Series diesel this time in 6 cylinders. So it will be important to be patient.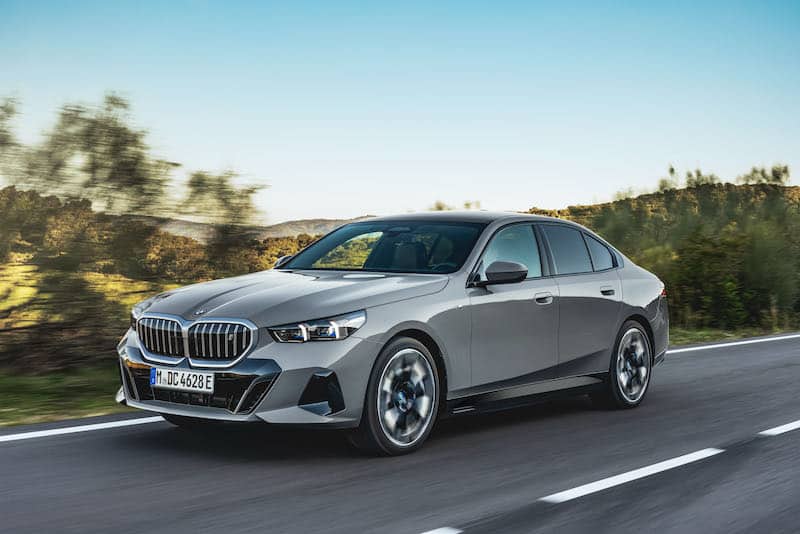 Prices for the new BMW 5 Series 2023
BMW wasted no time: we already know the prices of the new 5 Series and i5. They start at 62,800 euros for the 520i and the first trim level. This one has no name: everything encourages you to switch to the M Sport version! An M Sport Pro package will also be offered for more dynamic customization.
The diesel is charged 2300 euros more than the petrol, and has the exclusive xDrive transmission (heat).
In France, private customers will therefore probably be more electric-oriented, while drivers and heavy-duty professionals should still appreciate the 520d. From 2024, the range will be extended: we expect the versions announced above, but also changes signed by Motorsport and more efficient.
| | | | |
| --- | --- | --- | --- |
| An example | Energy | Series 5 | 5M Sports Series |
| BMW 520i | Nature | €62,800 | 66.850 € |
| BMW 520d | Diesel | 65.100 € | 69.150 € |
| BMW 520d xDrive | Diesel | €67,700 | 71.750 € |
| BMW i5 eDrive40 | Electricity | 76.200 € | 80.250 € |
| BMW i5 M60 xDrive | Electricity | / | €107,500 |
Prices for the new BMW 5 Series 2023