October 31, 2022 at 10:16 pm Update: 9 months ago
A factory for the new Turkish car brand TOGG opened in Turkey last weekend. With a fully electric SUV, the manufacturer wants to get Turkish drivers on a clean road. Later, new models will be added and TOGG will also come to us. Introduction time.
The switch to electric vehicles offers new manufacturers a golden opportunity to quickly join the established order. Compared to a model with a fuel engine, an electric car is simpler in design. As a result, we have already seen many new brands from China. With VinFast, a Vietnamese brand is now also on the way. And TOGG, a Turkish player is added.
TOGG starts production – how could it be otherwise – with an SUV. This is intended for the so-called C segment, in which cars such as the Nissan Qashqai and the Volkswagen Tiguan operate. Next year, seventeen to eighteen thousand TOGGs should be produced at the factory, says Turkish Minister Mustafa Varank (Industry and Technology). When the plant will operate at full capacity for a long time, there will be a capacity of 175,000 vehicles per year.
The Turkish car brand had a surprise in store on Saturday by introducing an electric sedan and a so-called four-door version of the model as well as an SUV. The models sit above the C-segment and are roughly the size of the SKODA Octavia. Until 2030, at least two more TOGG structures must be added. The brand wants to build 1 million electric cars in the next eight years.
President Erdogan as the first customer
Then return to the current TOGG SUV. The car was developed in collaboration with the famous Italian studio Pininfarina and should hit the road at the end of the first quarter. Order books will go up in February and pricing will also be announced. According to rumors, TOGG will cost between 800,000 and 1 million lira (43,000-54,000 euros). That may be a competitive price, but it's not something the average Turk can cough up given the country's economic climate.
In any case, the first order has already been received; President Recep Tayyip Erdogan said at the opening of the factory that he has ordered TOGG. Erdogan's article is one in Anadolu red. Other paint colors available include Pamukkale White and Cappadocia Beige, both named after famous tourist spots in Turkey's interior. The interior of the TOGG is completely characterized by the latest style and large screen.
The exact technical data is not yet known, but the TOGG will probably have a 150 kW (204 hp) electric motor and will reach a maximum distance of 500 km on battery landing. The battery pack is one from Siro, a collaboration between TOGG and China's Farasis Energy. The company, in turn, is a partner of Mercedes-Benz. Construction of a battery factory on the site of the car factory will begin soon.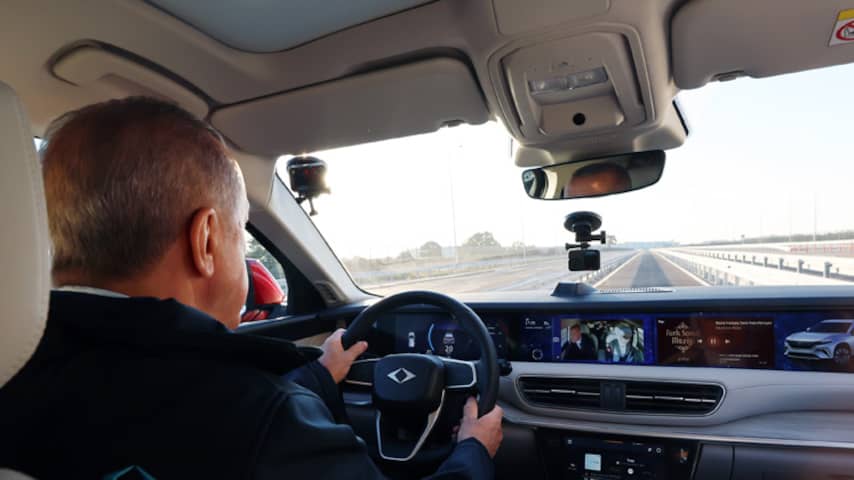 Turkey as a new production center for electric vehicles
When you think of Turkey, you might not immediately think of the car industry, which is huge. Toyota, Hyundai and Ford, among others, have large factories in the country. Models such as the Toyota C-HR, Hyundai i20 and Ford Transit, which are popular in the Netherlands, all come from Turkey.
The country will also be the site of Ford's new battery factory, which will be one of the largest battery pack production facilities in the world. Ford's investment and the construction of the TOGG factory are the first signs, according to Erdogan, that Turkey is becoming a center for the production of electric vehicles.
But electric driving is still in its infancy in Turkey. You can still see rich Turks in big cities in electric BMWs, Mercedes or Porsches. But the Volkswagen ID.3 is still not available through a local dealer, while brands like Peugeot are just starting to sell the e-2008.
More places to pay in Amsterdam than in the whole of Turkey
Payment infrastructure also leaves much to be desired. There are more toll booths in Amsterdam than in the whole of Turkey. According to Erdogan, the country will therefore install 1,500 fast chargers in strategic locations. These units have a power of 180 to 300 kW. TOGG also comes with its own charging network under the name Trugo. In collaboration with Shell, a total of six hundred fast chargers will be installed at four hundred filling stations.
These are big numbers, but if you know that the Netherlands already has 3,500 fast chargers and Turkey no less than nineteen times more than our country, then there is still a long way to go. An additional problem is that many Turks live in apartments in big cities. Nothing is known about the establishment of public charging stations in residential areas. Now you can almost only find those reward points in the parking garages of shopping centers or at luxury hotels. If, and if so, how the TOGG project can make a profit, is therefore still a question.
Yet Erdogan has no doubts that TOGG will succeed, also in Europe. "As soon as TOGG appears on the European market, they are afraid. What will they say? 'What have those crazy Turks done now?' said the president. "I hope that in the coming years we will see TOGG worldwide as a luxury Turkish calling card."