The three-man "gang" of thieves from Chełm shows that there is no such thing as a generational conflict, because the group detained by the police from the police station in Dorohusk was made up of: 52-, 62- and 16-year-olds. They were united by the idea of ​​what to do with cars "abandoned" on the side of the road, and their relationship was sealed by two successful robberies.
More text below the video
Residents of Chełm used to steal cars using the HDS car

What was the unusual view of the topic about? Well, two men and a young man had a rare form of action. First, they found a car parked on a road with little traffic, then they used a hydraulic truck crane (HDS) to pick it up. In the end, it was enough to connect the car, load it into the truck and drive.
Attach, load and remove as if nothing happened – easy!

Unfortunately, the third joint action did not go as planned. Last Monday, the thieves made an attempt to remove the green road from the side of the road Almery N16. The Nissan parked in Ludwinów did not bother anyone, but it stopped far from the buildings, so he "asked". The car was closed and then the police car appeared.
Also see: They stole 44 luxury cars "per suitcase". The police broke up a dangerous gang of thieves
The police detained the criminals

The thieves failed to convince the uniforms that they were only cleaning the environment of abandoned cars. The Nissan Almera that tested them was also their last vehicle to be stolen using an HDS crane. But not the first, because the police from Dorohusk during the search seized two other passenger cars at the place of residence of the 52-year-old man – Nissan Qashqai and Volkswagen Passat B5.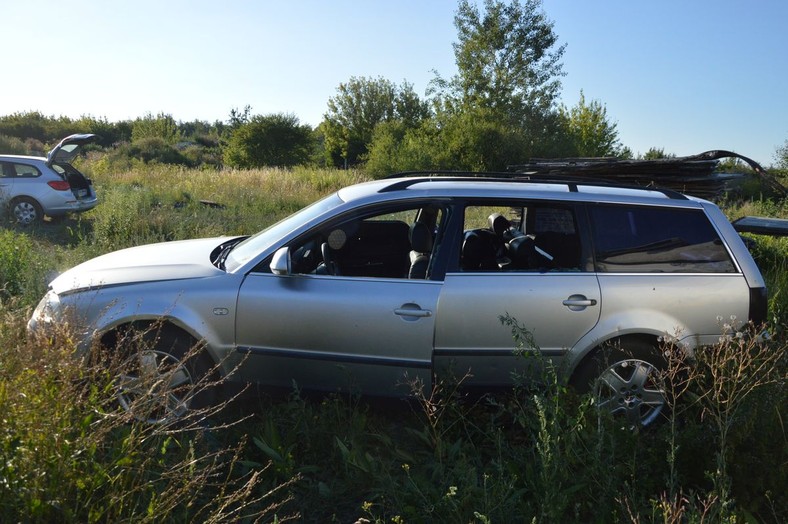 One of the two cars previously stolen

Check out: He stole an Audi in Germany and crashed into seven other cars in Poland [Wideo]
Based on the evidence collected, two adult residents of Chełm have already heard the alleged robbery and attempted robbery. Now they face up to 5 years in prison. The third partner, because of his young age, will be taken care of by the department of family and children.