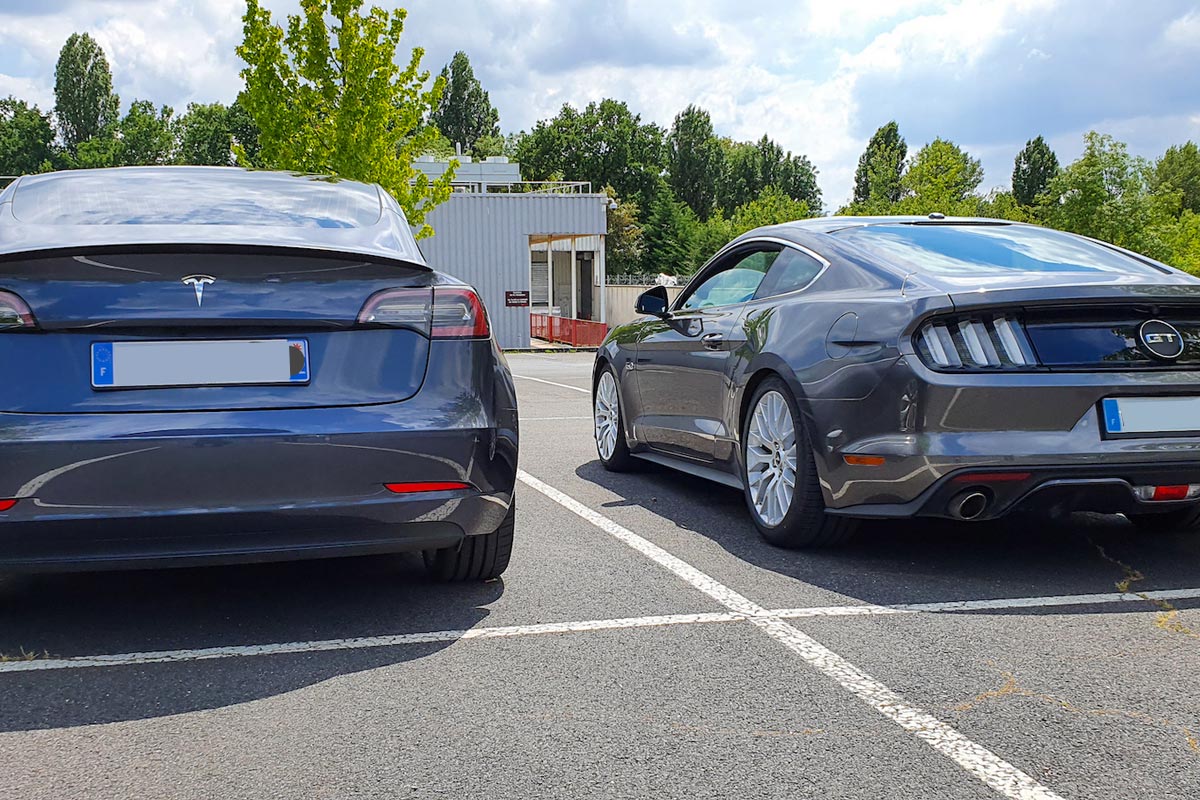 Full of passion for American cars, Thierry Meurgues left the French Mustang Club when he joined the Tesla Owners Club France in 2020. His experience with electric cars goes back further, however, more than 25 years ago.
First contact with electricity in 1996
At 59 years old, Thierry Meurgues looks a bit like an enthusiastic driver who has often been looking to have fun with his cars. Not only when driving large SUVs or legendary models with singing mechanics. For example, he did not refuse the electric Peugeot 106 that the Ministry of Defense put in his hands in 1996 in the early professional life.
Which is very honorable when you know that many workers in the public and private sector, equipped with these devices, experienced this at the time as a real punishment: " I could refuse in favor of 106 petrol. But I said to myself: 'Why?'. I took this suggestion as an interesting opportunity to try something new. At that time, I personally owned an Alfa 75 Twin Spark ".
The electric 106 appeared to our reader as a purely urban car: " Freedom was of the order of 80-100 km, with a maximum speed of about 90 km / h. I still remember the manufacturer's instructions that warned against the risk of a memory effect with nickel-cadmium batteries. ".
Driving in style in Paris
A resident of Ile-de-France used this car regularly, which is unknown to the general public, around Paris: " In 1996, I lived in Kremlin-Bicêtre. The 106th Lightning served me for about a year and a half in my duties within the general staff. I recharged at the Military School, next to the cavalry school where the cavalry trains. There was a small group of 5 or 6 copies of these cars there ".
Do you think this first contact with electricity disappointed Thierry Meurgues? Instead of: ". I quickly appreciated the quiet operation. Electricity invites you to taste the product of different cars. With this car, there is nothing for show. It was characterized by a smooth and smooth operation that made you want to drive a different car. ".
This pioneering experience of electricity remains vivid in his memories. However, electromobility was not mature at that time, and this lover of beautiful cars, now the chief executive of a major telecommunications operator, still wanted to explore.
Read too
Testimonial – François chose the Tesla Model X Plaid while waiting for the Cybertruck
muscle car
Our reader is in his Peer session: I have owned large SUVs including Jeep Wranglers and Grand Cherokees. I travel frequently to the United States. I looked at muscle cars like the Ford Mustang, Chevrolet Camaro and Dodge Charger ".
The choice was ultimately not too difficult to make: The criteria that guided me at that time were beauty and the presence of a maintenance network in France. Chevrolet withdrew from the European market. Ford has been the most inspiring manufacturer for me, especially with after sales service. ".
In 2017, Thierry Meurgues signed a 5-liter Ford Mustang V8: " I found it in Alsace at Performance Motors. By picking it up used and with low mileage, I avoided the penalty for a new model while having a copy that looked like it came from the factory. With 6,000 kilometers on the clock, the car came from Germany ".
The car lover doesn't hide from having fun with it: " In 2019, I participated in a joint world record, traveling to Lommel, Belgium, to the largest Ford Mustang rally in Europe. There were 1,600 assembled on the track at the manufacturer's test facility ".
Crush on Example 3
How do you recognize a true lover? In his own language: I walk according to my crush, according to my emotional configuration of the moment ".
This does not prevent us from reflecting and reorganizing: " I got involved selfishly with these cars. Sometimes, I felt that all this was wrong. It is not reasonable to pay 1,800 euros for a gray card. It is not wise to keep feeding a car that uses 12 to 13 liters of petrol while it is soft on the accelerator. It is not wise to have to face high maintenance costs ".
There is no way for our reader to give up driving pleasure. " I asked myself first: 'If I were to leave the Mustang, what would I turn to?'. It was obvious to me that if I was going to go electric, it would be with Tesla. The charging network of the manufacturer is encouraging, and I wanted to continue traveling as before, without many restrictions. ".
It took him no more than 6 hours to sell his Mustang through the La Centrale website: " It was June 2020, and we were coming out of the first period of confinement due to Covid ".
First he was surprised: his wife
The decision taken by Thierry Meurgues to use electricity surprised more than one. Starting with his own wife: He was sure that I would be married to Mustang for 30 or 40 years! He even thought that I was sick. In addition, for him, electricity represented almost a danger if it was necessary to leave the house. ".
His wife, however, was reassured by the Tesla Model 3 Performance option: " In 2020, this model was exactly what I was looking for. I didn't want to compromise performance. Rather, I took out his ladle with a power switch. I left a speed of 421 hp with 524 Nm of torque, for a car with an important motor of 513 hp and 660 Nm. ".
What about the Tesla Model S? " It is true that the Model 3 is 10 cm lower in width, but the height is exactly the same. The Model S was for me out of budget, and out of my measurement parameters. In addition, Plaid was not yet available. Even today, I do not regret my choice at all. ".
Read too
Testimonial – At nearly 80 years old, this vintage BMW enthusiast fell for the Microlino.
Doctor Jekyll and Mr. Hyde
Our reader has an amazing vision of his Tesla Model 3 Performance: " This car looks a bit like Doctor Jekyll and Mister Hyde. I rediscovered the smoothness I experienced with the electric Peugeot 106 and remained a joy to drive. Model 3 glides quietly. But the devil hides inside. During a power start, it charges a fine of 90% of the car's output ".
A minor flaw, perhaps? " Yes, it just lacks sound. Even today, I turn my head when I come across a Mustang or Camaro ". Note that our reader chose his electric car in the same presentation as his old Ford Mustang: " Midnight Gray Metallic with White Interior ".
Thierry Meurgues wants to break the negative image about the famous American brand: " I don't consider owning a Tesla to be elite at all. Above all, this image should not be enlarged. On the contrary, the brand must make it easier for more drivers to get rid of the fuel ".
18.9kWh/100km
Finally, Francilien was able to convince his wife that it is possible to travel far with an electric car: " We went to Bratislava in Slovakia in the summer of 2021 with this car. The following year we exceeded the Arctic Circle by 200 km. With the Tesla Supercharger, there is never a problem. The built-in scheduler gets me there efficiently. The rest of the time, I charge from home with a 7.4 kW Hager terminal ".
With his Model 3, Thierry Meurgues always does not hesitate to push some powerful speeds: " I respect speed limits. On German autobahns, I reached 244 kilometers per hour ".
Finally, without being too low, the general use of its electric sedan does not seem excessive: " I used about 9.9 MWh over 52,672 km, which gives an average consumption of 18.9 kWh/100 km. Tesla knows how to do it efficiently ".
The end of America
Disadvantages, Thierry Meurgues does not report at all about his Model 3: " Personally, I didn't encounter any alignment problems in the bodywork. I know it exists. The finish may not be Tesla-strength, but it's in line with what I've had on my American heaters. So I'm used to it ".
From the Mustang to the Model 3, wasn't the lack of an instrument cluster behind the steering wheel hard to live with? " During the update period, Tesla has made efforts to make the instantaneous speed more readable. Bigger and more prominent, the numbers are now well positioned at the very top left. It took me about a month to get used to the setup then ".
For him, it is above all a question of sensitivity: In my opinion, this question of the absence of a phone is not a subject at all. It is like the steering wheel of the Yoke, each person lives this kind of experience according to his personality. Tesla also still offers a standard steering wheel with its Model S and Model X Plaid ".
A promise fulfilled
What is the main positive point of the Tesla Model 3 Performance? " It is the fulfillment of a promise. With this electric car, it is really possible to move like you used to move before. I think I'm a good zero-dollar Tesla ambassador: I've converted a few skeptics to the brand. ".
Thierry Meurgues adds: " In almost 53,000 km, I have never used service centers for maintenance, the car is very reliable. The guard came with two reminders when I had some problems: one for the question of the triangle on the front axle, and the other about the optical beam of the rear camera. ". In terms of maintenance, I changed the tires at 42,000 km and did a 2 year adjustment and a change of air filters in the front. ".
Has our reader already thought about his next car? " I really like the handling of the Model 3, which has a very low center of gravity. However, I want to go back to the SUV. So it will definitely be a Tesla Model Y Performance. The trunk will be easier to load and with a higher car, I will again get the feeling of dominating the road ".
Automobile Propre and I would like to thank Thierry Meurgues very much for his testimony, his compassion and his faith.
The reasons behind the electric car are very different. This is, for example, reducing the environmental footprint of transport, reducing the cost of using a car, testing new technologies, being able to travel in areas with low emissions, etc.
Becoming an electric driver considering that you will not lose the pleasure of driving, or even instead of emphasizing it, is certainly a very good reason to switch to a large number of drivers, including enthusiasts.
On this subject, the testimony of Thierry Meurgues is very interesting. It shows that electromobility has reached an important maturity. Thanks to Tesla who remains faithful to his original goal of democratizing the EV.
Admittedly, there is still a long way to go, but the American manufacturer has sent a very strong signal by reducing the price of its Model 3 and Model Y. While waiting for the city car. And hope that the general producers will find the right incentive to follow when providing jobs in France and Europe.
Living happily VE is very communicative. And it is also a state of mind to cultivate. Including city car, quadricycle, motorcycle, motorcycle, bicycle, motorcycle.