(Motorsport-Total.com/Motor1) – The Volvo Embla is the successor to the electric XC90. The crossover will be the first Volvo based on a dedicated electric platform. The car may not hit the market until 2023, but our graphic designer has already created a version.
Volvo Embla as a version
zoom
The name of the Embla model has not yet been officially confirmed, but the new Volvos should not have any combination of letters and numbers. They should be named as a child, according to the boss of Volvo at the time, Håkan Samuelsson at the time of introduction Volvo Concept Recharge last summer. This study is also the basis of our picture.
Volvo only referred to the car as an SUV, but it is more than a cross between an SUV and a station wagon. The silhouette is long and low, which should benefit from aerodynamics.
New technology in the XC90 successor
Our photographer captured black underbody protection and a black roof, as well as cameras replacing the exterior mirrors. However, he left out the obvious step of research and simplified the brand logo featured on the front:
As in the study, a lidar sensor from partner Luminar sits on top of the windshield. The approach begins in the successor of the XC90, as Volvo has already officially announced.
A lidar sensor with software from Geely subsidiary Zenseact enables autonomous driving, although Volvo doesn't want to commit to one of the five levels. Instead, the manufacturer talks about unsupervised driving. The system should be constantly improved through over-the-air updates, similar to Tesla's autopilot.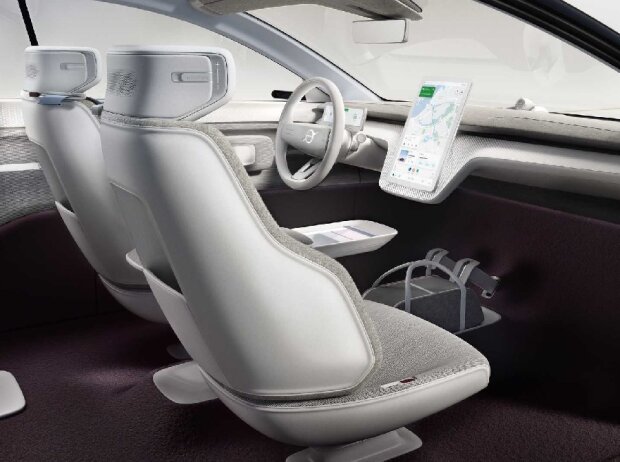 © InsideEvs.com
Volvo Centcept Recharge (2021) zoom
Inside, as in the study, there may be a small instrument display with a 15-inch monitor mounted vertically in the middle. The app will be based on the Android Auto operating system.
It is not yet clear to us which electronic platform Embla is based on. In addition, the platform of the successor from SPA, on which the modern models of the 90s from Volvo are built, comes into question. Another possibility would be this Sustainable Experience Architecture (SEA) from parent company Geely. The batteries are from the Swedish manufacturer Northvolt.
More on Volvo and Polestar's future plans:
Volvo and Northvolt build new battery cell factory in Gothenburg
Polestar 3: The new electric SUV will be made in the US