Author: Stijn Roggeman
Posted on 26/5/2023
When we talk about the Corolla in Europe, we first think of the Touring Sports, the station wagon that accounts for the majority of sales here. However, there is a wider range of models. The sedan may have been phased out of the lineup this year, but the hatchback is still available. We started with the facelifted Corolla Hatchback 1.8L GR Sport.
Would you like to see our test car in detail or take a test drive for yourself? Then watch our videos below this report. Don't forget to subscribe for free too CarStan, CarStan Driving POV and CarStan IllustrationsAutotijd.be international YouTube channels.
Design
Toyota limits itself to a period of light parts on the outside. It's fair because the current Corolla already has good marks with the general public. In particular, we see more modern LED lights and a revised grille. In the configurator you will also find a number of new exterior colors and rims. As far as colors are concerned: the Bi-Tone exterior is still an option through the GR Sport version. It also stands out with new 18-inch wheels and a sportier rear bumper.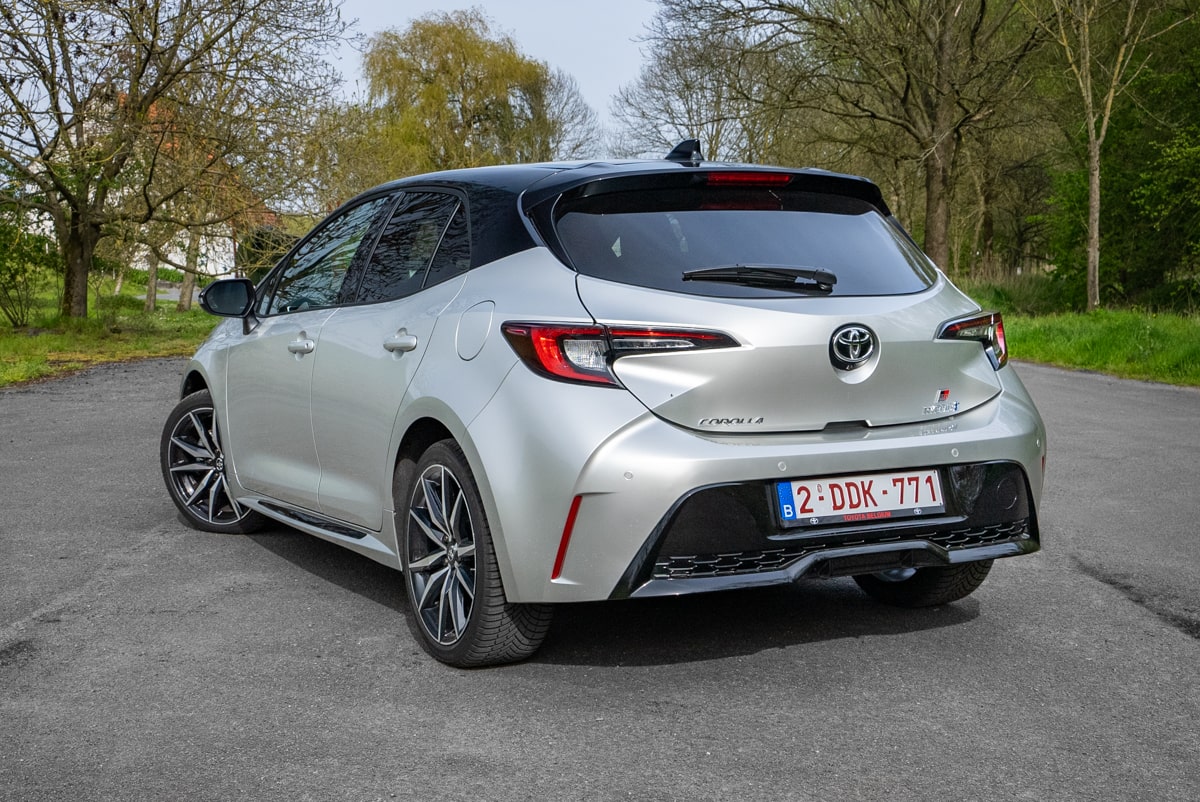 Internal affairs
The Corolla's instrument panel could use an upgrade and that's where Toyota's focus has gone. A 12.3-inch digital instrument panel is now standard equipment. In the middle, our eye immediately falls on the 10.5-inch touchscreen, common on more expensive versions, including the GR Sport. For climate control, Toyota maintains a series of physical buttons and we are fine with that.
Our GR Sport test car was also equipped with heated sports seats and significant GR logos on the door sills, headrests and ignition button. Red stitching in the interior emphasizes the sporty character.
You can still operate the e-CVT automatic transmission via a standard gear lever. Although the operation itself works well, we would prefer to see a smaller switch in the next generation, as is the case with many competitors. This would free up more storage space on the center console.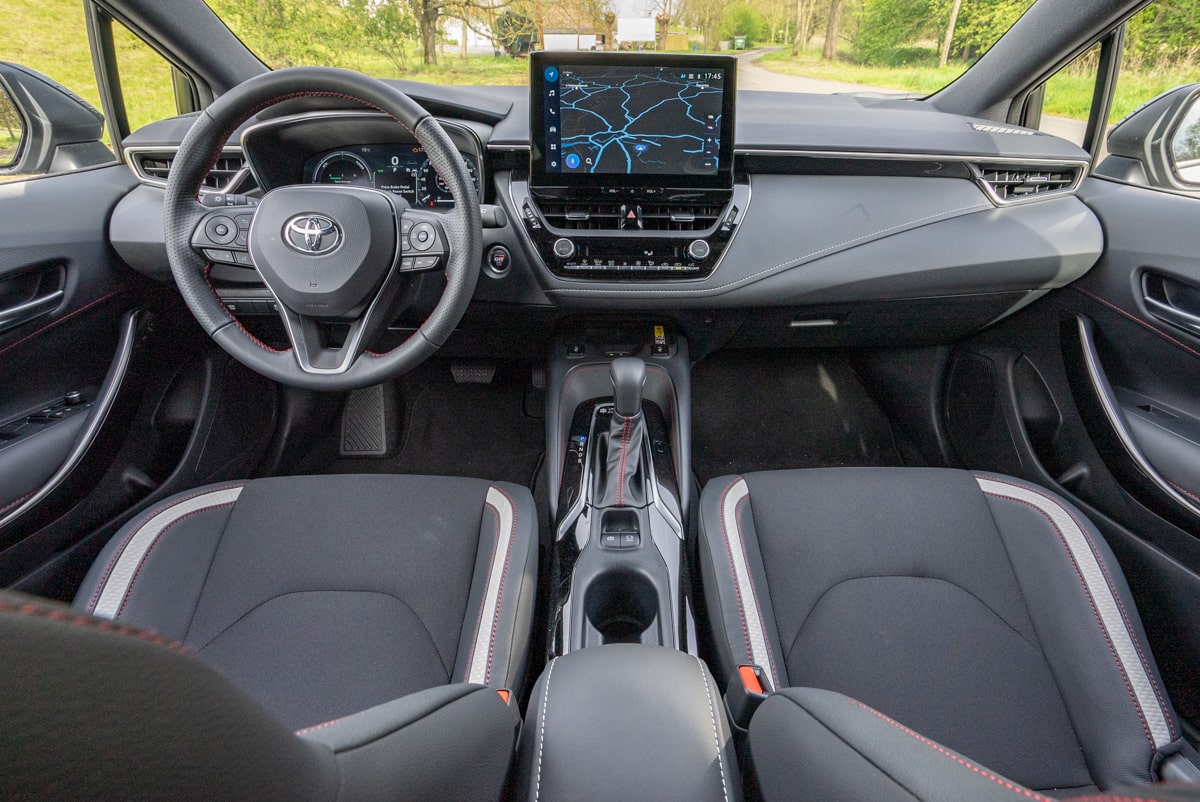 The biggest difference with the Corolla Touring Sports is the rear legroom. The wheelbase of the hatchback is 6 centimeters shorter and you'll notice that right away. Also the fact that the back door doesn't open very far (which we have often seen in Toyota) is dangerous for rear seat passengers. Other than that, there is little to complain about on the back. Back seat space is good and head room is decent.
In addition to legroom, you also lose trunk space in the Corolla hatchback. Our test car's volume is 361 litres. Note, this only applies to the 1.8-litre hybrid. If you choose a more powerful engine than 2.0, you have to be satisfied with only 313 liters.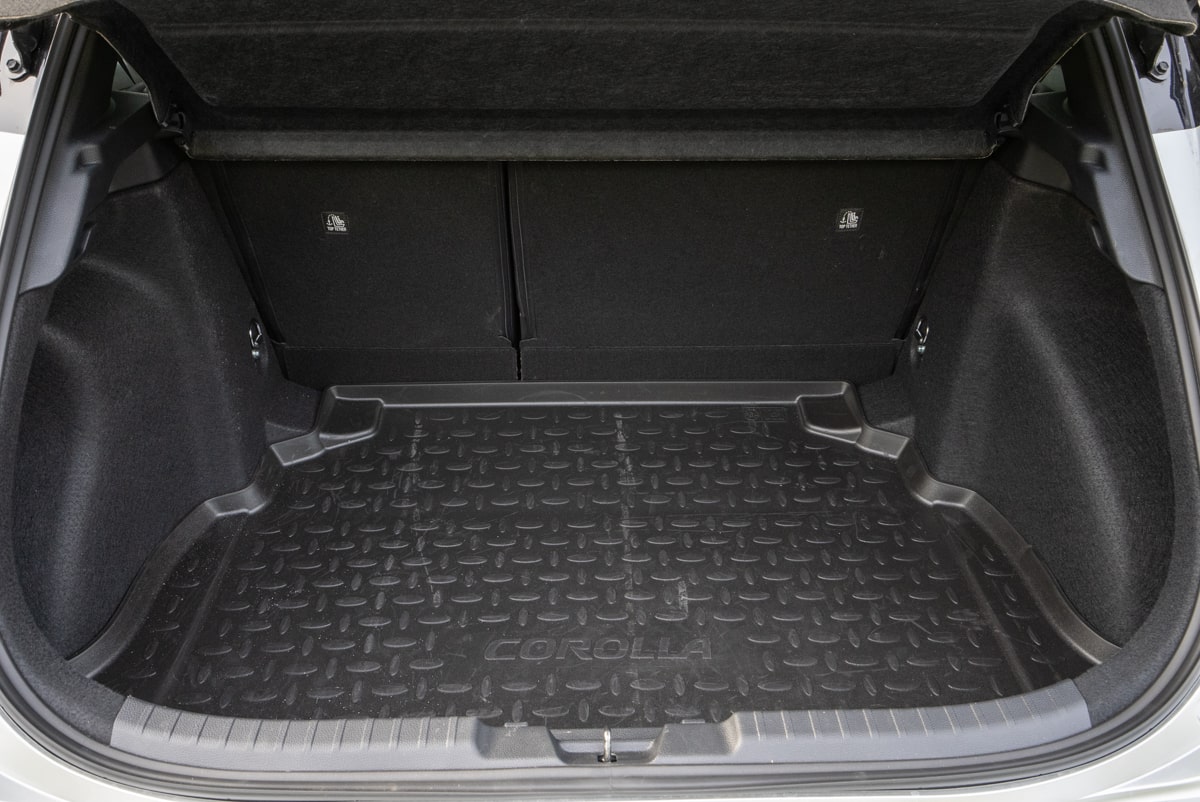 Driving lessons
The real news with the refreshed Corolla can be found under the hood. Toyota is introducing their fifth generation hybrid technology and is selling it in two versions. The 1.8L has 140 hp while the 2.0L is good for 196 hp these days. With the entry-level version, you can sprint from 0 to 100 km/h in 9.1 seconds, with CO2 emissions dropping to 100 g/km. The GR Sport version only offers visual extras and therefore has no effect on performance.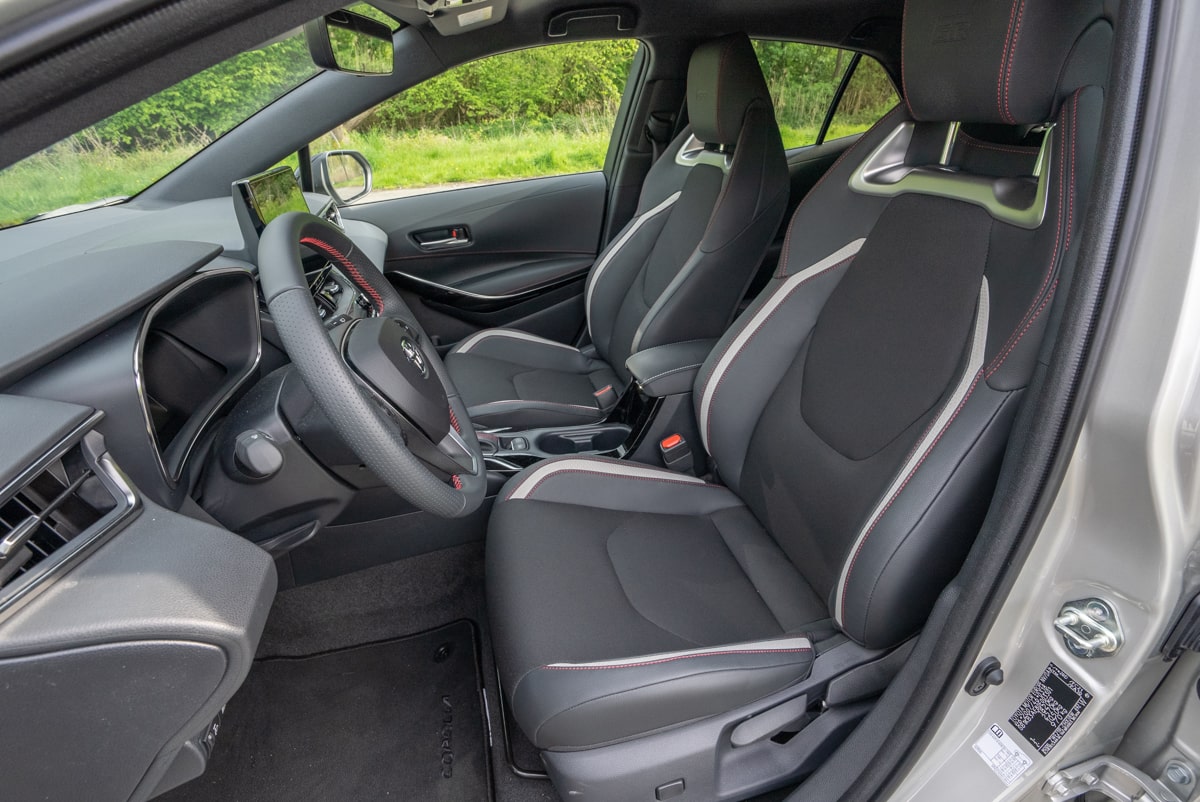 Driving
We were previously introduced to Toyota's latest hybrid powertrain via the Corolla Cross and it should be clear that the fifth generation is already taking a big step forward. The power of the 1.8-liter engine increased from 122 hp to 140 hp, making the car sprint from 0 to 100 km / h in 1.8 seconds. Although we may have recommended a more powerful version last year, with the new version 1.8 we are never running out of power. That makes choosing this entry-level version easier than ever. Spend the budget allocated to the GR Sport version and you'll get an impressive overall package.
The operation of the new hybrid train is also much quieter. The normal sound of the CVT remains to some extent, but once up to speed, the hybrid system runs at a lower speed, which leads to a few decibels. Steering feel and throttle response are fine, but there was little to criticize before the facelift.
On paper, according to WLTP, we are promised an average consumption of 4.4 l/100 km. With a practical consumption of 4.6 l/100 km, it's hard for us to deviate from that. Good results, especially since we use the accelerator pedal more economically than the average Belgian during the test.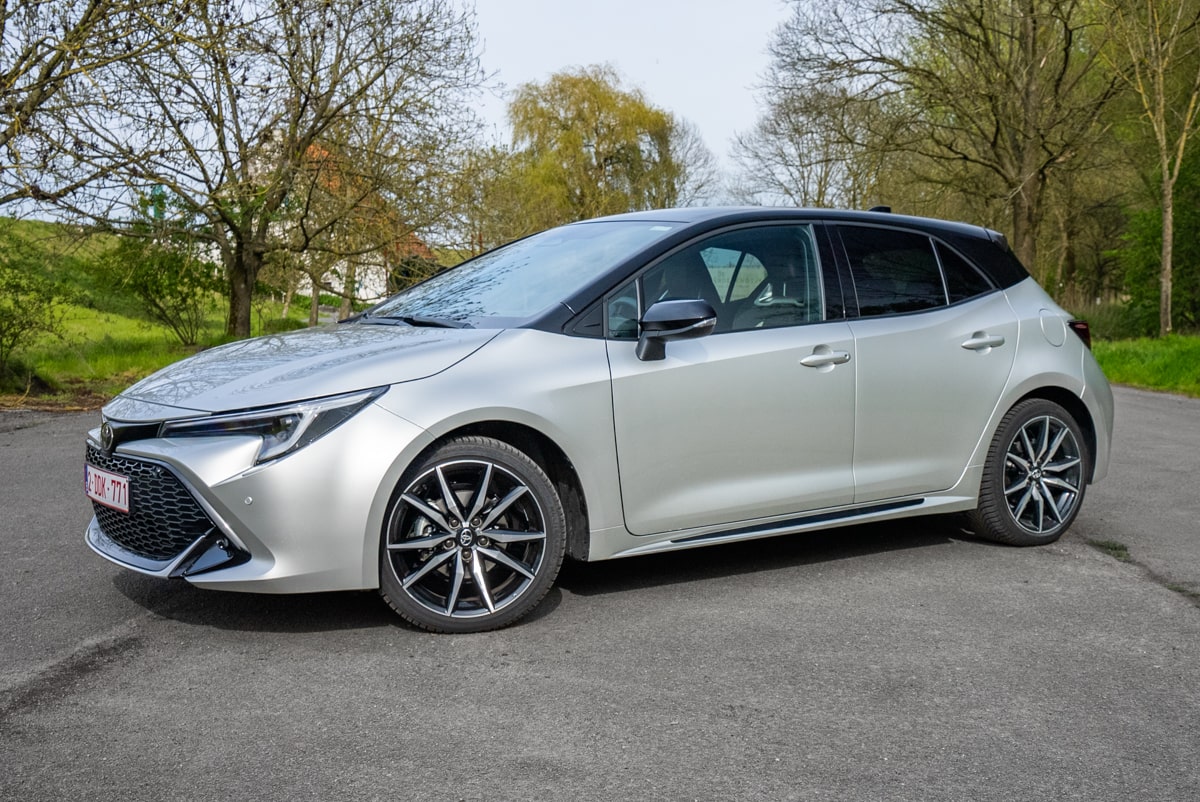 Price
At the time of publication of this test report, Toyota is asking a minimum of 32,200 euros for the Corolla Hatchback. If you choose a petrol engine with more power than 2.0, you will pay at least 40,460 euros. Our test car, the Corolla 1.8 GR Sport, has a starting price of 38,440 euros.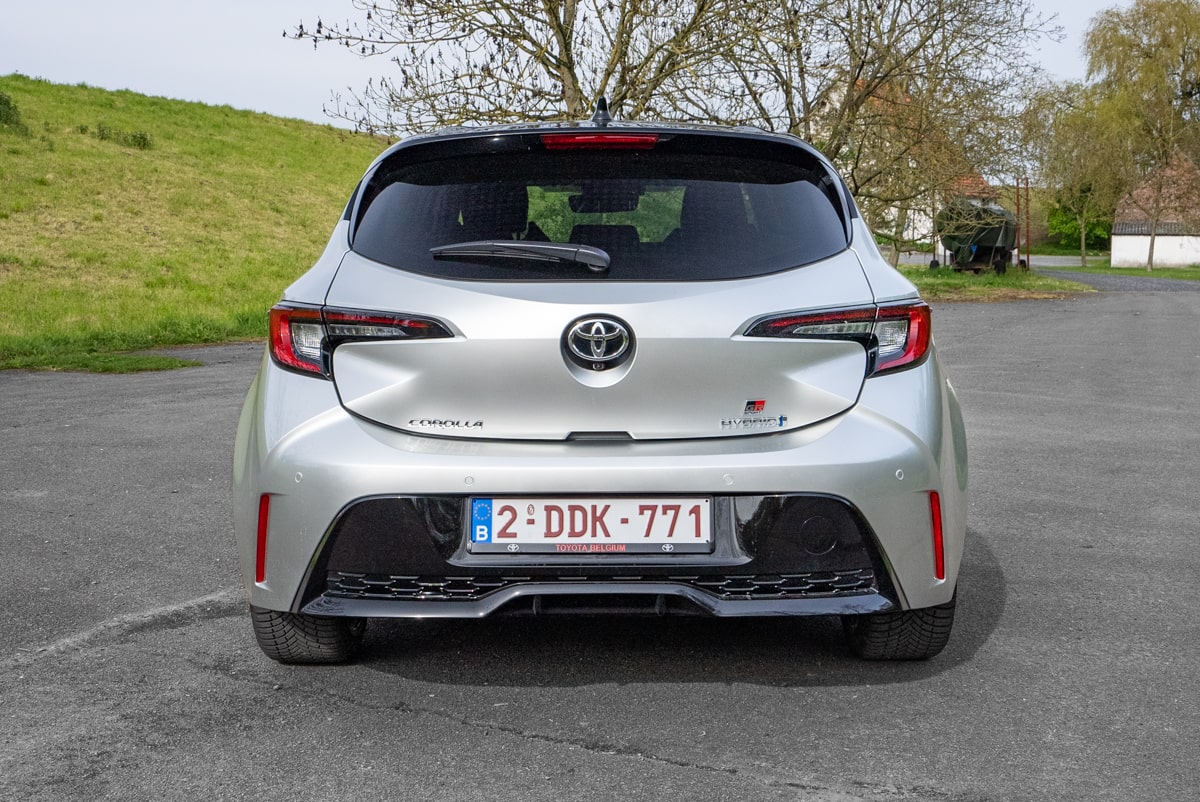 Conclusion
Unlike the Yaris GR Sport, the influence of the sports label on the Corolla Hatchback GR Sport is still visible. Fun for enthusiasts, but this car convinces above all with its new hybrid technology, low consumption and good handling. Less good is less legroom in the back and a relatively small trunk. The price difference with the Corolla Touring Sports GR Sport is approximately 1,160 euros. It's a lot of fun, this hatchback, but with the Touring Sports you get more bang for your buck.
Advantage

– Hybrid is more economical and stable than before

– More modern interior

– GR Sport offers great visual enhancements

Points for improvement

– Entry and legroom in the back

– Small box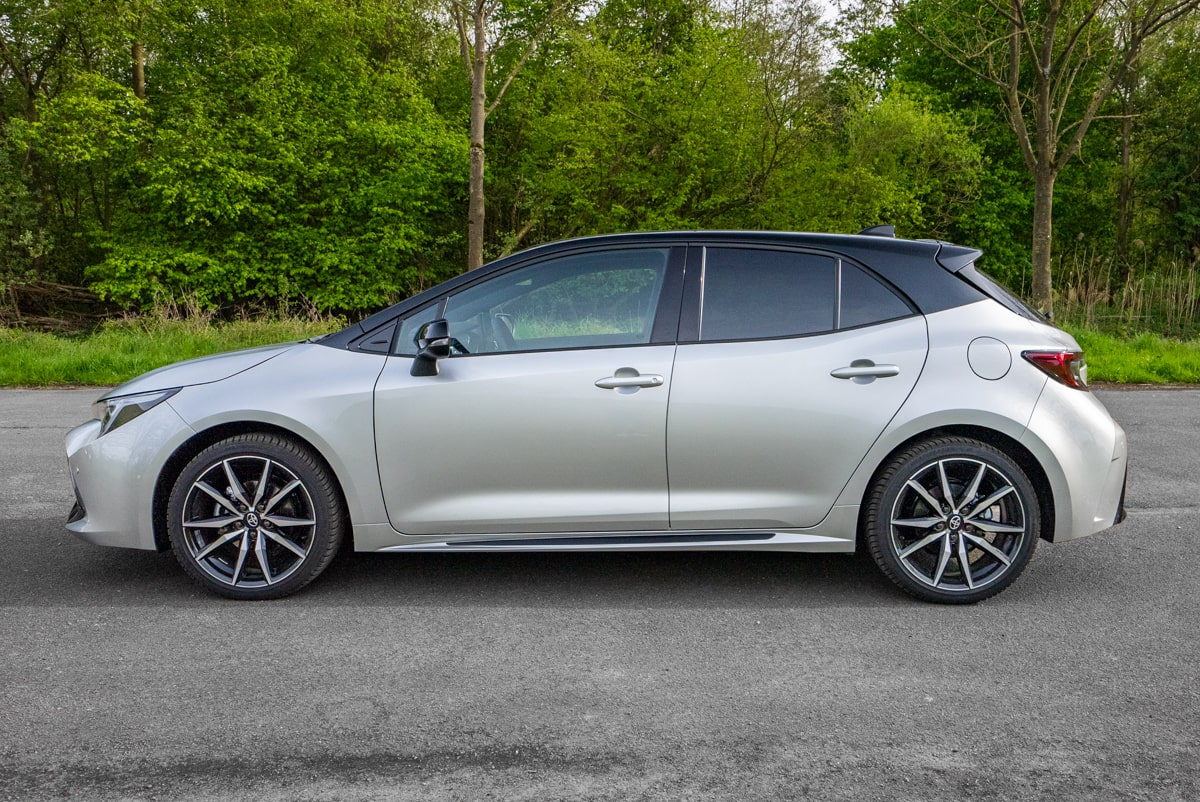 Check out our Toyota Corolla videos below. Don't forget to subscribe for free to the international YouTube channels of Autotijd.be. So you don't miss a single new video!
Toyota Corolla GR Sport exterior and interior in detail
Toyota Corolla GR Sport POV test car
Follow Autotijd.be
Autotijd.be makes videos under the international label "CarStan" on YouTube.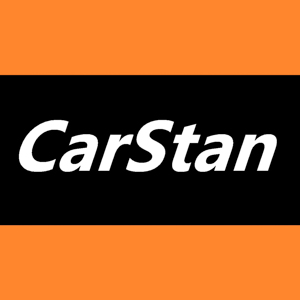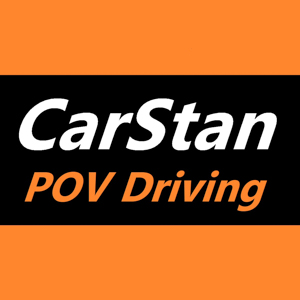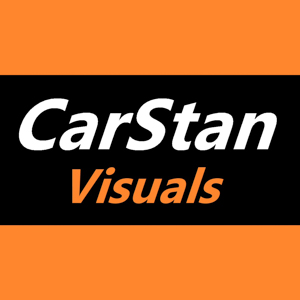 Exterior and interior in detail