The CX-60, Mazda's inaugural plug-in hybrid, is a remarkable and visually captivating large car. It also boasts impressive fuel efficiency, provided it is utilized correctly. However, a problematic powertrain hinders its overall performance.
Priced at €53,690, the Mazda CX-60 (327 hp/241 kW) stands out among Mazda's current lineup of internal combustion engine vehicles as not only the largest but also the most fuel-efficient. Despite its substantial size of 4.74 meters, the brochure claims an average fuel consumption of 1.5 liters per 100 km. Achieving this figure is possible, but only if the SUV is regularly connected to a charging station, approximately every 60 kilometers.
Being a plug-in hybrid, once the 17.8-kilowatt-hour battery pack is depleted, the 2.5-liter petrol engine seamlessly takes over, allowing for reasonably economical driving. However, those who neglect to charge the vehicle experience a higher average consumption of 7.3 liters, surpassing that of the more compact CX-5. Nonetheless, the ability to charge and drive electrically presents the opportunity for significant fuel savings in day-to-day driving.
Mazda has always been recognized for its technological prowess. The small Japanese manufacturer has consistently delivered reliable engines and exceptional driving dynamics. However, the performance of the CX-60 falls slightly short of these high standards. The interaction between the internal combustion engine and the electric motor is not always seamless. Frequent switching of the petrol engine causes interruptions, and the electric power source fails to provide the smooth and seamless acceleration commonly associated with other plug-in hybrids.
Furthermore, due to its substantial size, the CX-60's handling in everyday driving conditions is somewhat challenging compared to models like the Mazda 6 and CX-5. The steering response is less direct, and maneuvering the vehicle requires more effort. However, when pushed to its limits, the CX-60 reveals its true potential, with a powerful surge transmitted to the rear wheels, giving the car a sharp and dynamic edge.
One notable advantage of its larger dimensions is the CX-60's impressive aesthetics. It offers abundant legroom in the rear compared to the CX-5, a generously spacious luggage compartment with a capacity of at least 570 liters, and an applaudable maximum trailer weight of 2500 kg.
Together
+ Lots of space.
+ Type of electricity that can be used.
+ Very high draw weight.
Min
– Stuttering impulse.
– That big is sometimes not worth it.
– Fuel efficient petrol engine.
The CX-60 excels in its (semi-)electric powertrain and spacious interior, setting it apart from the smaller CX-5. Additionally, Mazda has created a practical and versatile car. However, it is unfortunate that the engines do not perform well in combination.
Additional test observations Mazda continues its tradition of not including touch screens in its models. Instead, the large dashboard screen can be operated using a rotary knob and menu buttons. This may seem old-fashioned, but it is straightforward and not confusing. The advantage is that while driving, you don't have to interact with the screen directly, but can comfortably turn and click to accomplish your tasks. This approach ensures safety and efficiency, and Mazda deserves credit for sticking to their traditional design.
The CX-60 comes equipped with numerous safety systems, including lane monitoring, high beam assistant, blind spot detection (which alerts to crossing traffic), slope test assistant, automatic emergency braking system with pedestrian detection, traffic sign recognition, and a system that warns you when you're too close to the vehicle ahead. All these features are standard, providing an added layer of safety.
Compared to previous Mazda models, the latest CX-60's systems are more interactive with the driver. However, this change is not necessarily pleasant. For instance, an in-car camera regularly emits an audible signal and visual warning if the driver's attention strays, which can feel more intrusive than genuinely contributing to road safety.
A notable feature is the rear seat's ability to fold flat in three parts (40:20:40), with adjustable backrests in two positions. Folding the seats is effortless with a few levers, and there's also an option to fold them from the luggage compartment. Mazda's inclusion of a small lever to drop the middle part is particularly useful when transporting long items.
Regarding seating comfort, the back seat is comfortable with an appealing shape. However, the seat height should better accommodate European thigh lengths. In this aspect, the CX-60 offers a significant improvement over the CX-5, which tends to have a firm rear seat.
The spacious luggage compartment offers a minimum capacity of 570 liters, expandable to 1726 liters. Nonetheless, the underfloor space is less generous compared to the CX-5, making it slightly cumbersome to store the charging cable. Additionally, taller individuals may find it bothersome that the rear door does not open as high as in other brands, potentially resulting in head contact for taller Dutch individuals.
Currently, the CX-60 is available in the tested PHEV version, which is the sole engine variant in Mazda's Dutch price lists. With an impressive power output of 327 horsepower and 500 Newton meters of force, this model does not lack power or strength. Surprisingly, in the upcoming year's version, Mazda plans to introduce two larger six-cylinder engines: a 3-liter petrol engine and a 3.3-liter six-cylinder diesel engine. However, Mazda expects the proven and more fuel-efficient plug-in version to account for approximately two-thirds of sales.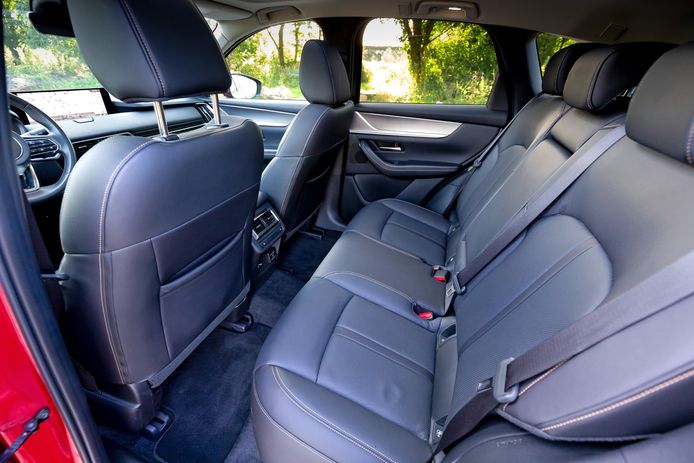 Distinguished from its competitors, Mazda offers a unique approach by focusing on five-seat options rather than seven-seaters. The Mazda CX-5 and CX-60 models both accommodate up to five occupants, providing a comfortable and spacious experience. However, customers seeking a seven-seater will have to await the arrival of the larger CX-80, which will feature an additional third row of seats.
The Mazda CX-60 is available in four distinct trim levels, catering to various preferences. Alongside the standard Prime-Line version, customers can choose from the Exclusive-Line starting at €55,190. Additionally, Mazda offers two specially adorned versions called Homura and Takumi, which are priced at €59,440 and €60,940, respectively.
The vehicle under review is equipped similarly to the Homura variant, showcasing a sportier appearance. Its distinguishing features include 20-inch black painted wheels, unique front and rear bumpers, a black grille, and other striking 'Gloss Black' accents like mirror caps and side decorative strips. The Homura also boasts a luxurious black leather interior, 'luxury' mood lighting, an eight-way electrically adjustable driver's seat, and an electrically adjustable steering column as standard.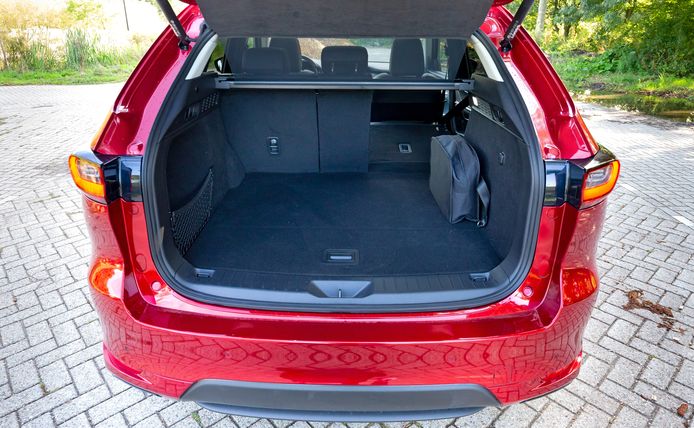 Furthermore, the test car incorporates several packages, elevating the total price to €67,090. For instance, the Panoramic Package, priced at €1500, adds a sliding/tilting roof, while the Convenience Package (€3000) includes a power tailgate, 360-degree camera, 1500-watt socket, recessed lighting, wireless phone charger, and a remarkable Bose sound system with twelve speakers.
The Driver Assistance Package, valued at €1750, encompasses radar-controlled cruise control, a highway warning system, a traffic-queue assistant, and an auto-dimming interior mirror. Lastly, opting for the stunning red 'Soul Red Crystal' color entails a notable additional investment of €1400.
One remarkable feature is the Driver Assistant, which assists in configuring the optimal seating position based on your height. Moreover, the car utilizes a camera located in the main screen to recognize your face, allowing it to install your personal profile and adjust various settings such as the exterior mirrors, head-up display, and seat positions, which can be saved in advance.
The CX-60 is already generously equipped as a standard offering, boasting seven airbags, full LED headlights, dual-zone automatic air conditioning, and 18-inch alloy wheels. Unlike the more affordable Mazda CX-5 (starting at €37,590), the base version of the CX-60 includes rear parking sensors and smartphone integration with Apple CarPlay and Android Auto as standard features.