Electrification is expanding into new areas and Chevrolet's booth at the Montreal Electric Vehicle Show will be proof of that.
The American brand will present the first electric Corvette and the first full-size electric truck in its history.
Corvette E-Ray: electronics in the service of performance
The least we can say is that the Corvette C8 breaks barriers. After being the first Corvette in history with a mid-rear engine (as usual), it also becomes, in the E-Ray version, the first to receive a hybrid engine and all-wheel drive thanks to the 160 horsepower electric motor located on the train beforehand. Combined with the V8, the set develops a power of 655 horsepower. The performance is certainly consistent: 0 to 60 miles per hour (96 km/h) is achieved in 2.5 seconds while the quarter-mile exercise requires only 10.5 seconds. Although less powerful and heavier than the Z06, it proves to be faster than 400 meters thanks to better traction.
But the power system isn't just there to increase performance. With a 1.9 kWh battery (located in the central tunnel), the Corvette E-Ray can drive in 100% electric mode for about 6 kilometers (without exceeding 70 kilometers per hour). "Secret" mode allows you to leave your home without waking the neighbors. It differs from the base Stingray with its widened tracks (from the Z06), its front fascia and custom wheels as well as a revised instrument panel. In Canada, it will be available for $128,798 (plus shipping and handling) for the 2024 vintage.
Silverado EV: electronics in active service
Named Silverado, the new electric pickup truck from Chevrolet has nothing to do with the gasoline version but is based on the BT1 platform already seen with the GMC Hummer EV with Ultium battery technology (800 V and up to 350 kW. load capacity) .
Two running gears will be available (with one motor on each axle). Installed on the WT version, the former develops 510 horsepower and 615 lb-ft of torque, approving loads of up to 1,200 lb in the box and 8,000 lb when towing. The RST version has 660 horsepower and 780 lb-ft of torque, allowing you to tow up to 10,000 lb and load 1,300 lb. In both cases, Chevrolet estimates a range of 640 km and a quick charge would add about 160 km in just 10 minutes. A maximum towing capacity package (20,000 pounds) will be available later.
Practically, the Silverado EV has cargo space under the front hood and, thanks to the Multi-Flex tailgate (in the RST version), the loading height in the box can go from 5 feet 11 inches to 10 feet 10 inches. Adaptive suspension Air Ride, rear-wheel steering and Super Cruise semi-autonomous driving will be among the available technologies. RST First Edition versions will arrive in spring while WT versions are expected in spring 2024 (for $122,248 and $54,748 respectively, including $2,300 shipping). A Trail Boss version will arrive later.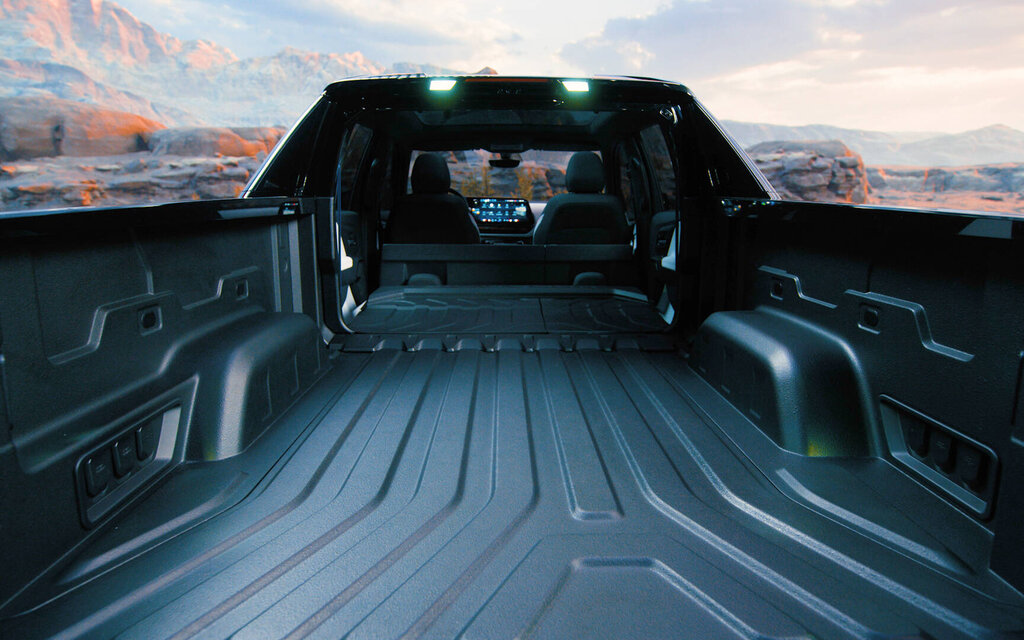 The two new products will be on display at the 6th Montreal Electric Car Show to be held on April 21, 22 and 23 at the Olympic Stadium. Visitors will have access to more than 100 exhibitors, 50 models, 22 car brands and 55 cars on test drives. They will also be able to attend many meetings.
For more information and schedule, visit www.svem.ca.
See also: video tour of the Montreal Electric Car Show