Volvo is busy electrifying the model range. Contrary to what we wrote before, the Volvo EX90, the electric successor of the XC90, will not arrive at the end of 2023, but only in the first quarter of 2024.
We also wrote something in another section that was incorrect. A spokesperson for Volvo Netherlands reports that production for the Asian and European markets will not take place in Chengdu, China, which we previously reported. according to American sources. Production of 'our' EX90 takes place in Charleston, North Carolina.
Polestar 3 family
The Volvo EX90 can be seen as a direct relative of the Polestar 3, which will go into production around the same time. Both SUVs are based on the same platform that Volvo has developed specifically for electric vehicles. Because of this agreement, both have a 111 kWh battery pack, can charge up to 250 kW, have comparable range and both are four-wheel drive.
The interiors of both cars are so similar that you need to look at the logo on the steering wheel to know where you are inside. And the difference? Volvo is probably on your short list if you have a large family. The EV offers generous space for seven occupants. Polestar, on the other hand, has a more sporty style.
Hair raising performance
The latter does not mean that the EX90 is slow as a scooter. The two electric motors that the EX90 is equipped with as standard produce a minimum of 408 hp and 770 Nm. You can drive your family from 0 to 100 km / h in less than six seconds. Then there is also the Performance version, with 517 hp and no less than 910 Nm. Considering range and safety, Volvo has decided for both versions that at a speed of 180 km / h it is enough and accelerates.
Mouth watering according to a specific list
The technological curiosity among Volvo enthusiasts will start watering immediately when reading the specification list of the new EX90. For example, there is a 14.5-inch screen on the dashboard, which supports 5G connectivity. The EX90 is also packed with safety systems, including a Pilot Assist system that uses lidar technology.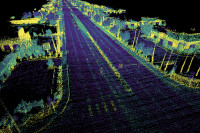 No Chinese price tag
"Just because the Volvo EX90 is made in China doesn't mean it has a Chinese price tag," we wrote. It is not correct. But it won't have an American price tag either. If you want to order this luxury SUV, you will need to pay at least 100,000 euros for it.