Volkswagen offers three crossovers of similar size: the T-Cross, Taigo, and T-Roc. These models vary in terms of features and performance. Customers looking for a performance minivan in this class have the option to choose between these three models.
A popular saying states that problems do not originate from a place of safety. This seems to apply well to Volkswagen's variety of SUVs and crossovers, particularly in the compact size category. Currently, customers of the German brand have a selection of six vehicles to choose from T-Cross, Taigo, T-Roc, Tiguan, Tiguan Allspace, and Touareg.
In actuality, there are eight models available, including the two fully electric options: the ID.4 and ID.5. For the purpose of this discussion, we will focus on the first three models mentioned, which are the smallest in Volkswagen's lineup.
At first glance, it may seem that having three cars of similar size may be excessive. However, the answer is quite simple: No. It is always beneficial to have more options rather than fewer.
Additionally, T-Cross, Taigo, and T-Roc, while sharing some similarities, each have distinct characteristics that set them apart from one another. The goal is that anyone searching for a compact crossover (which is currently a highly sought-after vehicle) will find a suitable option at a Volkswagen dealership. So, what do T-Cross, Taigo, and T-Roc have to offer?
The T-Cross is Volkswagen's smallest crossover.
The Taigo is the only combustion engine coupe-style crossover currently in the VW portfolio.
Volkswagen T-Roc underwent modernization last year.
Bodywork (T-Cross, Taigo, T-Roc)
Volkswagen has become proficient in the use of modular platforms and shared technical solutions across its models, and this is also evident in its compact crossovers. The brand-new T-Cross and Taigo are both built on the MQB A0 platform.
The T-Cross is considered a representative of the urban segment, measuring 410.8 cm in length and having a wheelbase of 255.1 cm. The Taigo is a member of the same car family, but it has a longer body, measuring 426.6 cm in length with a wheelbase of 256.6 cm.
On the other hand, the T-Roc, which was Volkswagen's smallest SUV until the T-Cross was introduced, is based on the MQB A1 platform. It is slightly shorter than the Taigo (423.6 cm) but has a longer wheelbase (259 cm) and wider body (181.9 cm) compared to Taigo (175.7 cm) and T-Cross (176.0 cm).
What makes the new Taigo stand out more is its silhouette, which is reminiscent of the strong lines of a coupe car, making it the second SUV of this brand to have this body design, following the ID.5. As a result, the Taigo has a lower roof height of 152.9 cm, while T-Cross and T-Roc have a roof height of 158.4 cm.
Despite all three models being similar in size and built with the same components, they have distinct appearances; the T-Cross has more angular lines and gives off a rugged, off-road feel, while the Taigo appears sleek and refined compared to its competitors in its segment, and the T-Roc presents a more powerful and muscular look with distinct bodywork and wide guards.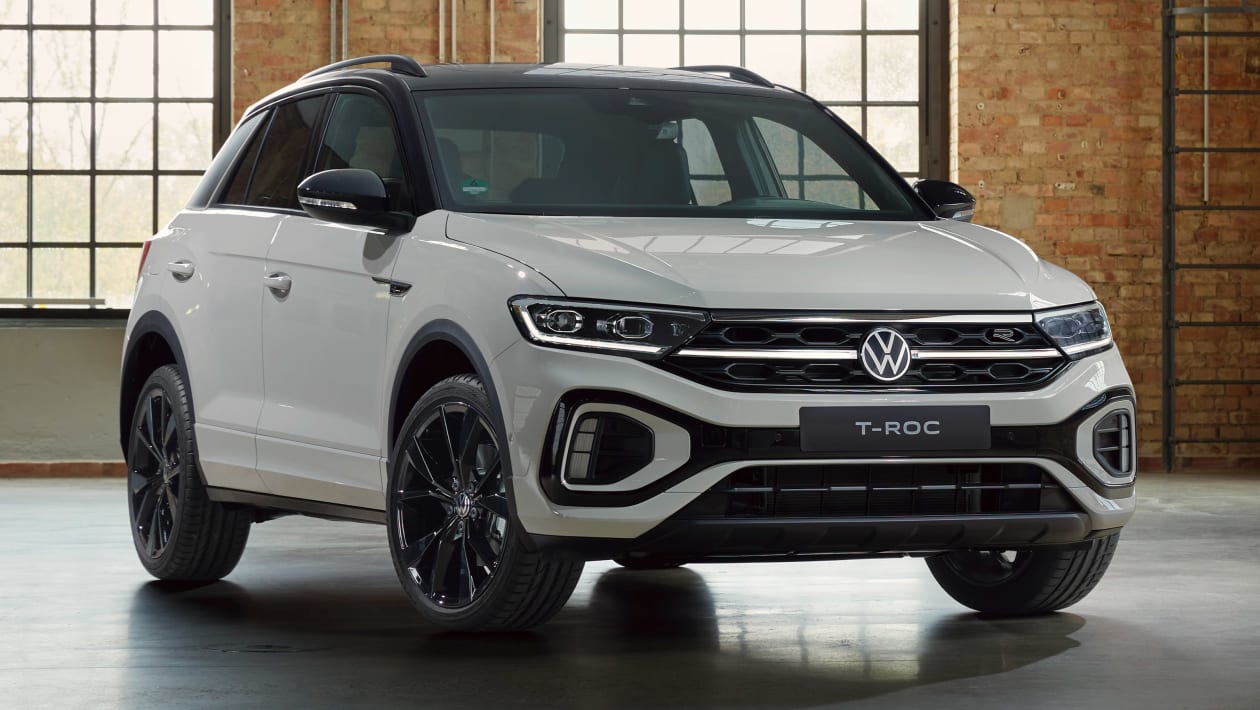 Interior (T-Cross, Taigo, T-Roc)
Ultimately, what matters most in a car is how well the interior space is utilized. The three Volkswagen crossovers have ample room for comfortable long trips with four people. In terms of spaciousness, the front seats provide comfort for most individuals, while passengers up to 185 cm in height will find the rear seats comfortable. Interestingly, the T-Cross and Taigo have more rear legroom. It is worth noting that even in the latter car, despite its low silhouette and sloping roof, tall passengers will not feel cramped for headroom.
The trunk capacity of the Volkswagen crossovers is not vastly different. The T-Cross has a capacity range of 455 to 1281 liters, the Taigo has a range of 440 to 1222 liters, and the T-Roc has a range of 445 to 1290 liters. The T-Cross is the only model that offers the option of a sliding rear seat to increase cargo capacity.
All of the models presented do not differ in terms of ease and logic of operation. In models of this class, Volkswagen has avoided the use of a touchscreen to control the climate, instead opting for a traditional panel on the center console. Overall, the ergonomics in these cars are excellent. There is no need to adapt to any unfamiliar controls, buttons are in logical locations, and control functions through the multimedia system's menu are straightforward. This is standard for most Volkswagen cars.
The T-Roc has an advantage over its competitors with features such as air conditioning directed towards the seats and armrests. Additionally, some buyers may prefer electronic brake assist, while others may prefer the traditional brakes found in the T-Roc and Taigo.
The T-Cross and Taigo have similar quality materials, however, the T-Roc stands out for its attractive finishes, particularly after its recent facelift which improved the overall aesthetic.
In terms of multimedia systems, standard cars come equipped with a 6.25-inch screen. An 8-inch screen with navigation is an optional upgrade or standard on higher versions. The Taigo and T-Roc models feature advanced options, such as the Discover Pro navigation system, which has a 9.2-inch horizontal display.
Engine and chassis (T-Cross, Taigo, T-Roc)
It is evident that customer preferences are evolving – the T-Cross and Taigo models do not offer diesel engines. Instead, they feature successful turbocharged units such as the 1.0 R3 TSI 95 HP (available only in the Taigo) and the 1.5 TSI R4 with 110 and 150 HP. These are also offered in the T-Roc. However, the T-Roc still offers the option of a 2.0 TDI diesel engine with 150 horsepower.
The T-Cross and Taigo models are only available with front-wheel drive, while the T-Roc can also be purchased with four-wheel drive in the 2.0 TSI 190 KM and sporty R versions. The R version is a high-performance SUV, featuring a 2.0 TSI engine that produces 300 horsepower and 400 Nm of torque, allowing for acceleration from 0 to 100 km/h in 4.9 seconds and a top speed of 250 km/h. However, this level of performance comes at a high cost, with a price tag of PLN 202,290 (PLN 196,290 during promotions).
The T-Roc is the only vehicle mentioned here that offers the option of a dynamic DCC suspension, which allows the driver to switch between sportier and more comfortable driving settings. It is an additional cost option (5360 PLN) but is worth considering, particularly if you plan to purchase larger than standard wheels. In terms of wheels, the T-Cross and Taigo come equipped with tires of the same size (205/60 R16 or 205/55 R17), while the T-Roc has slightly larger tires (width 215 mm, same specification). For an additional fee, 18-inch rims can be selected for the T-Cross and Taigo, and even 19-inch rims are available for the T-Roc.
When it comes to ground clearance, both the T-Cross and Taigo have more to offer at 19 cm each, while the T-Roc has a ground clearance of 16.1 cm.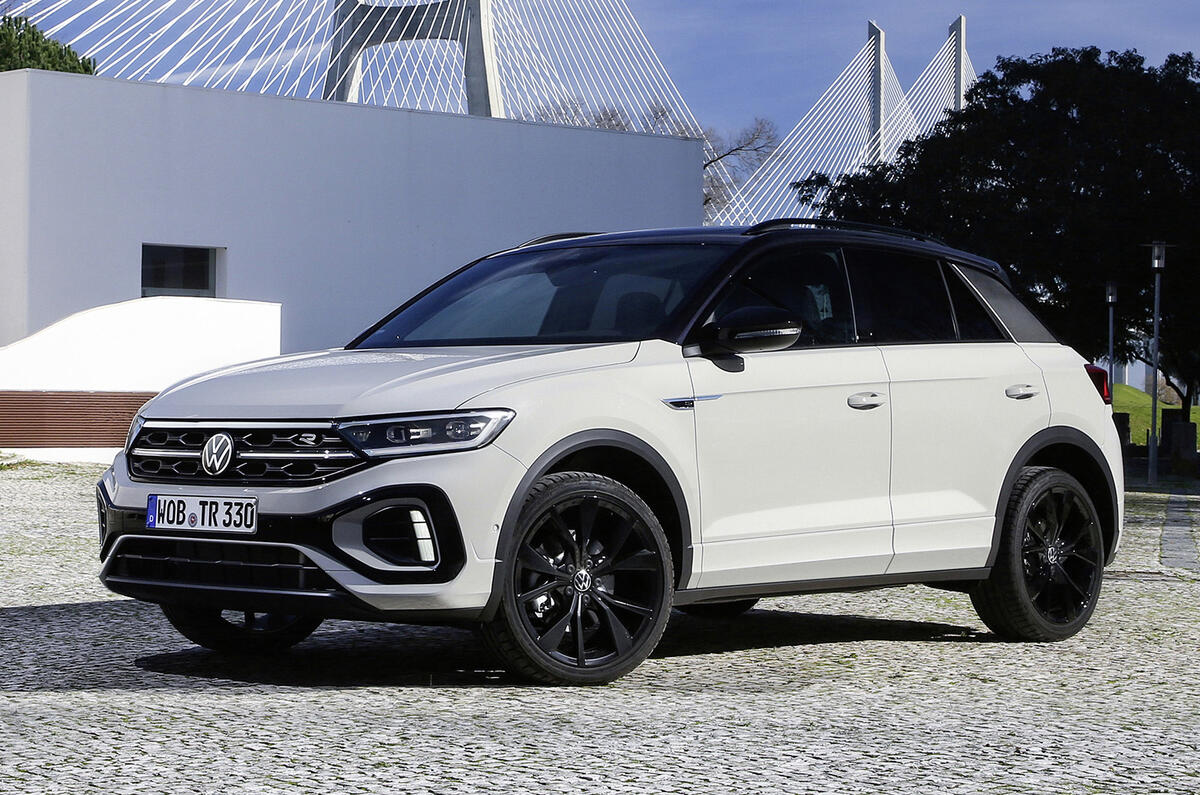 Price and equipment (T-Cross, Taigo, T-Roc)
It is not necessary to present every possible equipment or option and compare possible combinations to choose the best specification. It is better to use the configurator on the VW website to explore the many possibilities. Standard and additional services offered include automatic climate control, keyless entry, rearview camera, parking assistance, etc. Additionally, the equipment can be selected individually or combined in attractive packages for each vehicle.
It is important to note that each of the examples has access to modern active security systems such as lane and blind spot assistants, driver fatigue detection, emergency collision braking, cruise control, etc. Additionally, when it comes to passive security, the Taigo is the best option as it is the only one with a central airbag.
In the basic T-Cross (Life Edition), LED lights are not included and must be paid for as an extra. However, the Taigo Style has a surprise inclusion of matrix headlights as a standard feature (which are only optional on the T-Roc).
What are the prices of Volkswagen crossovers? Prices vary depending on the engine and transmission options. For example, comparing cars with the 1.0 TSI 110 KM unit and manual gearbox, the base T-Cross model costs PLN 98,490, the Taigo Style PLN 103,090, and the T-Roc Life (which is not available in this engine/gearbox combination) costs PLN 110,290. The difference in price between the Taigo and T-Cross is smaller than the difference between the Taigo and T-Roc.
When comparing similar engine versions, all Volkswagen small crossovers offer similar advantages. Therefore, the most important factors for choosing a particular car may be its appearance and price. However, for more demanding buyers, T-Roc may be a better choice as it offers features not available in T-Cross and Taigo such as DCC suspension, 4Motion drive, more powerful engines, and diesel options. Overall, it can be said that T-Cross and Taigo are on par with each other while T-Roc is positioned and valued higher. All three models are well-designed and worth considering.