Photo: Volkswagen Nutzfahrzeuge

Sittard –
In times when camping is booming, we think it's no surprise that Volkswagen is expanding its range of vehicles.
Like many car owners, the condition of the Volkswagen bus is already seventy and more. Because the first drawing of the famous bus by the creator Ben Pon dates back to 1947. In short, a bus with a box full of good stories. Because what started as T2 has now reached the T7 frame. And that's not just another chapter in the predictable story of The Transporter, but a whole new one. The T7 is not just the successor of the T6, because it will remain for the time being, like a real family business. The T6 will continue mainly to fulfill a commercial function, while the T7 will take on the role of a Multivan and, above all, should serve citizens better. That starts with the basics, because that is the well-known MQB platform, on which the Golf and many other models are also made. In short, we are dealing here with the Golf XXXL, because it also borrows its powertrains from the best seller. One of the most popular will undoubtedly be the PHEV version, which borrows its technology from the Golf GTE, among others.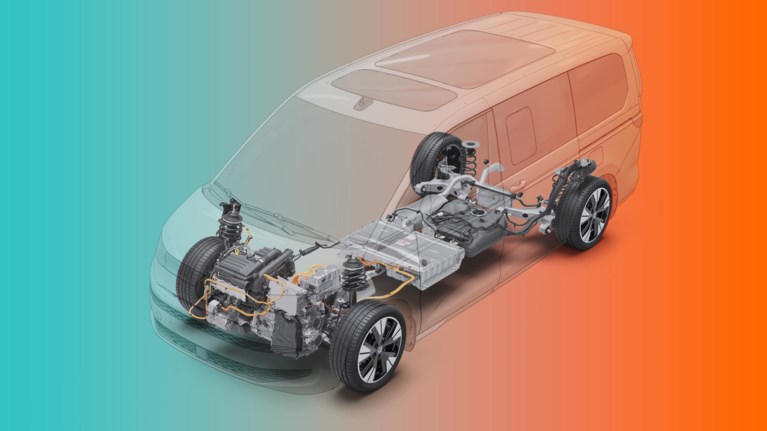 Size
Let's take a look at the specs to see what we're talking about in terms of size. If we compare them with those of the T6 for reference, we see a difference. With a minimum length of 4.97 meters, the T7 Multivan turns out to be about 7 centimeters longer than the T6, the long-term version is quite large at 5.12 meters and about twenty centimeters behind the rear wheels. This mainly provides additional cargo space, which is desirable for seven seats. In terms of width, the luxury bus has grown by almost 4 centimeters to 194.1 centimeters. In height, it now bends for more parking garages, because it has been 4.2 centimeters lower. The wheelbase grew by 12.4 centimeters and is now 3.12 meters in the long and short versions. So, while you might initially think that a more civilized bus based on the civilian MQB platform would be smaller, nothing could be further from the truth. This is a big bus. Also in terms of content, because it can hold a maximum of 4 cubic meters.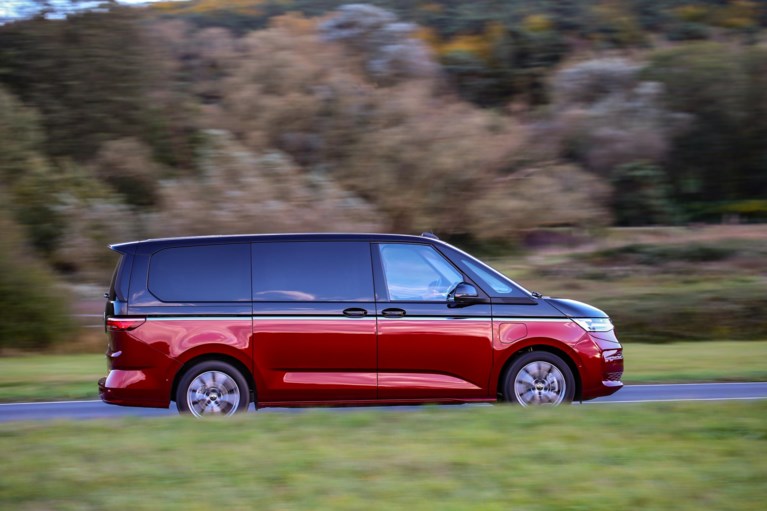 Equipment
But there is more that makes the Multivan attractive. Its equipment, for example. While it was already a comfortable place to sit in the T6, this T7 gives you more of a passenger car feel. The steering wheel looks familiar and that's right, because we know that from the Golf and other models. We also recognize the dashboard with its digital displays, infotainment and connectivity from existing audio models. The big advantage is that controls cause fewer question marks, because everything looks so normal. After all, finding functions is as easy (or difficult) as in Golf. The driving assistance team provides the same protection and varies from active lane assistance to advanced display. But parking assistant and cruise control with stop-and-go function are also possible. You can also do many commands with voice control. While you often thought about the T6 Transporter: it's good that they can dress up a company car in this way, the T7 has the atmosphere of a passenger car. One big exception: you are still up and about as much as you want in such a car. Very spacious and comfortable with a great overview, ready to discover the land beyond the horizon.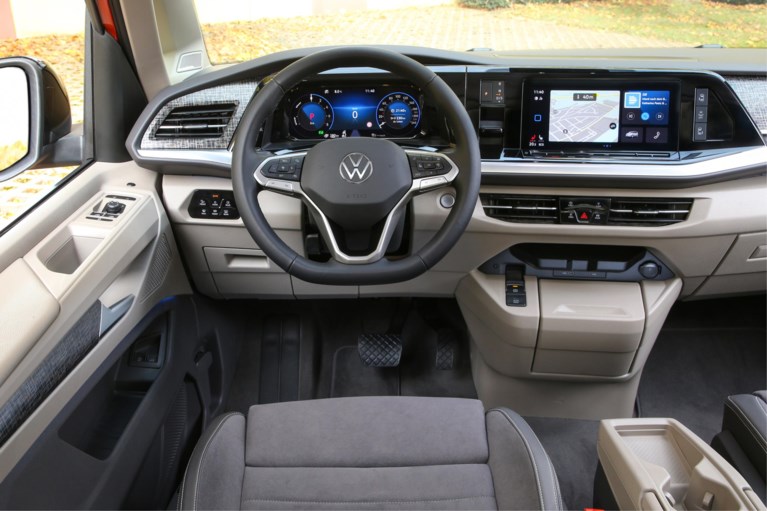 Drive
Many powertrains can be imported internationally, but we have to work with the GTE powertrain that we know from the Passat, among other things. The basis is the familiar 150 hp 1.4 TSI petrol engine, which is supported by a 115 hp electric motor. This produces a system power of 218 hp and 350 Nm of pulling power. With a 13 kWh battery you should be able to drive around fifty kilometers on electric power. The transmission of all power is accounted for by the proven and efficient DSG gearbox, which uses its six gears as efficiently as possible. You don't have to worry about this drivetrain, which operates without drama in almost all situations. It is even better when assisted by an electric motor, because it works especially well in stop-and-go traffic and also provides extra power when you need more power. Good sealing is therefore the motto, because that not only ensures more efficiency, but also reaps a better driving experience because the Multivan then feels smooth and soft.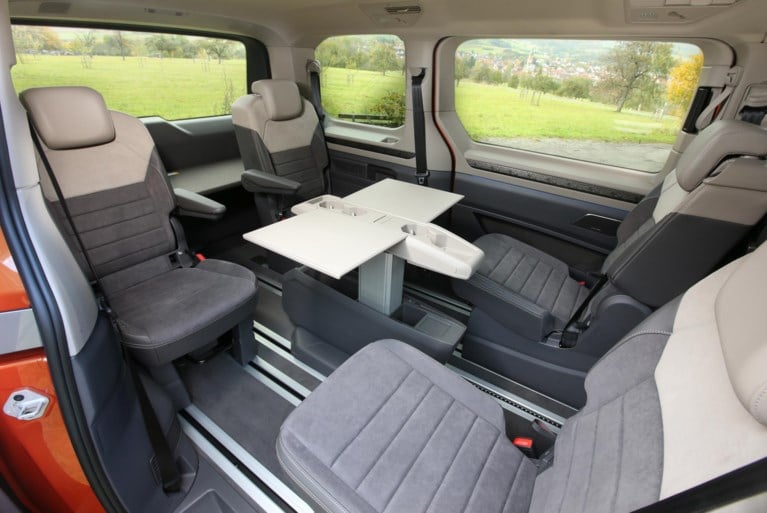 This multivan lives up to the first part of its brand name, because it is so versatile. Depending on the trim level, you can choose all possible seat configurations. This also allows you to create a type of seat, where you look at each other in the second and third row of seats. The traditional multifunctional table is also part of it again. The new Multivan has a multi-functional rail system, where seats around 25 percent lighter than its predecessor (they now weigh between 23 and 29 kg) can slide. The rails also provide a 'connection' to the seats, which can be activated in this way, for example. Which configuration you choose depends on the version, but it has a maximum of five seats in the back. You can sit with two seats in the second row, leaving way for three individual seats in the third row, but other configurations are also possible. Because all the seats are removable, so you can make it more than a Transporter.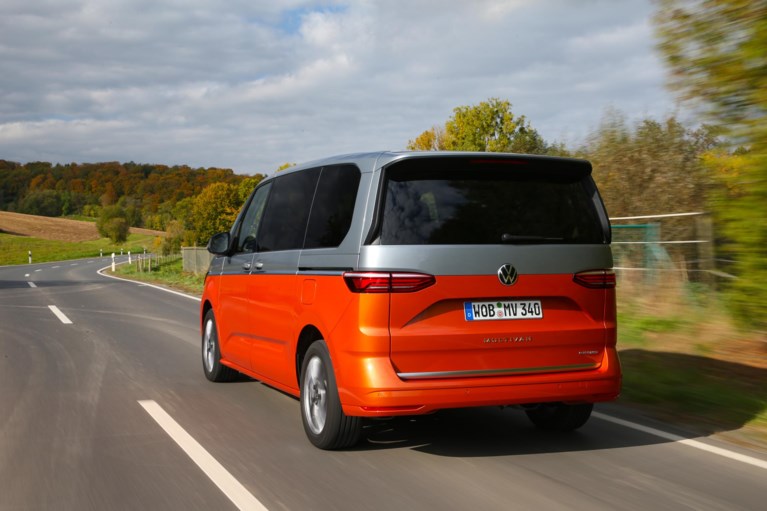 Price
Anyone who enters the configurator and wants to put together his best Multivan (from 54,400 euros including bpm and VAT), will find that you must have the second edition Life (58,080 euros) with that beautiful two-tone color, which costs less. 2800 euros. able to order. But then you have that precious look that the T6 also has in that two-tone version. That was very much the Rolls-Royce of cars, but the good news is that with the new Multivan you can now buy more sophistication at a lower price than ever before. This 2.1-ton T7 Multivan is based on its plug-in hybrid power that offers a little more on paper, no less than 35 mille cheaper than the T6 Multivan, which had to work with thick diesel. Good news for big families and who knows, the Multivan could be the revival of the MPV, because you can also see it as a successor to the Sharan. And while we're talking about passenger cars: next year the Volkswagen family will be expanded again: the long-awaited and fully electric ID. If it only resembles a little concept, then our heart beats full of expectations, because then the family party is complete.
Specifications Volkswagen Multivan 1.4 eHybrid
Price:

54,400 euros

Top speed:

190 km/h

Acc. 0-100:

11.6 sec

Average. usage:

1 out of 66.6

CO2 emissions:

39 g/km

Engine:

1395 cm3, four-in-line, turbo and electric motor

Placement:

across the front

Max. power (plus):

218 hp (160 kW)/4900-6500 min-1

Max. torque gasoline engine:

350 Nm/1000-4100 min-1

Fuel:

petrol/electricity

Transmission:

Six-speed DSG automatic

Run:

front wheel

Brake:

Air front records, solid rear records

Tire size:

235/50 R17