It is still produced in Germany, but the technical basis comes from the French from Stellantis. After all, how much of the new Opel Astra is still German? We tested it to find out.
It is not an exaggeration to say that Opel Astra is one of the examples of German brand symbols. After all, if we include cadethis predecessor, has 12 generations, and his origin is 1936(!).
In this new generation – Astra L — The Opel compact marks a turning point in its history: it is the first designed outside of GM and in-house Stellantis. This means that at its core we find the EMP2 platform and the mechanics used by very French models such as Peugeot 308 and DS 4.
In the face of all this, what is left of the "German genes" in Astra? We spent a week with the hybrid Astra Plug in to find out.
TO NOT LOSE: The Volkswagen Golf eHybrid has been tested. What? Which Plug-In Golf Cart Should You Buy?
There is no room for confusion
Looking at the Astra, it's clear that Opel designers have done a good job of differentiating it from its Gallic cousins. In fact, in my opinion, they did more than that: they created a more attractive, less conservative model that fully embraces the brand's new visual language.
Astra also has its own "personality" inside, although that's where I saw more "French roots". Not only commands similar to the Gallic "cousins" they give, but also their use.
I've driven all generations of the Astra and they've always had a certain feel and weight to the controls that I can't find in this generation.
However, the interior of the Astra retains the lessons of the "German school". Ergonomics is on a good plane and, despite the obvious reduction in the number of buttons, it will be able to be a few "holes" on top. Peugeot 308 in this chapter.
Also the quality does not deserve maintenance, remaining faithful to the skins of its predecessors. It is true that in this field both 308 like DS 4 they have some advantages, especially in the beauty of the equipment – more refined in the Gallic proposals -, but the German example continues to deserve praise.
SEE ALSO: Is the Skoda Octavia RS a better choice than its Golf GTI "cousin"?
Finally, the Gallic technical nature of the new Opel Astra can be seen in its seating capacity. The EMP2 platform is not known for ensuring a more spacious rear cabin and the Astra is no exception.
Four adults travel comfortably, but other recommendations like the village volkswagen golf do better in this chapter. The cargo area, on the other hand, sees the storage of the battery under the floor shown in its capacity: from the Astra's 422 l for combustion alone, it increases to 352 l in this hybrid. Plug ina relatively low value in class, but one that doesn't affect your perceived ability too much.
German «Tread»…
It's behind the wheel of the new Astra that Opel's efforts to differentiate it from its French cousins ​​are most evident. The suspension setup leaves no doubt and the Astra feels like… an Opel.
The suspension has a firmer grip that allows greater control of body motions and sharper response, making the Astra faster and even more fun on twisty tracks.
But it is on the road that the "German hit" lives up to tradition more, and the Astra is characterized by high stability, making it one of the biggest rivals of golf in the name of "King of autobahn".
The best thing is that, contrary to what was traditional in Opel models, the French influence ended up bringing an additional value in terms of comfort, where the new Astra shows a very good ability in filtering asphalt errors.
TO NOT LOSE: Audi A3 Saloon 30 TFSI tested. This or the Sportback?
To complete the «powerful package», we must also highlight the steering, which is precise and direct, and gives us the necessary confidence when handling the worst settings.
…, but a French engine
If in terms of aesthetics and dynamics, those responsible for Opel gave the new Astra the desired German character, in terms of mechanics they could do little or nothing to differentiate it from its French counterparts.
For the first time Astra has a hybrid engine Plug in and it was precisely this that we put to the test. With 180 hp of maximum combined power, the Astra Hybrid proved to be fast, especially when we selected the "Sport" mode, which improves speed sensitivity.
The response is good from the lowest states and, even when the battery runs out, the Astra Hybrid does not disappoint in terms of performance.
And the use also did not disappoint. Not to mention the ridiculous figures we get when we have a charged battery (an average of 1.5 l/100 km is easy, even on the road), when I ran out of battery power, the consumption of the 1.6 l and 150 hp turbo was recorded which stayed between 6.2 l/100 km on the highway and 6.7-7.0 l/100 km in the city.
Discover your next car:
Is it the right car for you?
More than Opel references, Astra, historically, is one of the "heavies" of the C segment and has in this new generation arguments to fight for leadership.
Opel's task of maintaining the "German DNA" in the new generation Astra was not going to be easy, in the automotive world it increasingly included sharing and cooperation, but in general the goal was achieved.
Yes, there is an explanation that the Astra is more French than German, but no one will confuse the Opel Astra with its Gallic "cousins".
About the hybrid version Plug incontinues to be a more favorable proposition for companies than individuals, due to tax benefits, reducing one of the "Achilles heels" of this Astra and hybrids. Plug in total: price.
Which "closes the door" for many people to a proposal that would achieve, for many, the "best of both worlds": very low consumption in daily trips, relying on the electric part of the kinematic chain, without worrying about the range . in family trips in this family….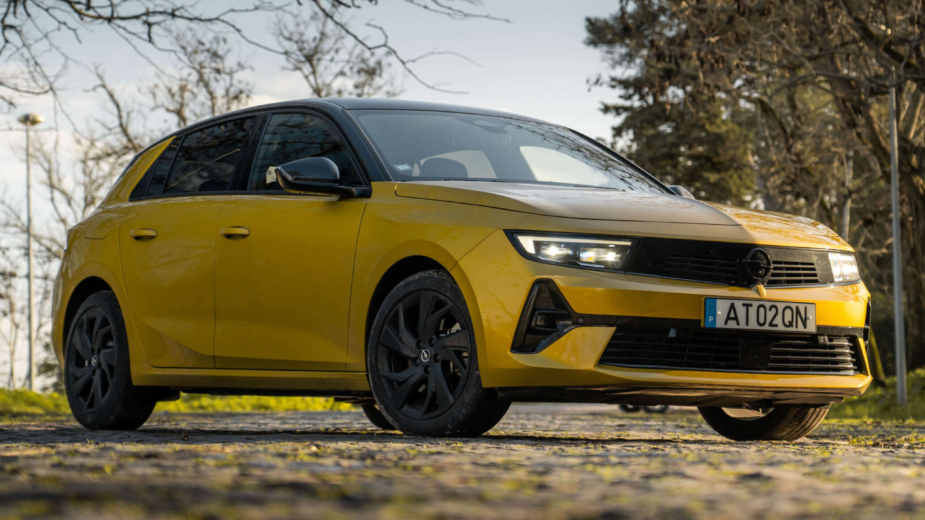 Opel Astra Hybrid GS line
8/10
In terms of attitude and driving experience, the Opel Astra still feels like an Opel. "French genes" are there, but you need a "healthy eye" to detect them and there are things – such as comfort – that were even property.
profit
Comfort/characteristic ratio
Style
Equipment
Benefit/cost ratio
Ergonomics
loss
adequate rear accommodation
Price
some material
Basic version:€43,075
IUC: €139
Classification Euro NCAP: 4/5
€45,175
Tested unit price
Architecture:4 cylinders in line
Ability: 1598 cm3 cm³
Position:before passing
Loading: Combustion engine: Direct injection + Turbo + Intercooler; Electric motor: 12.4 kWh lithium-ion battery
Distribution: 4 cylinders in line
Power:
Combustion engine: 150 hp at 6000 rpm
Electric engine: 110 hp
Maximum combined power: 180 hp
Number two:
Combustion engine: 250 Nm at 1750 rpm
Electric motor: 320 Nm
Maximum torque: 360 Nm
Tension: Forward
Gear box: Eight-speed automatic
Width: 4374 mm
Height: 1860 mm
Height: 1442 mm
Distance between axles: 2675 mm
Cargo area: 352-1268 liters
Rims / Tires: 225/45 R17
Weight: 1678 kg
Average usage: 1 l/100 km; Freedom: 67 km
CO2 emissions: 23g/km
Maximum speed: 225 km / h
Maximum Acceleration: 7.6 seconds
He has:

Power adjustable windows, power folding, heated exterior mirrors with turn signal light
Center console with armrest
tinted rear windows
sports pedals
Electronic interior rearview mirror
Onboard Charger with High Voltage 3.7 KW; one phase
Keyless entry and start
3-spoke leather steering wheel
LED fog lights
Automatic high beam control + light sensor
Parking sensors, rear and front and a 360º panoramic camera
automatic emergency stop
adaptive cruise control
Driving Assistance Package: ACC Stop&Go
Kult Yellow metallic color – €700.01
Wireless Charger for Mobile Devices — €150
Intellilux LED Matrix Pixel Lights — €1250
Do you know this answer?
Opel Calibra was launched in what year?