It turns out that the Alpina takeover could have happened much earlier. 20 years ago, the founder and owner of Alpina, Burkhard Bovensiepen, received a sale offer from … a Jaguar. Back then, Jaguar was part of the Premier Automotive Group, which was part of Ford, and was led by none other than Wolfgang Reitzle, the former Development Director of BMW. The agreement has not entered into force. Alpina remains independent as long as it expects to produce at least 5,000 vehicles by the end of 2025. The brand has been listed on the stock market as an independent carmaker since 1983. Development costs of between EUR 10 and EUR 15 million per model are amortized over approximately six years. The cars are built to Alpina specifications at the BMW factory and assembled at the company's headquarters in Buchloe.
Read more

This is what the most luxurious Volkswagen should have looked like
Volkswagen ended production of the Phaeton in 2016, after four model updates and 14 years of production. It was the most luxurious model Wolfsburg had ever produced. Now VW has revealed what the next generation Phaeton should look like.
The move to take over Alpina and BMW after 2025 was due to changes in the automotive industry. Approval support for small series manufacturers has been reduced, and Alpina may have been fined for too high CO2 emissions. At the same time, BMW was looking for a brand that would fill the gap between BMW and Rolls-Royce. – We remain faithful to our life's work and continue to take care of what has been created over the past 61 years – comments Florian Bovensiepen. According to these ideas, BMW wants to expand the development department, which currently employs about 30 people. Alpina will change because it will not remain only BMW models. It already accepts individual orders for steering, suspension and adaptive cruise control for Mini and Rolls-Royce models.. In addition, the managing directors of the Munich-based concern see a strong need to take care of existing customers. There are currently around 25,000 Alpina cars on the road. After 2026, the company is expected to continue to provide parts and accessories for its current models. However, the next generation BMW 5 Series will no longer be available as an Alpina.
Current models are selling very well. Last year was the most successful year in Alpina's history. The most important markets are the USA and Canada, although only the B7, B8 and XB7 models with V8 engines are offered there. Only XB7 was sold in 450 units. In Japan, the share of diesel models is now 40 percent. In Germany, 800 copies were sold in 2021.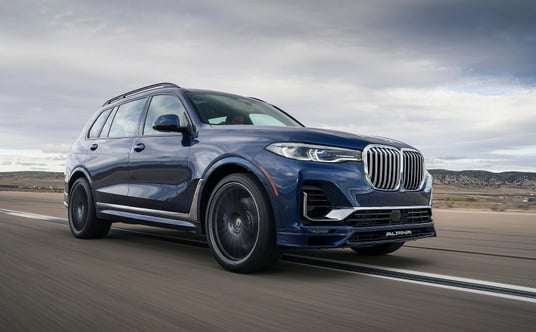 Alpine XB7
Read more