The Toyota Yaris Cross has introduced a limited edition model called the JBL Limited Edition, which offers a unique design and an array of standard features. This exclusive version of Toyota's small hybrid SUV aims to provide a more premium and distinctive experience for customers. The JBL Limited Edition is now available for purchase in the Spanish market, with a limited production of only 200 units.
The distinguishing features of the Toyota Yaris Cross JBL Limited Edition can be easily identified by the JBL badge located on the front wings and the C-pillar area. The interior of the vehicle showcases a fabric upholstery with contrasting stitching, further enhancing its visual appeal. One of the standout elements of this limited edition is the premium sound system provided by JBL, a renowned specialist in the field of audio technology.
The JBL Limited Edition takes its place as the flagship model within the Yaris Cross range, positioned just below the Adventure trim level. The extensive range of standard equipment offered by this edition is noteworthy, encompassing connectivity, safety, and comfort features. Here is an overview of the notable standard equipment available: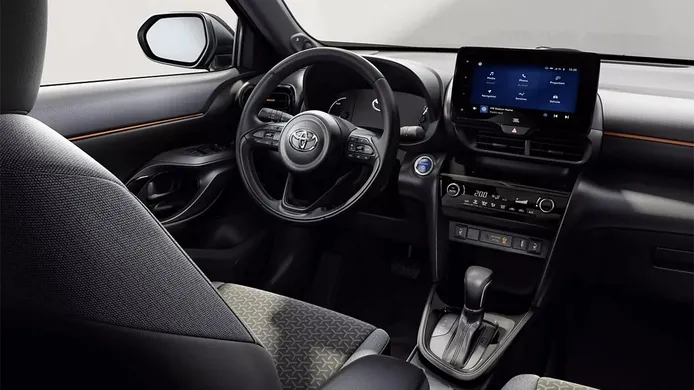 Toyota Skyview panoramic roof
Heated front seats
JBL premium sound system
Urban Blue fabric upholstery with orange accents
Toyota Smart Connect infotainment system with a 9-inch touchscreen
Wireless charger for compatible mobile phones
Toyota Safety Sense, a comprehensive suite of safety technologies
Central locking with remote control
Power windows
Ambient lighting system
Darkened rear windows for enhanced privacy
Dual-zone automatic climate control
Heated, electrically adjustable, and folding exterior rear-view mirrors
Interior rear-view mirror with anti-glare function
Automatic lights and rain sensor
LED taillights
LED daytime running lights
Multiple airbags, including front, side, and curtain airbags
JBL Flip Essential 2 Portable Speaker
JBL Tune Flex Wireless Headphones
By offering such an extensive range of features, the Toyota Yaris Cross JBL Limited Edition aims to provide a premium driving experience that combines comfort, safety, and connectivity. With its exclusive design details and high-quality sound system, this limited edition model is designed to appeal to customers seeking a unique and refined hybrid SUV option.
The new Toyota Yaris Cross JBL Limited Edition features a hybrid engine known as the self-charging hybrid (HEV) engine, which is not surprising considering its mechanical specifications. This propulsion system includes a 1.5-liter three-cylinder gasoline engine as its main component, resulting in a total power output of 116 CV.
The engine is paired with an e-CVT automatic gearbox, ensuring smooth and efficient transmission of power. Additionally, being a hybrid vehicle, the Yaris Cross JBL Limited Edition is equipped with the DGT (General Directorate of Traffic) ECO environmental badge. This badge provides several advantages in terms of mobility, aligning with the car's eco-friendly characteristics.