Jogger is a new proposition in the market. It offers a good price for the current times (the tested unit costs from less than PLN 87,000), versatility (a lot of interior, even 7 seats) and a more attractive design than the previous generations of Dacia. This model is a compact crossover with the length of a station wagon, the actions of a minivan and an SUV-like appearance due to plastic covers and increased ground clearance (we cannot count on a 4×4 vehicle). Rather, no one will turn this car around, but you can see progress in this field as well.
Other text below the video:
Dacia Jogger – get better

The interior and the open, well-organized cockpit also make a good first impression. Close contact shows hard and cheap plastic, but let's not demand too much. Plus for the center panel and armrests on the doors covered with fabric (from the Comfort equipment version). The tested unit had automatic air conditioning or modern multimedia (with navigation, rear view camera, Bluetooth and two USB ports). The eight-inch screen is placed comfortably, high, but can be tilted slightly. The smile in Dacia is always caused by the tachometer without revolutions marked in red – so you can use the same for each version of the engine. A little, but for thousands of copies …
By staying with the equipment, you can see that Renault allows Dacia access to the next shelves of its parts warehouse. And so in the new Jogger we can have a card instead of the traditional key and start the engine with a button. LED lights are also a pleasant surprise – more simple, but always.
Dacia Jogger – not everything is so good

So far, Jogger has scored, but he also has many problems, and they are not so small. The first time I opened the trunk I was surprised. We are testing the 7-seater version, so there are two extra seats in it. This is normal, but I thought it was normal today to hide them in the floor so they don't come in when not in use. I was wrong, Dacia saved and you have to mix. The seats can be folded or removed completely like in a bus. I had no place to leave them, so they traveled with us. Luggage fit easily, but stacking was not easy. Agree, after removing the seats, the capacity of the luggage compartment (607 l) is not lost, but it is impossible!
Dacia Jogger 1.0 TCe 110 KM Comfort

The same applies to the spare wheel, which is placed under the body (as in pick-ups or delivery vans). I wouldn't want to get a flat tire in bad weather. On the other hand, standard roof rails that can be converted into roof racks or bike racks are a good idea. can you You can.
I still had trouble finding a suitable and comfortable position behind the wheel. The driver's seat can be adjusted in height, but adjusting the steering wheel (although it can be adjusted in two planes) is not so easy. I would like to add that the owner of the zone has not been transferred. Moreover, after an hour of driving, the seat became too soft and boring for long journeys.
Entering the road meant driving legally at a speed of 140 km/h. The one-liter turbo engine produces 110 HP and 200 Nm, so if we do not load the Jogger on the roof, the performance is acceptable (11.2 seconds to 100 km / h). Worse, when you travel fast, you get a bad sound inside. Not because of connecting the three-cylinder engine, but because of the insufficient sound insulation of the cabin. In such situations, cruise control can be useful, even more effective than normal. From the active safety systems on board Dacia we have the blind spot control system or the emergency brake assist system. I'd forgotten, city traffic is blocked by thick front and center pillars that block visibility. It is dangerous when you turn right when you have to cross the bike lane.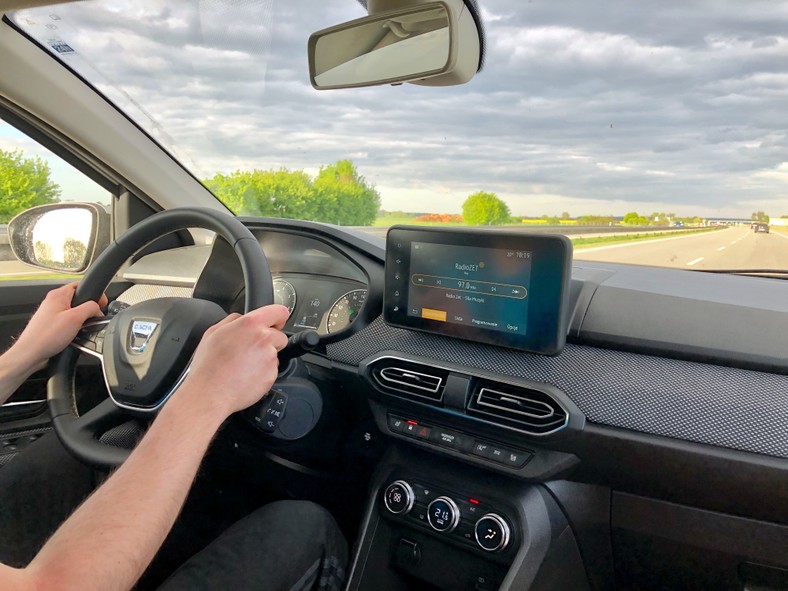 Dacia Jogger 1.0 TCe 110 KM Comfort

The good news is that fuel consumption is moderate. The 110 HP Jogger in the city needed 6.6 liters of gasoline per 100 kilometers. On the highway, its desire increased to 8.5 liters. This is a respectable result, because the price of oil is constantly increasing … It is good to know that for those who are economical, there is a slightly weaker version with the installation of factory gas on the output.
Dacia Jogger – in my opinion

Don't get me wrong. The Jogger isn't a bad car, but keep in mind that it's still a low-cost option with all the results, and not a half-price lifestyle car. There are no miracles. Personally, I'd consider buying something better second-hand, but I understand people/companies choosing Dacie. In the case of the Jogger, they will get a new, large car at a good price, which has proven technology from Renault and has the most necessary equipment. However, if you expect something more (for example, high comfort, good performance or craftsmanship), then Dacia will not be the best solution.
Dacia Jogger 1.0 TCe 110 KM Comfort – specifications

| | |
| --- | --- |
| Engine | t.benz. 999cc R3 |
| Strong | 110hp / 5,000rpm |
| Torque | 200 Nm / 2900-3500 rpm |
| Gearbox / car | manual 6b./for front wheels |
| Acceleration 0-100 km / h | 11.2 seconds (7 seats) |
| Maximum speed | 180 km / h |
| Average fuel consumption | 5.7 l / 100 km (depending on the manufacturer) |
| Height / width / height / wheel | 4547/1784/1632/2897 mm |
| Reduce weight / load | 11158 kg / 537 pounds |
| Cargo capacity / fuel tank | 160-607-1819 l / 50 l |
| Guarantee | 3 years or 100,000 km |
| Price | from PLN 74 700 (1.0 TCE 5-Key person) |
| Price of tested copy | PLN 95,200 |