The Space Star is one of the cheapest new cars available in Germany: Mitsubishi charges just 10,380 euros for the base version. Reason enough to take a closer look at the small car.

What he looks like: Not bad. It would be presumptuous to call the Space Star a lifer, but it certainly offers solid small car fare. It can also be added to spices, for example with a pleasant color scheme, citrine yellow metal also shines in the November fog. A bold roof spoiler with an integrated brake light and chrome clamps at the front are standard on the short five-door model of around 3.85 meters, and the customer can choose from a wide range of accessories of all kinds of style panels, decorative films , mirror covers, side skirts or alloy wheels. Body slimming is also offered.

How it is installed: clearly Hard plastic is widespread, but it is not available as garbage, especially since interior designers have also thrown away piano lacquer items. Mitsubishi has made the top model "Top" available to us, offering leather covers with a chic/imitation design, while the more daring will get a stylish orange-tinted cover in a range of equipment.
Digitization has not completely reached the Space Star yet, the driver's instruments remain analog, except for the small displays that show the usage and kilometers driven, for example, which are changed not with the buttons on the steering wheel, but by pressing a small stick. .
Program range: The 7-inch screen reflects smartphone content.
Manufacturer
After all, there is a seven-inch touch screen that stores information. It doesn't offer many options, only the radio, Bluetooth phone and smartphone content can be controlled, the last to open the way to the screen for Android Auto and Apple CarPlay. This is how the route guide works, the fully installed navigation system does not appear in the list of additional charges. You must also know that the described multimedia system is reserved for the "Select +" and "Up" options at the very top.
However, the reduction of essentials has the advantage that Space Star is very easy to operate.

How much space does he have: It remains a mystery why Mitsubishi chose the word "space" in the design of the model. There is nothing spacey about the Space Star, and the atmospheric conditions correspond to that of a small car, no more, but also no less. The driver and front passenger find themselves placed in relatively narrow seats, but do not get out of the car with their limbs asleep even after a long drive. There are three passengers in the back, it's better to leave it for two hours, it's fine.
235 liters of boot space is also typical for a small car; after folding the rear rear seats, 912 liters and the adjacent loading area are opened.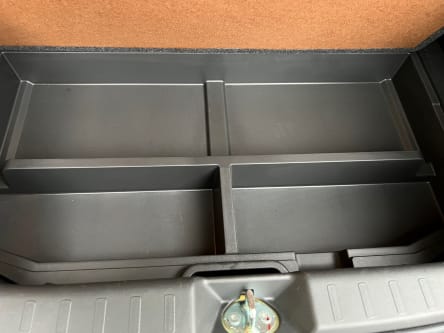 Widely used: trunk box and storage compartments.
owl
We really liked the trunk box under the loading floor, which is standard in the "Top", which is divided into several storage compartments and can be folded.

What drives him: 1.2 liter three-cylinder petrol engine with 52 kW/71 hp and 102 Newton torques. If you want to change yourself, you can do it with a five-speed manual gearbox, otherwise Mitsubishi offers an automatic CVT for the two highest equipment ranges, which requires an additional payment of 1100 euros.

How it works: First of all, it is completely controllable, the Space Star works hard and hard through city traffic, its compact dimensions are made for smart lane changes and quick maneuvers even in small parking spaces. In higher models, a reversing camera keeps an eye on rear obstacles. The small-volume absorber does not look tired, but the shift work is still needed to make it go faster, the not-elegant torque of 102 Newton meters is available only for 3500 visits. On the road, you have to change the fourth or even the third gear again and again.
Acceleration from 0 to 100 km / h takes 14.1 seconds, Space Star strives for a maximum of 167 objects, above the mark of 100 km / h it raises its volume, while remaining pleasantly silent at low speeds. We were somewhat displeased with the steering wheel.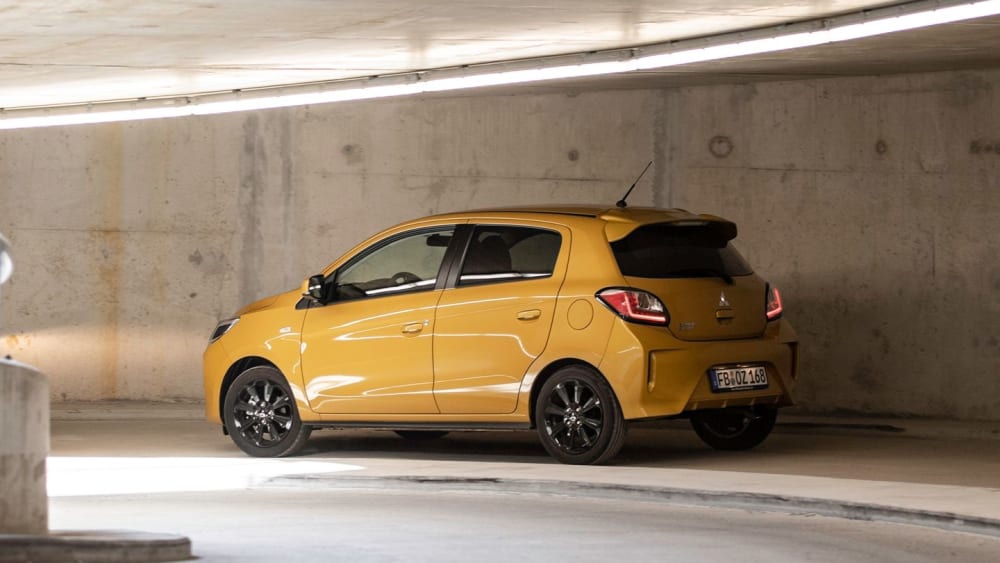 Hai: This color is called citrine yellow.
Manufacturer
As far as support systems are concerned, the customer should not have too high expectations. In addition to the mentioned reversing camera, cruise control, high beam assistant, lane departure warning and a collision warning system including pedestrian detection and emergency brake assist, but you should still enter with variant of high-priced equipment.

What he uses: As long as we didn't push it too hard, we drove the Space Star at 4.6 l/100 km. If he had to work well on the Autobahn, he ate 6.0 liters for breakfast. On average, he used 5.2 liters.

What it offers: That really depends on which level you choose. The attractively priced base model is not yet widely available – it has no central locking, no radio, or suspension system, and certainly no air conditioning. If you appreciate such, well, luxury, you should buy at least the level of second equipment "Select". Above all, the simple variant remains isolated from many additional options.
The most reasonable option is probably the "Select +", which already has a rear camera, cruise control, smartphone link infotainment with a 7-inch touch screen, heated seats and alloy wheels. The top model adds driver assistants, bi-LED headlights, a keyless entry system including a stop button, power folding exterior mirrors and automatic climate control.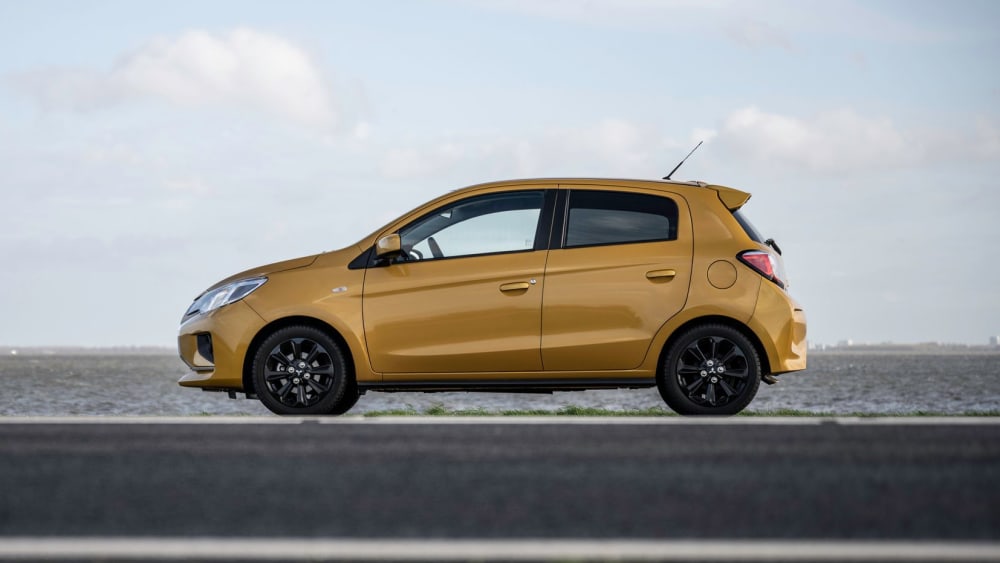 Confirmed: The Space Star has been in production since 2012. Since then, however, it has gone through a number of faces.
Manufacturer

How much does it cost: From 10,380 euros. The "Choose+" variant comes in at least 14,680 euros, the "Top" up to 17,180 euros. These are online prices that include a 2000 euro discount. In addition, Mitsubishi offers a five-year manufacturer's warranty.

What we mean: The Mitsubishi Space Star is no longer a brand new small car, but a modern and fuel-efficient compact, which, along with the Dacia Sandero (9600 euros), is one of the cheapest new cars ever. If you appreciate the equipment that goes beyond that of the basic spartan model, you can quickly get out of the basement of the price, but you can still get away from the situation that there is only used elsewhere in the segment.

Ulla Ellmer
Mitsubishi Space Star data

Run: Front wheel drive, five-speed manual transmission

engine Otto

to move 1193cc

cylinder 3

performance 52 kW/71 hp at 6000 rpm

Maximum Torque 102 Nm at 3500 rpm

high speed 167km/h

speed up 0 – 100 km/h 14.1 sec

common use 4.7L/100km

use of the test 5.2L/100km

CO2 emissions 108g/km

delivery rate Euro 6d

energy efficiency class C

height 3.85 m

Broad 1.67 m

Height 1.97 m

seats 5

cargo area 235 – 912L

fuel tank 35L

lose weight 980 kg

maximum weight allowed 1340kg

burden of payment 435kg

pulling power 100 kg without brakes, 200 kg with brakes

Insurance Type Classes 17 (KH), 20 (TK), 18 (VC)

Price from 10,380 euros