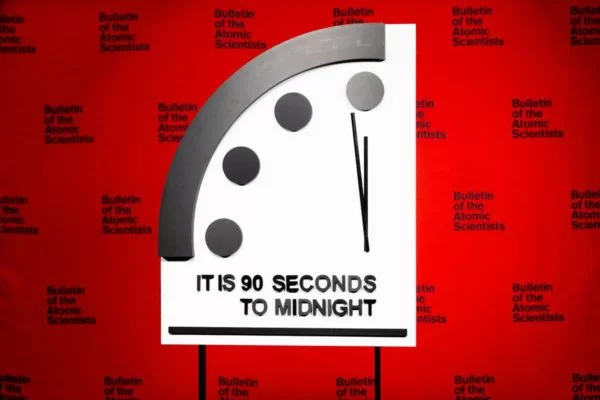 This Tuesday (1/24), prominent nuclear scientists from the Bulletin of the Atomic Scientists reset the "Doomsday Clock" by 90 seconds to midnight, warning that the world has never been closer to the end.
The logic of the clock is simple: the closer the hands get to midnight, the closer the world's danger is to its end. The time can be adjusted, moving closer or further from the "last day", depending on the world's efforts to save or contribute to the destruction of the planet.
Created in 1947 by scientists working on the Manhattan Project, which developed the first atomic bomb, the watch's original purpose was to measure nuclear threats. However, the Bulletin of the Atomic Scientists decided to include climate change in its calculations from 2007 onwards.
Despite not specifying how much time is left for the end of planet earth, the "Doomsday Clock" has been running for over 70 years as a warning to mankind. Indicators are defined annually by members of the Science and Safety Council of the Bulletin of Atomic Scientists, based on calculations that measure the likelihood of disasters.
In addition to the war in Ukraine, the statement issued by the scientists responsible for the watch says that the nuclear threat, the climate crisis, biological threats and war of distortion are factors that increase the threat to this planet.
Read the full report at major citiespartner of GMC Online.