interviewAlfa Romeo is on the eve of an interesting change. At least one new model will be released every year until 2030, and from 2027 they will all be 100 percent electric. Dutchman Bob Romkes decides what they will look like. Our motoring editors spoke to him about the future of the iconic Italian car brand.
The first results of Alfa Romeo's changes will undoubtedly be seen next year. Then a small, all-electric SUV will be revealed, which will largely share its technology with the recently released Jeep Avenger. Alfa CEO Jean-Philippe Imparato promises that a new model can be expected every year until 2030, which will be exclusively electric from 2027. The design department of the brand is busy, confirms his compatriot Bob Romkes, who is responsible for the appearance of all Alfas new since October last year.
Romkes is a car enthusiast through and through. When he was a child he grew up in his father's garage. "I really knew from a young age what I wanted to be when I grew up. I was always drawing cars and motorbikes and earning pocket money by tinkering, assembling mopeds and washing cars. I was always creative." Romkes studied industrial design at The Hague University of Applied Sciences. "During training at GK Design, an agency that works on behalf of Yamaha, for example, I only heard that there were also special courses to become a car designer."
'Everyone at Alfa Romeo is crazy about the brand'
After completing over two years of studies at the Royal College of Art in London, Romkes began working for Citroën and DS Automobiles in 2010, where he was appointed Senior Exterior Designer in 2014 and later Chief Exterior Designer for DS. A brand that had to be created from 'scratch'. "Definitely a very different challenge than now at Alfa Romeo, a brand with a very rich past," says Romkes.
"It's very interesting to find a balance between the present, the past and the future. You really feel the culture within the brand. Everyone who works there loves the brand and everyone has a strong opinion on what Alfa Romeo should be. That definitely creates expectations. But ultimately the task is the same: every new car must be innovative and beautiful.
We will definitely see Bob Romkes signature in future Alfa Romeo designs. "Of course, I am not the only one who decides which design course we take. Normally, I have regular consultations with Alejandro Mesonero (Head of Alfa Romeo Design – ed.) and President Jean-Pierre Ploué about all ideas in the design department . I think it's very important to hold onto my sense of beauty. I like clean design. It's a close collaboration between the three of us that determines the direction we want to go.
A new course, with recognizable features
The rich history of the brand has always had a strong influence on design. Look at the nose of the Tonale: the history of the so-called 'trilobo' grille and the 'scudetto' extended to the front bumper in the middle goes back to the late 1930s. That will certainly attract fans of the brand – Alfisti -, but you can still sell this for a new generation of consumers? "You'd be surprised how many young people know the history of Alfa Romeo," says Romkes. "We certainly don't want to go the retro route with our future models, but the old references will definitely come back in the new design. But don't get too involved."
Walking up to 800 km
The small electric SUV that Alfa Romeo will launch in 2024 will reflect the design direction that Bob Romkes and his team have taken. It is even more interesting how the range of the Italian brand will grow until 2030. The Giulia and Stelvio are expected to retire in 2025, the mid-range cars that will be introduced then will come in a fully electric version with an expected range of 700 km.
There is also talk of a large SUV that is capable of 800 kilometers of electricity. It should be published in 2027. It is expected that Mito and Giulietta will also eventually get a successor. And Alfa Romeo is sure to please many enthusiasts as a new sporty look is added to the brand's rich history. "Don't forget our sporty Quadrifoglio label," says Romkes.
Giulia and Stelvio update
In Alfa Romeo they are happy. The brand sold no less than 82 percent more cars in 2022 than the previous year. This is actually because of the company's long-awaited SUV, the Tonale. This does not mean, however, that Alfa dealers are now working overtime; So far, almost three hundred Tonales have received a Dutch license plate. These are still not impressive statistics.
The current Giulia and Stelvio update comes at the right time. While the facelift features nothing more than different Tonale-style headlights, different taillights and a digital instrument cluster. Nothing else will change for both models, which have been in production unchanged since 2016. The transition to electric drive – whether with a limited hybrid system or more models – completely ignores the likeable Giulia and Stelvio. The price list mentions a 280 hp petrol engine and a 210 hp turbo diesel. Until a new batch of Alfas take over.
Even though the Giulia and Stelvio are now quite old after modern automatic transmissions, you still feel like you're not on the road in 'just any' car. Both models aim to treat the driver to intense driving sensations. Even after seven years, their driving characteristics are still excellent. Although these properties are now very expensive in the absence of CO2 reduction measures. The Giulia is available from 65,000 euros, for the Stelvio you pay at least 79,300 euros.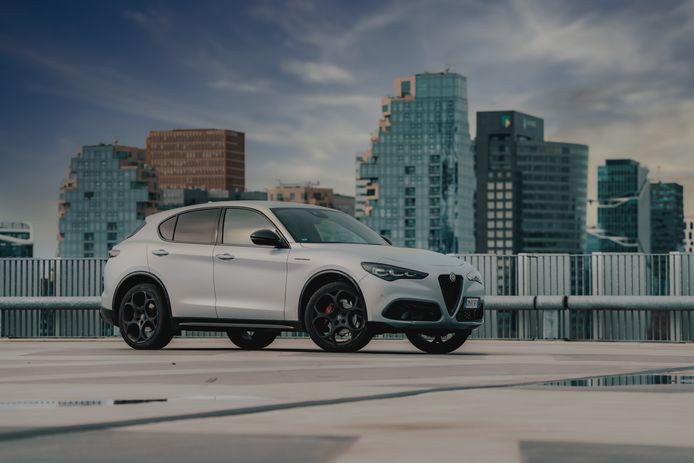 Unlimited free access to Showbytes? Which can!
Log in or create an account and never miss a thing from the stars.

Yes, I want unlimited access for free