A conglomerate of 18 distinguished participants, featuring luminaries such as Sebastian Vettel and Mick Schumacher, shall engage in a fierce contest of national and individual rankings at the impending ROC 2023, slated to be hosted in Sweden.
Get ready for the ultimate showdown of motorsports – the Race of Champions (ROC) is back! The thrilling spectacle will take center stage this weekend (January 28th/29th), where top-notch racers from various circuits will come face-to-face in Sweden. To up the ante, the drivers will test their mettle on a challenging snow and ice track situated in the icy waters of the Baltic Sea, close to Pite Havsbad. It's time for some pulse-pounding action, and the ROC promises to deliver it in spades!
Zeitplan ROC 2023 in Pite Havsbad
Saturday, January 28:
11:00 a.m.: start of the supporting program
11:45 a.m.: driver presentation
12:00 p.m.: start of the Nations Cup
3:00 p.m.: end of the Nations Cup
Sunday, January 29:
11:00 a.m.: start of the supporting program
11:45 a.m.: driver presentation
12:00 p.m.: start of the Race of Champions
3:00 p.m.: end of the Race of Champions
ROC 2023 on TV and live stream
Experience the thrill of the Race of Champions 2023 in the DACH region through an electrifying live stream on the official YouTube channel. Catch every adrenaline-fueled moment from both days, as the action-packed event is broadcast from noon to 3 pm. Don't miss out on this exciting opportunity to witness all the driving action firsthand!
Teams and drivers at the Race of Champions 2023
Team All-Stars: Thierry Neuville, Felipe Drugovich
Team Germany: Sebastian Vettel, Mick Schumacher
Team Finland: Mika Häkkinen, Valtteri Bottas
Team France: Sebastien Loeb, Adrien Tambay
Team Great Britain: David Coulthard, Jamie Chadwick
Team Nordic: Tom Kristensen, Felix Rosenqvist
Team Norway: Petter Solberg, Oliver Solberg
Team Sweden: Mattias Ekström, Johan Kristoffersson
Team USA: Travis Pastrana, Tanner Foust
* Team eROC: Lucas Blakeley, Jarno Opmeer
* Nations Cup only
The group draw for the 2023 Race of Champions
Nations Cup preliminary round (Saturday):
Team Finland vs. Team eROC
Team Great Britain vs. Team Germany
Nations Cup Quarterfinals (Saturday):
Team Norway vs. Team France
Team Sweden vs. Team Nordic
Team USA vs. Team All-Stars
Team Finland OR Team eROC vs. Team Great Britain OR Team Germany
Preliminary round Race of Champions (Sunday):
Adrian Tambay vs. David Coulthard
Felix Rosenqvist vs. Mick Schumacher
Round of 16 Race of Champions (Sunday):
Mika Häkkinen vs. Felipe Drugovich
Adrian Tambay OR David Coulthard vs. Felix Rosenqvist OR Mick Schumacher
Valtteri Bottas vs. Tom Kristensen
Sebastian Vettel vs. Jamie Chadwick
Sebastien Loeb vs. Thierry Neuville
Petter Solberg vs Oliver Solberg
Johan Kristoffersson vs Tanner Foust
Travis Pastrana vs Mattias Ekstrom
Venue for the ROC 2023
The Race of Champions has once again chosen the enchanting Pite Havsbad as its premiere venue for 2022. Nestled in the Swedish snow and ice, this year's edition promises to be an unforgettable spectacle. To put it into perspective, Pite Havsbad is located a mere 60 kilometers below the Arctic Circle, truly a breathtaking location.
The fleet at the Race of Champions 2023
Revving up for ROC 2023, there are four speedsters vying for the finish line. Two of them, powered by electric drives, are a Cupra and Zeroid X1. The former packs a punch with a mighty peak output of 320 kilowatts, equivalent to a staggering 435 horses, while the latter boasts 246 kilowatts of electric power or 335 horsepower, to propel it to rallycross victory.
The other two competitors, fueled by biofuel-powered combustion engines, are no less impressive. The Supercar Lites car revs up with 320 horsepower, while the off-road Polaris RZR races forward with 181 horses under its hood. With these four impressive vehicles in the mix, ROC 2023 promises to be a high-octane event that will thrill audiences and test the limits of these powerful machines.
Weather forecast as of January 24, 2023
The skies over Pite Havsbad are set to unleash a winter wonderland this weekend, with snowflakes dancing down from above. But Mother Nature likes to keep us on our toes, so on Saturday morning, the mercury is set to rise, teasing us with the possibility of rain. Fear not, though, as come Saturday afternoon, the temperatures will plummet to an icy minus four to minus nine degrees Celsius, bringing back the snow for a true winter wonderland.
Data on the Race of Champions
First edition: 1988
Record winner driver: Didier Auriol, Sebastien Loeb (4 victories)
Record winner Nations Cup: Team Germany (8 victories)
Record winner driver + Nations Cup: Sebastian Vettel (8 victories)
Most frequent venue: Gran Canaria (12 editions: 1992 -2003)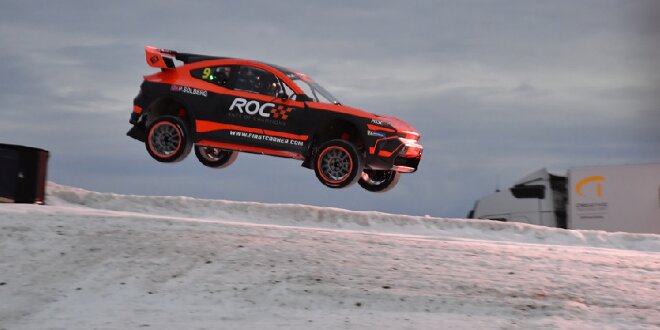 ROC winner of the last ten editions (individual ranking / Nations Cup)
2022 (Pite Havsbad): Sebastien Loeb / Team Norway (Petter Solberg, Oliver Solberg)
2020 (Virtual): Timmy Hansen / Team All-Stars (Romain Grosjean, James Baldwin)
2019 (Mexico City): Benito Guerra / Team Nordic ( Tom Kristensen, Johan Kristoffersson)
2018 (Riyadh): David Coulthard / Team Germany (Rene Rast, Timo Bernhard)
2017 (Miami): Juan Pablo Montoya / Team Germany (Sebastian Vettel)
2015 (London): Sebastian Vettel / Team England (Andy Priaulx, Jason Plato)
2014 (Barbados): David Coulthard / Team Nordic (Tom Kristensen, Petter Solberg)
2012 (Bangkok): Romain Grosjean / Team Germany (Michael Schumacher, Sebastian Vettel)
2011 (Dusseldorf): Sebastien Ogier / Team Germany ( Michael Schumacher, Sebastian Vettel)
2010 (Dusseldorf): Filipe Albuquerque / Team Germany (Michael Schumacher, Sebastian Vettel)