In October, Land Rover unveiled its all-new, fifth generation Range Rover. Of course, the standard version is already full of all the luxuries and offers everything you want. However, you can still fully indulge yourself with a wide range of designs and options. We dive into the price list and list some of the most interesting devices.
Active Noise Cancellation
You may know Active Noise Cancellation from your headphones, but the new Range Rover also has it if you like. The 1,600-watt Meridian Signature Sound System, standard from Profile, not only provides excellent sound quality, but also ensures a very quiet interior. Noise Cancellation Function Registers wheel vibration, tire noise and engine noise and emits a counter signal through no less than 35 speakers. Thanks to the speakers in the headphones, it is even possible to create a 'quiet zone' for each seat.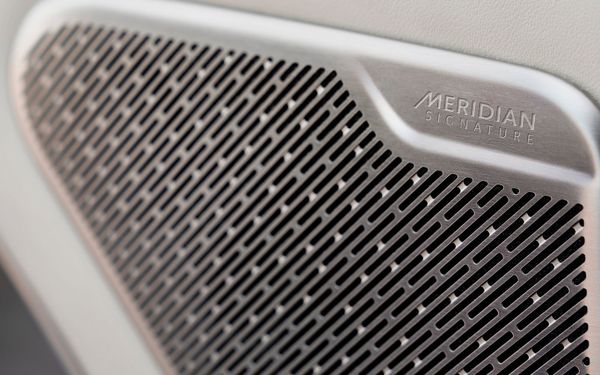 Range Rover and fridge
How do you make sure your drink stays nice and smooth throughout the trip? For 779 euros, Land Rover's Special Operations department will build a refrigerator with an electrically operated sliding door into the armrest of the rear seat. As a 'free' addition you get glass glasses, because you also have to be able to drink your drink from somewhere.
As an alternative, there is also a cooling/warming box, as a separate option for 421 euros. This cold box is a little less luxurious and can be placed on the back seat with a seat belt. It receives power from a 12V socket on the back. A cool box can also be used as a resting place. If you've checked First Class Seating, however, you'll still have to have a more expensive built-in refrigerator.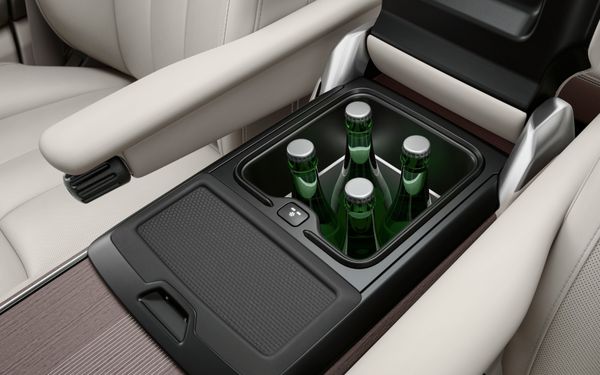 The party behind: Tailgate Event Suite
Speaking of festivities: with the Tailgate Event Suite you're party ready. The bottom of the tailgate can always be used as a seat (or table), but with the Tailgate Event Suite you can further decorate this area with leather cushions and integrated cup holders. The top of the tailgate will receive additional lights and speakers. Tailgate Event Suite is a standard First Edition tool.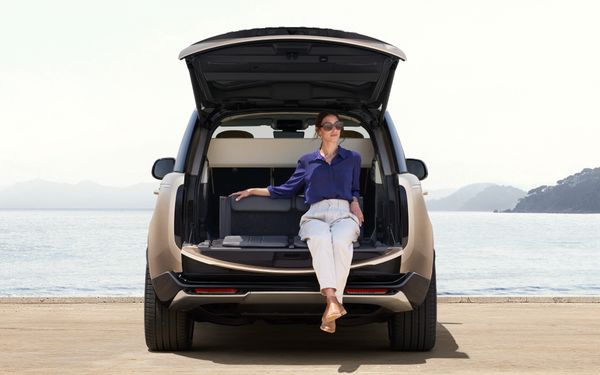 The way of the dog
Pets are also considered. Land Rover offers a range of accessories for the new Range Rover that are specially designed for traveling with your pet. Think of protective covers for luxurious interiors, but it is also a water bowl in which, in principle, no water can be spilled. However, the list goes much further. How about a portable rinse system, a collapsible travel crate or even a full gangway. And this last one, the dog can climb into the luggage compartment itself, you don't have to lift it yourself…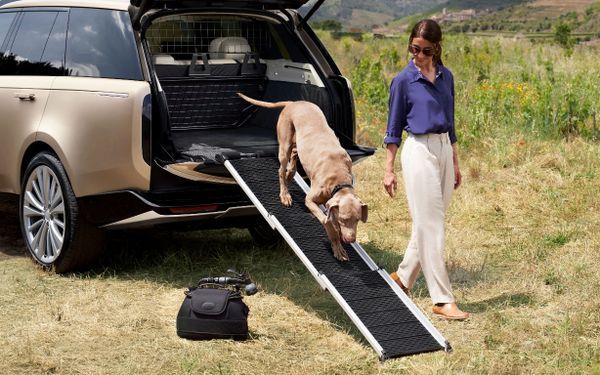 open Sesame
You don't even have to open the door yourself. Check out the Power Assisted Doors and the doors will open as you approach. The doors can also be activated via the touch screen. Well, the previous Range Rover had this too, but it's still not standard equipment. Although, Japanese taxis have had this since the 1990s, but then the driver has to open the door himself.
You see it already: you can't imagine it or the new Range Rover offers. Want to know more about the new Range Rover? Sjoerd tells you there here everything about.
Putting together a new Range Rover yourself? That can easily be done again www.landrover.nl.
Did you see the mistake? Send us an email. We thank you.
function loadAllScripts(){ console.log('start loading all scripts 2.19'); console.log(tc_vars.didomiPurposesConsentDenied);
var deniedConsent = tc_vars.didomiPurposesConsentDenied; if(deniedConsent.indexOf('cookies') == -1){
//SETTING VARIABLES var wpk_tags = dataLayer[0].Tags; if (wpk_tags != undefined) { var wpk_tags_array = wpk_tags.split(','); }else{ var wpk_tags_array = []; }
var sales_keywords = dataLayer[0].sales_keywords; if(sales_keywords == undefined){ sales_keywords=""; }else{ sales_keywords = sales_keywords.replace(/_/g, ''); sales_keywords = sales_keywords.replace(/&/g, '_'); sales_keywords = sales_keywords.replace(/&/g, '_'); }
if (typeof dataLayer[0].Site !== 'undefined') { var site_name = dataLayer[0].Site.toLowerCase(); }else{ var site_name=""; }
site_name = site_name.split(".");
//SETTING VARIABLES
var script = document.createElement("script"); script.src = "https://shared.mediahuis.be/cxense/cxense.autovisie.min.js"; script.type = "didomi/javascript"; script.setAttribute('data-vendor','iab:412');
console.log('ads: '+deniedConsent.indexOf('create_ads_profile')); console.log('content: '+deniedConsent.indexOf('select_personalized_content'));
if(deniedConsent.indexOf('create_ads_profile') < 0 && deniedConsent.indexOf('select_personalized_content') < 0){ document.head.appendChild(script); console.log('load cxense!!!'); }else{ console.log('NOT load cxense!!'); } if (dataLayer[0].show_banners == 1) { // console.log('fillSlots'); setTimeout(function(){ fillSlots(); }, 1000); } if(deniedConsent.indexOf('social_media') < 0){ var y = document.getElementsByClassName("social-media-no-consent-box"); var i; for (i = 0; i < y.length; i++) { y[i].style.display = "none"; } var x_fb_post = document.getElementsByClassName("fb-post-no-consent"); while(x_fb_post.length > 0) { x_fb_post[0].className = "fb-post"; }
var x_fb_video = document.getElementsByClassName("fb-video-no-consent"); var i; while(x_fb_video.length > 0) { x_fb_video[0].className = "fb-video"; }
var x_twitter = document.getElementsByClassName("twitter-tweet-no-consent"); while(x_twitter.length > 0) { x_twitter[0].className = "twitter-tweet"; }
var xi = document.getElementsByClassName("instagram-media-no-consent"); while(xi.length > 0) { xi[0].className = "instagram-media"; }
var script = document.createElement("script"); script.src = "https://platform.twitter.com/widgets.js"; document.head.appendChild(script);
var script = document.createElement("script"); script.src = "https://www.instagram.com/embed.js"; document.head.appendChild(script);
var script = document.createElement("script"); script.innerHTML = "window.instgrm.Embeds.process();"; document.head.appendChild(script);
var script = document.createElement("script"); script.src = "https://connect.facebook.net/nl_NL/sdk.js#xfbml=1&version=v8.0";
var facebookDiv = document.createElement('script'); facebookDiv.innerHTML =`window.fbAsyncInit = function() {FB.init({ xfbml : true, version : 'v5.0' });}; `; document.head.appendChild(facebookDiv);
var my_awesome_script = document.createElement('script'); my_awesome_script.setAttribute('src','https://connect.facebook.net/en_US/sdk.js'); my_awesome_script.async="true"; my_awesome_script.defer="true"; document.head.appendChild(my_awesome_script);
}
} }
if (navigator.userAgent.toLowerCase().indexOf('cxensebot') != -1) {
loadAllScripts();
}