Alfa Romeo shows a new version of Giulia and Stelvio. The new pair is featured with the 'Estrema' label.
'Estrema' is Italian for 'extreme'. Editions have not yet been edited like Giulia GTA or GTAm.
Not six cylinders but four cylinders in Stelvio and Giulia
For example, there are no six-cylinder power cylinders in the nose, but 280 hp gasoline or a 210 hp diesel engine with four cylinders. Both power units are connected by an eight-speed automatic transmission that sends power to the front and rear wheels. As for Estrema, Alfa has put Stelvio and Giulia in mechanical locks.
The chassis has also been updated and is now being modified and controlled by the management system.
Cabron with black accents
Aside from performance and improvements based on the driving experience, the 'Estrema' design is also slightly different from the regular Alfa Romeo Giulia and Stelvio. All details such as (Estrema) badges, mirror caps and brake caps are in black. And the grille and glass covers are equipped with carbon fiber. The most extreme versions have a large rim as usual: 19 inches for Giulia and 21 inches for Stelvio.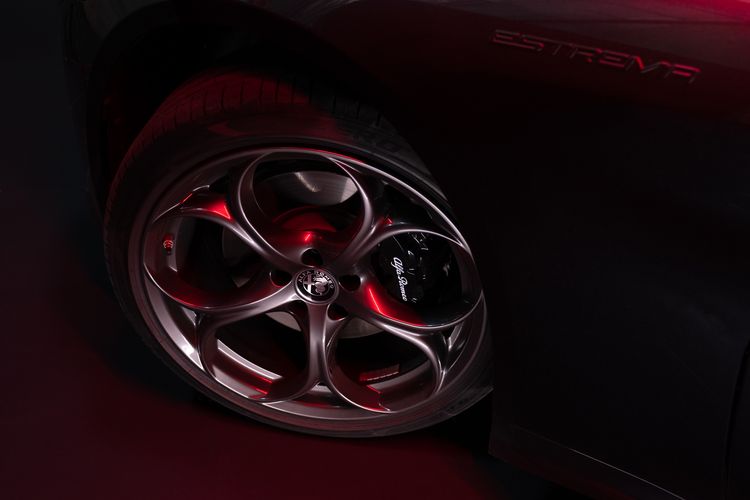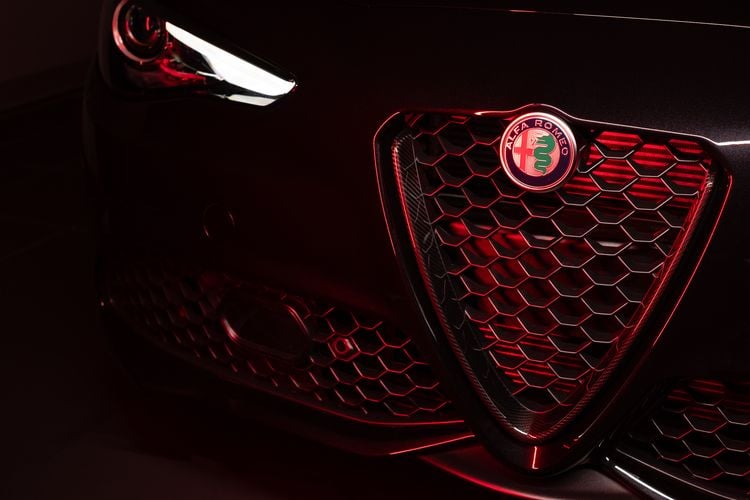 This color scheme has also been implemented in interiors with many parts of Alcantara and carbon fiber. In addition, you get a Harman Kardon set, consisting of fourteen speakers, as usual.
It is unknown at this time what he will do after leaving the post.
Truly cruel Alfa Romeo Giulia
It's as good as Giulia's sports version, but the real enthusiast wants übermodel, GTAm, on the highway. Last year, Autovisie editor Peter Hilhorst drove 222,122 euros that ran from 0 to 100 kilometers per hour in 3.6 seconds. Hear the V6 sounds through the Akrapovič smoke system in the Giulia GTAm video.
Maserati Grecale is more than just a redesigned Alfa Romeo Stelvio
Did you notice the error? Email us. We thank you.
Video


April 17, 2022†

Lancia Kappa Coupé did not want (almost) no one

Half


March 6, 2022†

You want this event: Alfa Romeo Alfasud Sprint, a real Italian race horse

Video

Jana†

For rear arrangement, Chevrolet Corvette C8 | The Truth of Sjoerds 302

Information

Jana†

Are you going on vacation? Beware of the longest traffic jams during dark Saturday

Information

Jana†

Research: women prefer gasoline, men hybrid

Information

Jana†

The seven-seat Toyota Highlander has been updated

Information

Jana†

Volkswagen Phaeton almost got a successor

Information


7 July 2022†

Audi RS3 getting worse: ABT RS3 R

Information


7 July 2022†

Why Bentley Fits 'Flight Seats' in Bentayga EWB

Information


7 July 2022†

Ford Ranger finds new competitor: Volkswagen Amarok

Information


7 July 2022†

Hyundai are making fun of the attractive model, is this the new coupe?

Information


7 July 2022†

Who are the best drivers, men or women?
var deniedConsent = tc_vars.didomiPurposesConsentDenied; if(deniedConsent.indexOf('cookies') == -1){
//SETTING VARIABLES var wpk_tags = dataLayer[0].Tags; if (wpk_tags != undefined) { var wpk_tags_array = wpk_tags.split(','); }else{ var wpk_tags_array = []; }
var sales_keywords = dataLayer[0].sales_keywords; if(sales_keywords == undefined){ sales_keywords=""; }else{ sales_keywords = sales_keywords.replace(/_/g, ''); sales_keywords = sales_keywords.replace(/&/g, '_'); sales_keywords = sales_keywords.replace(/&/g, '_'); }
if (typeof dataLayer[0].Site !== 'undefined') { var site_name = dataLayer[0].Site.toLowerCase(); }else{ var site_name=""; }
site_name = site_name.split(".");
//SETTING VARIABLES
var script = document.createElement("script"); script.src = "https://shared.mediahuis.be/cxense/cxense.autovisie.min.js"; script.type = "didomi/javascript"; script.setAttribute('data-vendor','iab:412');
console.log('ads: '+deniedConsent.indexOf('create_ads_profile')); console.log('content: '+deniedConsent.indexOf('select_personalized_content'));
if(deniedConsent.indexOf('create_ads_profile') < 0 && deniedConsent.indexOf('select_personalized_content') < 0){ document.head.appendChild(script); console.log('load cxense!!!'); }else{ console.log('NOT load cxense!!'); } if (dataLayer[0].show_banners == 1) { // console.log('fillSlots'); setTimeout(function(){ fillSlots(); }, 1000); } if(deniedConsent.indexOf('social_media') < 0){ var y = document.getElementsByClassName("social-media-no-consent-box"); var i; for (i = 0; i < y.length; i++) { y[i].style.display = "none"; } var x_fb_post = document.getElementsByClassName("fb-post-no-consent"); while(x_fb_post.length > 0) { x_fb_post[0].className = "fb-post"; }
var x_fb_video = document.getElementsByClassName("fb-video-no-consent"); var i; while(x_fb_video.length > 0) { x_fb_video[0].className = "fb-video"; }
var x_twitter = document.getElementsByClassName("twitter-tweet-no-consent"); while(x_twitter.length > 0) { x_twitter[0].className = "twitter-tweet"; }
var xi = document.getElementsByClassName("instagram-media-no-consent"); while(xi.length > 0) { xi[0].className = "instagram-media"; }
var script = document.createElement("script"); script.src = "https://platform.twitter.com/widgets.js"; document.head.appendChild(script);
var script = document.createElement("script"); script.src = "https://www.instagram.com/embed.js"; document.head.appendChild(script);
var script = document.createElement("script"); script.innerHTML = "window.instgrm.Embeds.process();"; document.head.appendChild(script);
var script = document.createElement("script"); script.src = "https://connect.facebook.net/nl_NL/sdk.js#xfbml=1&version=v8.0";
var facebookDiv = document.createElement('script'); facebookDiv.innerHTML =`window.fbAsyncInit = function() {FB.init({ xfbml : true, version : 'v5.0' });}; `; document.head.appendChild(facebookDiv);
var my_awesome_script = document.createElement('script'); my_awesome_script.setAttribute('src','https://connect.facebook.net/en_US/sdk.js'); my_awesome_script.async="true"; my_awesome_script.defer="true"; document.head.appendChild(my_awesome_script);
}
} }
if (navigator.userAgent.toLowerCase().indexOf('cxensebot') != -1) {
loadAllScripts();
}