The Plug & Charge function (plug and charge) available from many charger operators will be available from mid-2023 and BMW wants to be the first with it. This feature allows customers to charge the car from public stations without the need for a card or app, and without choosing the right operator. Confirmation to start charging and for billing will be done automatically through the data exchange between the vehicle and the charging station.
BMW is already the first car manufacturer to include multi-account functionality in its Plug & Charge range. Thanks for this customers can digitally store their personal energy contracts in the car to activate the car from at least five different suppliers and easily use the payment terminals of these operators.

This means that Charging a car is easier than filling the engine with gasoline. You won't have to choose a specific charger that you have a card, app or contract with. An additional advantage is that the car does not require an Internet connection, which is of course required when using the application.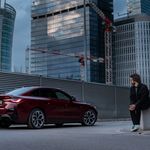 Currently, certain manufacturers already use Plug & Charge, but they use one selected power supplier. For the user, this is a problem because if he has not found the right charger, he continues or has to use a special authorization method for another. This is what customers of BMW, Tesla or Ford already have.

Volkswagen will also introduce it, but it is not known when yet
Volkswagen is also working on a similar solution that will be introduced with the 3.1 line, although work on the 3.0 is currently underway. Therefore, it will be necessary to wait and it is not known at the moment if it will pass in this BMW.