Here comes the new generation of the BMW 5 Series. After spy shots and a series of previews, the new model has finally made its official debut. The new sedan will also be offered in a 100% electric version, BMW i5. Indeed, it must be said that the electric model will be more important. In fact, the automaker has announced that the i5 will be the only one to be offered globally. Endothermic and plug-in versions, on the other hand, will be sold on a regional basis depending on market demand.
The new BMW 5 Series is produced at the Dingolfing plant, where electric motors and batteries for the BMW i5 are also manufactured. A market launch is expected for October 2023.
In Italy, the price of the debut of the new BMW 5 Series from 67,900 euroswhile those of the BMW i5 from 74,400 euros (cost including road).
DESIGN AND INTERIOR
New BMW 5/i5 Series measurement 5,060mm long x 1,900mm wide x 1,515mm high, with a wheelbase of 2,995mm. The same step, of course, also for the BMW i5. Cargo capacity is 520 liters (490 liters for the 100% electric model). Thus, the new model is 97 mm longer, 32 mm wider and 36 mm higher than the current sedan. wheelbase has increased, however, by 20 mm. The proportions are the same as the previous generation but the design looks cleaner.
The German brand says that the new front end is characterized by a reinterpretation of the twin headlights and the BMW kidney grille. Indeed, LED elements arranged almost vertically serve as direction indicators and daytime running lights. The kidney grille, on the other hand, has a large shape and optional BMW Iconic Glow contour lamp. The rear is "led" by the newly designed light pillars.
To make the look of the car even worse, BMW offers M Sport package and the M Sport Pro package. In addition to the standard color finish, customers will also be able to choose the new BMW 5 Series/i5 with three BMW Individual colors.
The interior of the new sedan has a smaller look and fewer physical controls than in the past. These results were achieved thanks to the constant improvement of the work. The bridge is dominated by BMW curved display which consists of a 12.3-inch instrument screen and a 14.9-inch infotainment system screen. Still talking about technology, the infotainment features the new iDrive 8.5 platform which also includes a series of entertainment-related features such as video streaming and the ability to use mini-games to pass while the car is parked.
BMW Live Cockpit Professional option is included BMW Head-Up Display and Added Visibility in the Control Display or instrument cluster. Also available is the BMW Natural Interaction option for controlling functions using gestures. The steering wheel has also been redesigned. Sports seats are standard (comfort seats optional). The new BMW 5 Series is the first model from the German brand to feature a fully vegan interior as standard.
ENGINE AND SAFETY
Speaking European marketThe new BMW 5 Series will initially be offered in models BMW 520i (combined fuel consumption: 6.4 – 5.7 l/100 km; CO2 emissions: 144 – 130 g/km according to WLTP) and 153 kW/208 hp, BMW 520d (combined fuel consumption: 5.6 – 5.1 l/100 km; CO2 emissions: 147 – 133 g/km according to WLTP) and 145 kW/197 hp and BMW 520d xDrive (combined fuel consumption: 6.0 – 5.5 l/100 km; CO2 emissions: 157 – 143 g/km according to WLTP) and 145 kW/197 PS. All units are mild hybrids and are mated to an 8-speed Steptronic Sport gearbox.
BMW 520i: 2-liter 4-cylinder gasoline engine – 153 kW/208 HP with 330 Nm of torque – 230 km/h top speed – 0-100 km/h in 7.5 seconds

BMW 520d: 2-liter 4-cylinder diesel – 145 kW/197 HP and torque 400 Nm – 233 km/h top speed – 0-100 km/h in 7.3 seconds

BMW 520d xDrive: 2-liter 4-cylinder diesel – 145 kW/197 HP and torque 400 Nm – 228 km/h top speed – 0-100 km/h in 7.3 seconds – all-wheel drive
In spring 2024, the model range will be completed by two variants with plug-in hybrid storage. A new six-cylinder diesel engine will be available for the BMW 5 Series Sedan from 2024. Other four- and six-cylinder gasoline engines are available outside Europe.
Speaking of driver assistance systems, the new BMW 5 Series offers a range of options Driving Assistant Specialistwhich includes driving assistance and lane control as well as Remote Control with Stop & Go function. In the US, Canadian and German markets,Highway Assistant which manages driving in a completely autonomous way up to a speed of 130 km / h and allows you to remove your hands from the wheel.
The car can also feature Active Lane Change Assist with blinkers on.
The car suggests a lane change and this can be done first by looking in the outside mirror to confirm the lane change. Active Lane Change Assist automatically takes necessary driving maneuvers if traffic conditions permit.
Among the options we also find the Assistant Parking Professional.
BMW I5
The new BMW i5 will initially be offered in two versions. On the market, the German brand will launch BMW i5 eDrive40 and BMW i5 M60 xDrive. In 2024, the manufacturer says, a further variant with two engines and all-wheel drive will arrive.
In more detail, the BMW i5 M60 xDrive powertrain has two electric motors for 442 kW/601 hp and 820 Nm of torque but only in Launch Control or M Sport Boost mode. The maximum speed is limited to 230 km / h, while it takes only 3.8 seconds to go from 0 to 100 km / h. The power train is driven by a 81.2 kWh battery (usable capacity) which allows a range of 455 – 517 km according to the WLTP cycle.
The collector can be recharged by alternating current up to 11 kW of power (22 kW with optional charger) and up to 205 kW with direct current (from 10% to 80% charge in 30 minutes).
In contrast, the BMW i5 eDrive40 model can rely on a single 250 kW/340 hp electric motor with 430 Nm of torque. This model accelerates from zero to 100 km / h in 6.0 seconds and reaches a top speed of 193 km / h. The battery is always the same. In this case, however, the range increases to 477 – 582 km.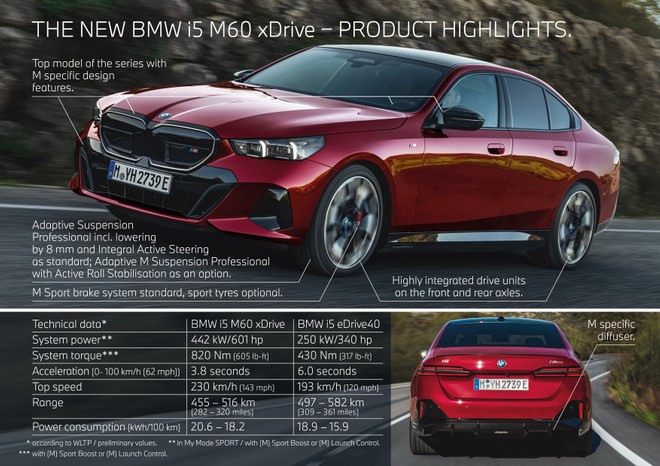 The new BMW i5 also supports "Plug & Charge". This feature allows the car to automatically authenticate itself at compatible stations, such as IONITY, without using an app or card.