When Pikes Peak legend David Donner, 000 publisher Pete Stout and Porsche collector Jim Edwards arrived in Colorado in 2022, they had one goal: to retake the production car record for the Pikes Peak race. Seven years earlier, Donner had set the production car record in the 991 generation 911 Turbo S, which stood until 2019. Then the Bentley Continental GT overtook him in just 8.4 seconds on the 20 km cycle. Now the 911 Turbo S generation 992 and a light package stopped in front of them.
The range of production cars at Pikes Peak allows for only minor modifications, all focused more on safety and less towards increased performance. Stout had contacted Champion Porsche's specialist workshops in Florida to prepare the 911 Turbo S for the competition: seats, airbags, carpets and mufflers, a roll cage, an ignition system, a single racing seat and seat belts. 6 points inside. The 911 also received a sports exhaust system and ECU tuning to prepare it for extreme heights. Other than that, everything stayed the same—there were no changes to the suspension, ride, or aerodynamics. The original rims and street-legal tires were not changed either.
In the run-up to race day, Donner was impressed with the 911 Turbo S. Experts were ready to assume that a new production car record would be certain. "The car showed no weakness from the start," says Donner. "To be honest, I was surprised that the car was so fast. Only a few seconds separated it from the racing cars, which involved a lot of things." For example, with rear-wheel steering, all-wheel drive and a lot of power. "I've driven a lot of cars in the hills, but this was amazing, both in terms of performance and handling."
Unfortunately, a week of good weather was followed by a dramatic change in weather when the big day arrived. "Race day was hectic," Donner continues. "First we had blue skies, it was dry and the road was good. Then this monsoon front came in and all of a sudden it was raining, very foggy and the visibility was terrible.
The race went on anyway, with Donner, who has ridden the impressive course 28 times, drawing on Pikes' years of experience. However, no one expected a street car to be able to do what the Turbo S did.
In a year where most competitors fell as much as a minute behind the summertime forecast, Donner crossed the finish line in 10:34:03. Although it wasn't the class record he'd hoped for, it was behind a model half the weight and twice the power of the 911. The Donner and Turbo S were faster than any other car from all modified classes, which one would normally expect to be better than production vehicles.
"Donner went from eleventh in qualifying to second as the weather worsened," explains Stout. "And what is absolutely crazy about this result for me: He was only 25 seconds behind Robin Shute in a monoposto model that was specially designed to conquer the summit of Pikes and weighed a good 680 kg. In addition, he was in front of the highly modified RS Clubsport GT2. There are great drivers who drove powerful cars.This is a true engineering triumph and an all-wheel drive for Porsche.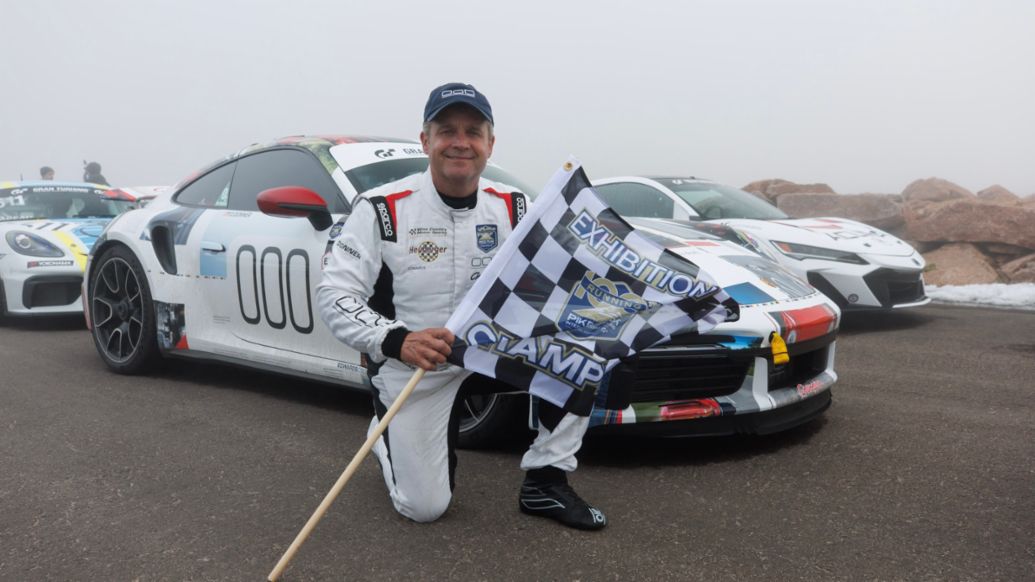 With its combination of power, traction and light weight, the 911 Turbo S was perfectly suited for tricky conditions. Donner was able to find the right balance of grip and acceleration to negotiate even the most challenging chicanes that Pikes Peak can boast. The street car features have also proved to be an unexpected strength.
"All-wheel drive definitely contributed to this smooth ride," says Donner. "You can just beat him out of the corner. The car even got stuck on a wet road. Another reason for our speed was that the Pikes Peak route is otherwise a public road – and this car shows what it can do in these conditions." A mountain has many unique features that are similar to a two-lane road, such as a highway. banks, varying degrees of yield and gravel. "I was able to take a completely different line because the car has a good road. The 911 Turbo S was not underpowered, so I was able to drive tighter lines, ie shorter lines inside the hairpins. If the car can do that, then you give the best. And here it could be anything. That was amazing."
What makes the team's results even more remarkable is the fact that the 911, which had only 40 miles on the clock when it arrived in Colorado, has not needed frequent maintenance or repairs. "We never changed a single part of the car during the entire race week and practice session," says Stout. "We didn't even bring spare parts. We spent the evening just cleaning the cars and checking the tires. We didn't even add oil." That also brought another benefit, as Donner emphasizes: "Many teams stay up all night, tear the car down, fix it, can't do all the training drives because of technical errors – we didn't do that. I have none of that. Everyone got enough sleep and we had a lot of fun."
The final result
The end result for Donner, Stout and Edwards was a class win, second place overall and the Bergmeister award, which is awarded to the fastest Porsche every year – a remarkable haul for a car that, as the team has shown, has consistently achieved success. . best Remained street legal and driven when returning from a race. "People were drawn to the car," says Donner. "They couldn't understand how a road car could achieve such incredible times. To be honest, I didn't expect it to go well under these conditions either. I was very surprised!"
"There's no denying the car's performance on this hill," adds Stout. "It was amazing what all the different systems that Porsche engineers have developed over the years have achieved. We can see how everything fits together: traction management, active dampers, active rear axle steering, all-wheel drive. In the end it was a combination of experience, teamwork and technology that brought unprecedented results.