While the Dark Rebel may be a concept car for now, Cupra is determined to involve its loyal fanbase in the continued development of this extraordinary creation. This unique approach allows enthusiasts to provide feedback and insights, thus contributing to the evolution of the Dark Rebel into a remarkable, real-world concept vehicle.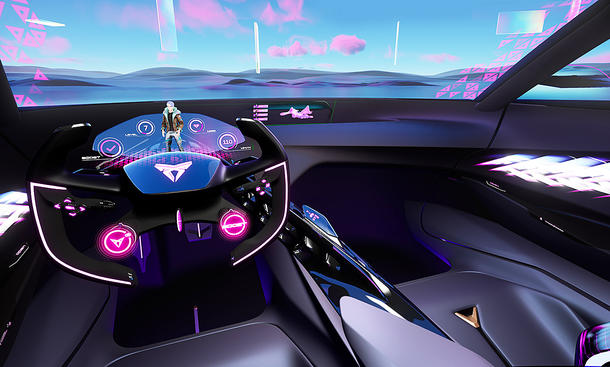 As we eagerly await the prospect of a Cupra sports car, we cannot help but wonder what groundbreaking innovations and advancements this esteemed brand has in store for us. In the meantime, we invite you to explore our curated selection of exceptional products on Amazon, where you are sure to discover items that will delight and inspire you.
The Cupra Dark Rebel is a super sports car that epitomizes power, style, and futuristic design. With its sleek and aggressive exterior, the Dark Rebel makes a bold statement on the road. Its sculpted body and aerodynamic lines give it a dynamic look, reminiscent of a fierce predator ready to pounce on its prey.
The rear design of the Dark Rebel sets it apart from conventional sports cars, with a unique shooting brake-inspired profile that catches the eye. This exceptional feature makes it stand out from the competition, rivaling iconic supercars such as the Lamborghini Revuelto, Rimac Nevera, and McLaren Artura.
The Dark Rebel is not only impressive on the outside, but it also packs a powerful punch under the hood. With a minimum of 700 horsepower, this supercar promises exceptional speed and acceleration. It boasts an electric powertrain, signaling Cupra's commitment to sustainability and innovation in the automotive industry.
Step inside the Dark Rebel, and you'll find a cockpit designed to immerse you in the driving experience. The bucket seats provide maximum support and comfort during high-speed maneuvers, while the gamifying steering wheel adds a touch of excitement to your driving. This is a car that is designed to make you feel like a true race car driver.
While the Dark Rebel is still a concept car, Cupra is inviting its fans to take part in the design process. With the hyper configurator Metahype, you can unleash your creativity and create your version of the Dark Rebel, sharing it in a video. Cupra plans to collect these configurations and use them to fine-tune the final design of the Dark Rebel. This approach gives customers a unique opportunity to influence the creation of their dream car, and who knows, your design might just make it into production.
In conclusion, the Cupra Dark Rebel is a concept car that promises to deliver an exhilarating driving experience like no other. With its unique design, impressive performance, and customer engagement, this super sports car is set to revolutionize the automotive industry. Stay tuned for updates on the Dark Rebel and witness the future of sports cars.